KATELYNNE COX WRAPS RADIO TOUR IN SUPPORT OF DEBUT SINGLE, "ME"
Song Receives Positive Early Feedback From Key Stations
NEWS SOURCE: Savvy Media
April 8, 2011
(NASHVILLE, Tenn.) April 8, 2011--Red Hammer Records pop vocalist Katelynne Cox wrapped a whirlwind radio tour to five stations in five days last week. Her debut radio single "Me," from Cox's May 17 national label release One Girl, has already garnered early support from key radio stations.
Kicking off at WJLZ-FM (Virginia Beach, Va.) on Monday, Cox made her way to WVBM-FM (Tampa, Fla.), WHJT-FM (Clinton, Miss.), cross-country to AIR 1 Radio (Rocklin, Calif.) and finally KAFC-FM (Anchorage, Alaska) by Friday. Chris Chicago of Shamrock Media Group who is promoting the single to radio and joined Cox on tour comments, "5 stations in 5 days, all the way from the East Coast to the West Coast and up to Alaska...and Katelynne shined at every visit! This was her first visit to radio, and it seemed as if she'd been doing it for years!! Her heart for music and ministry is unmatched, especially at 16 years old!"
And early feedback from radio stations has been glowing as well. Davis Watts of WBVM-FM affirms, "After having the chance to spend some time with Katelynne Cox, I believe this young lady is ready for whatever God puts in her path. I can't believe those vocals came out of a sixteen year old girl! I'm really looking forward to seeing what she has in store for us as her career develops."
Released to Christian Hit Radio on Feb. 25, "Me" is the initial radio single from Cox's forthcoming Red Hammer Records debut, One Girl, releasing May 17, 2011. Produced by Grammy Award nominee Aaron Rice, with songwriting by Rice, Sam Mizell (Francesca Battistelli, Matthew West) "American Idol" alumnus Chris Sligh, and Jamie Moore (tobyMac, Ayiesha Woods), One Girl comprises 12 tracks showcasing pop-rock melodies and hooky choruses. A victim of school bullying for many years, Cox's songs address issues of peer pressure, self-esteem, and embracing one's individuality.
A music video has been produced for the single and will release to national video outlets shortly. To view the video online, visit: www.youtube.com/watch?v=K256zMCXOBs.
About Katelynne Cox
Portland, Ore. native Katelynne Cox is an accomplished singer, songwriter, model, dancer and actress. The sixteen-year-old has won more than 75 state and national modeling titles, including National Miss American Jr. Teen Victory 2009 and Miss Washington Pre-Teen in 2006. In 2010, she appeared on the cover of Supermodels Unlimited magazine.
Cox began her professional music career after being accepted to the first "American Idol" camp, which led to her recording the National Anthem for KUPL, a local radio station in Portland. Red Hammer Records president Darren Bowls heard Cox's voice and signed her to his Portland-based label, which is distributed by Entertainment One Distribution. For more information, visit www.katelynnecox.com.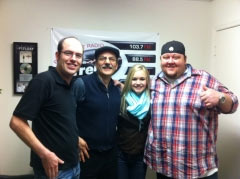 (l-r) WJLZ-FM Music Director Jon Michaels, morning show
host Leo Marks, Katelynne Cox and Chris Chicago.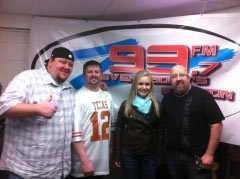 (l-r) Chris Chicago, KAFC-FM Program Director/ morning show host
Skip Hurst ("The Bishop"), Katelynne Cox, and Music Director/afternoon host Mike Carrier.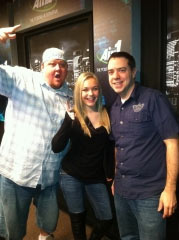 (l-r) Chris Chicago, Katelynne Cox, and Air 1 Radio
Program Director Paul Goldsmith
# # #
For more info on Katelynne Cox, visit the JFH Artists Database.


[2021]
Jan. | Feb. | March | April | May | June | July | Aug. | Sept. | Oct. | Nov. | Dec.
[2020]
Jan. | Feb. | March | April | May | June | July | Aug. | Sept. | Oct. | Nov. | Dec.
[2001 - 2020]
Visit our complete MUSIC NEWS ARCHIVE