SINGER/SONGWRITER MARK SCHULTZ ANNOUNCES HIS "LETTERS FROM WAR" TOUR
"Letters From War" Book releasing September 6th
through Simon & Schuster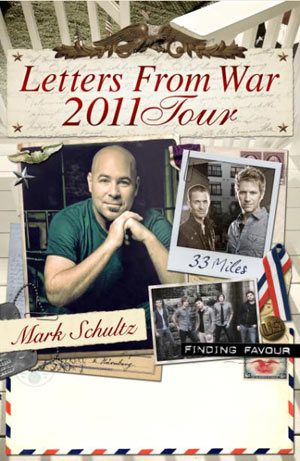 NEWS SOURCE: Big Machine Media
August 15, 2011
New York, NY – (August 15, 2011) – Today it was announced that singer/songwriter Mark Schultz will be hitting the road on his "Letters From War" tour. Kicking off on September 21, in Lebanon, Tennessee, the tour, sponsored by Food For The Hungry, will feature Schultz, 33 Miles and special guest Finding Favour. Celebrating God & country in support of Mark Schultz's novella by the same name, the "Letters From War" tour will inspire audiences with a variety of fan favorites. Schultz will also play songs from his debut instrumental album Renaissance.
The book is a heart wrenching story of a mother's hope of finding her soldier son. Written with the same unique sensibility reflected in the song lyrics of Mark Schulz's hit song, "Letters from War," this powerfully emotional and timely story shows a mother awaiting news of her missing son while trying to carry on as usual--even though nothing is now normal except the waiting.
MARK SCHUTLZ: Schultz is a Dove-Award winning artist and has become one of Christian music's most acclaimed singer/songwriters. He received BMI's Christian Song of the Year in 2003 for "Back in His Arms Again." Schultz has also tasted success on the mainstream adult contemporary charts with such hits as "He's My Son" and "Walking Her Home." Schultz has flooded radio with ten No. 1 songs, such as "Remember Me" and "I Am." He's also earned the top spot on Billboard magazine's Christian Adult Contemporary Songwriter list, and his 2005 release, Mark Schultz Live . . . A Night of Stories & Songs, was RIAA certified Platinum. Over his career Schultz has garnered ten #1 songs.
33MILES: For Chris Lockwood and Jason Barton of 33Miles, it's that pursuit of a Christ-focused, heaven-minded life that fuels everything they do, especially their music. Intensifying the message of their previous release, One Life, 33Miles shifts musical gears with Today, amplifying the truth that to make every day count, we've got to live with eternity in mind. Produced by Ian Eskelin (Stellar Kart, Francesca Battistelli, Starfield) and Nathan Nockels (Passion, Point of Grace, Watermark), Today—releasing October 5 on INO Records—features 10 pop progressive, but church accessible songs to remind us that we are meant for more than life on autopilot.
FINDING FAVOUR: This group, Blake Neesmith, Allen Dukes, Dustin Daniels, Aaron Tomberlin and Nathan Tomberlin, found their love for music at an early age and have felt God drawing them to an even greater responsibility and different musicial styles. After teaming up with band's guitarist, Allen Dukes, Blake and Allen began to write songs that caught alot of attention. They began to team up with friends and musicians they grew up with through the Church of God and formed Finding Favour.
Tour dates:
Sept 21st Lebanon, TN Fairview Church
Sept 22nd Zanesville, OH Secrest Auditorium
Sept 23rd Painesville Township, OH Lake County Speedway
Sept 24th Holland, MI WPOS Christian Center
Sept 30th Spring Hill, FL First United Methodist Church
Oct 1st Brunswick, GA Mary Ross Park
Oct 2nd Rome, GA Fellowship Baptist Church
Oct 6th Waynesville, MO The Ark
Oct 7th Marion, IL Marion Cultural & Civic Center
Oct 8th Columbus, GA Calvary Baptist Church
Oct 13th Marshall, MO Bueker Middle School
Oct 14th Omaha, NE St. Andrews United Methodist Church
Oct 15th Cedar Falls, IA Riverview Conference Center
Oct 16th Springfield, MO Ridgecrest Baptist Church
For more information visit www.MarkSchultzMusic.com.
# # #
For more info on Mark Schultz, visit the JFH Artists Database.