Music World/Interface Entertainment Recording Artist
Micah Stampley Releases New CD, One Voice
In Stores October 18, 2011
Micah's TV Special
"Answering the Call of Love" Airing NOW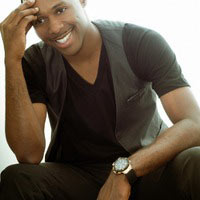 NEWS SOURCE: TKO Marketing
October 18, 2011
(Houston, TX – October 18, 2011) – Music World/Interface Entertainment recording artist and international worship leader, Micah Stampley, released his fifth CD, One Voice, today, October 18. One Voice features 12 songs, including two interludes. The CD is produced by Micah Stampley and co-produced by Cameron Sankey.
Micah's TV Special "Answering the Call of Love" is airing on various Christian Networks, including National Religious Broadcasters Network (NRB), SkyAngel, Total Living Network, Global Christian Network, LESEA Broadcasting Network (WHT), Watchmen Broadcasting, Unity Broadcasting Network and others to be announced in the coming weeks. "Answering the Call of Love" is 30 minute television special that focuses on Micah's ministry: family, music and community. See partial listing of airdates.
Date Time Network
Thursday, October 20 12:00 p.m. CST Total Living Network (TLN Chicago)
Thursday, October 20 12:00 p.m. PST Total Living Network (KTLN San Francisco)
Friday, October 21 7:30 p.m. CST Total Living Network (TLN Chicago)
Friday, October 21 7:30 p.m. PST Total Living Network (KTLN San Francisco)
Friday, October 22 5:30 p.m. EDT LESEA/HARVEST/WHT
Saturday, October 22 8:30 p.m. CST Total Living Network (TLN Chicago)
Saturday, October 22 8:30 p.m. CST Total Living Network (KTLN San Francisco)
The week of October 24 TBA SkyAngel
For additional airdates, please visit, www.musicworldent.com and www.micahstampley.org.
Micah brings each track on the CD vibrantly to life—from the thumping, joyful world-beat of "Hosanna," to "Shout," a celebratory, praise and worship song that calls believers to action because of their victory in Jesus Christ. "Shout" is a song that will resound in congregations around the globe. In writing songs for his new album, Micah didn't have to go far to work with his favorite collaborator. His wife, Heidi, co-wrote much of the album, including the potent title track, "One Voice." "I wrote the music and Heidi wrote all of the lyrics for that song," said Micah. "She began to write the lyrics of that song: 'different colors, many expressions, but when we worship, we sing to an audience of one, we are salt and light, the world must see us unified,'" Micah says, reciting the lyric. "It was just amazing to hear. She's such a poet. I feel that One Voice is definitely my best album to date. I hope that by listening to this album, people around the globe will experience a spiritual awakening and renewed passion in their relationship with God." Worshipleader.com's Song DISCovery page is offering a free download of the sheet music and song of Micah's "Desperate People," a moving ballad that resonates with the body of Christ, it speaks of people seeking a deeper relationship with God.
"Hosanna" and "Shout" are both growing and getting a good response at gospel radio. Reviews for One Voice are stellar. BREATHEcast.com says, "Micah Stampley has established himself as one of gospel music's premier worship leaders. One Voice demonstrates why he has earned such a distinction. One Voice is a diverse yet cohesive album, on which Stampley seamlessly blends lively, upbeat anthems of victory, such as 'Hosanna' and 'Shout,' with mellow-ballads pleading for closeness with God, such as 'Desperate People.'" Hope For Women magazine says "Micah Stampley is a psalmist with an incredible ability to lead the body of Christ into praise and worship, while encouraging devotion, obedience, and being a laborer in the harvest. One Voice is a Macedonian call, infusing each listener with a call to worship, a call to serve." And Powersource Music magazine concludes, "To put Micah Stampley in a musical category is nearly impossible. His passionate, soulful vocal will fill every room in your house. His songs are positive and uplifting, while spreading his love of Christ. 'Shout' sounds like an arena anthem. This moving, energetic album will certainly move you."
ABOUT MUSIC WORLD MUSIC
Music World Music was founded by Mathew Knowles, founder, President and CEO of Music World Entertainment. Music World Music has had an unprecedented impact on the history of music around the globe, with record sales exceeding 300 million worldwide. Knowles established several recording imprints under Music World Music, including Music World Gospel, Music World Country/Compadre and Music World Kids. Music World Music has been crowned by Billboard magazine as one of the Top Imprint Labels of the decade (2000-2009). With successes across multiple genres, including pop, R&B, gospel, dance, and country, as well as soundtracks and special themed projects, Music World Music has produced over 100 award-winning, platinum and gold albums. Music World Music was also named the #1 Dance Imprint Label in 2009 by Billboard magazine. Under Music World Music, Destiny's Child became a global phenomenon and was named the Best Selling Female Group of All Time in popular music, selling over 100 million records and collecting nearly 200 awards, including GRAMMY® Awards, World Music Awards, American Music Awards, MTV Awards (U.S., Europe and Asia), Billboard Awards, BET Awards, NAACP Image Awards, and countless others. Under Knowles' guidance, both Destiny's Child and Beyoncé experienced spectacular success during the decade between 2000 and 2009. Destiny's Child was named on Billboard magazine's Top 10 Artists of the Decade (2000-2009) and, as a solo artist, Beyoncé was crowned Billboard's number one Artist of the Decade—Female (2000-2009) and number 4 Top Artist of the Decade (2000-2009).
ABOUT INTERFACE ENTERTAINMENT
Interface Entertainment is the brainchild of international recording artist, worship leader, and philanthropist Micah Stampley and his wife and songwriting partner, Heidi Stampley. Interface Entertaiment's mission is to bring the face of hope, love and faith into various aspects of the entertainment industry. Interface has successfully released acclaimed and award-winning CD recordings, music videos and live performance video projects worldwide. Interface's goals are to expand its reach into other areas of the entertainment and multimedia industries. In 2010, Interface Entertainment partnered with music mogul Mathew Knowles in a joint venture agreement with Music World Gospel and Music World Entertainment.