REBECCA ST. JAMES GUESTS TONIGHT ON FOX NEWS CHANNEL'S "HANNITY"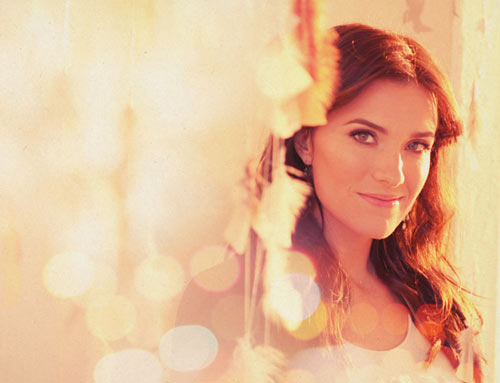 NEWS SOURCE: MorningStar PR
December 12, 2011
(Nashville, Tennessee) -December 12, 2011 - On the heels of wrapping her highly-successful fall national "Purity & Worship Tour" for the Salem Radio Network, Rebecca St. James will re-connect with viewers tonight live from New York with a return guest appearance on the Fox News Channel's "Hannity" (9:00 P.M. Eastern/8:00 Central).
Rebecca will get to personally say "thank you" to host Sean Hannity for his words of encouragement--and endorsement-- of her latest book,"What Is He Thinking??" released in September by Faithwords-Hachette. Hannity declared the book, "a must read for every girl who wonders where all the good buys have gone."
"What Is He Thinking??" has been sailing off national retail shelves and from online book portals this fall as well as from the merchandise tables at Rebecca's live appearances where it has easily established itself as her fastest selling book to date.
A Grammy Award winning artist who has consistently been recognized as one of the most influential Christian voices in media, Rebecca's longtime "wait for me" message of purity before marriage has taken on a new depth of meaning for her with her own wedding this past spring.
As Rebecca noted in a recent interview:
"Since writing the book, I've heard from a I lot of people who have been encouraged to know that they're not alone in the process of waiting. Now having had the happy reality of marriage in my own life I have had a lot of singles girls-and guys-who have told me my message has had an impact and that my song 'Wait For Me' encouraged them on the journey. I think my message now that I am married is much more powerful in the fact that I can speak from the position of personal experience in saying, 'Hey-waiting for God's choice is absolutely beautiful-and well worth the wait."
Following her New York media this week, Rebecca will see "the wait" for a well deserved first-Christmas-as-a-new-bride finally fulfilled. Ahead in 2012: Plans for another book and a projected spring edition of the "Purity & Worship Tour" for the Salem Radio Network.
Rebecca St. James records for the Provident Label Group.
Her current CD release is I Will Praise You.
Resource online: www.rsjames.com
###
For more info on Rebecca St. James visit the JFH Artists Database.