JFH NEWS SHORTS FOR TUESDAY MARCH 27, 2012
News on Hawk Nelson, David Crowder, "The Covers," War of Ages, Holding Onto Hope, Humble Beast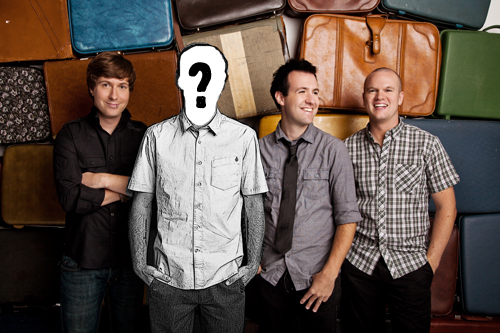 NEWS SOURCE: a Jesusfreakhideout.com report
March 27, 2012
>> Has Hawk Nelson Picked Their Lead Vocalist?
After original Hawk Nelson vocalist Jason Dunn announced his exit and has since stepped down from his position to focus on his new project, Lights Go Down, the question has been -- who will take over the reins from Dunn? It seems only natural for the band to promote from within and recent tweets from the band's guitarist, Jonathan Steingard have alluded to the fact that this will be the case. Check out his twitter feed to see him accepting congratulations over becoming the band's lead singer and dropping other hints as to this being the case.
>> David Crowder Has A New "Collective"?
Last week, Creation Concerts announced that David Crowder will be appearing at Creation East Festival this June with a new band! No details were given on who the band members are, but it's pretty exciting to hear that Crowder will indeed be continuing with music (Click http://bit.ly/zP2H5o to read all about it on Page 6 of Creation's new eMag). Meanwhile, most of the original "Band" part of "David Crowder*Band" is currently making music once again. Check them out at www.thedigitalagemusic.com.
>> EMI Artists Unite For The Covers EP
The Covers-EP, an exclusive digital-only EP, is available now featuring newly recorded cover songs done by David Crowder, Audrey Assad, Luminate, SAMESTATE, and ForeFront label-mates Abandon. The Covers kicks off with Luminate's take on the Pete Townsend classic "Let My Love Open the Door." Abandon follows with a lively version of Katrina and the Waves' 1985 hit "Walking on Sunshine." David Crowder covers Cole Porter's 1934 standard "Don't Fence Me In." Samestate try out the Modern English, New Wave-era favorite "Melt with You," and Audrey Assad goes even further back in time on Pink Floyd's "Wish You Were Here." Audrey says about her version of "Wish You Were Here," "I put a whole lot of my heart into it. It's one of my favorite things I've ever done!" See what else she has to say about it in this blog post. The Covers - EP is available now on iTunes and Amazon MP3. (from Sparrow Records)
>> War of Ages Debuts New Song
War of Ages recently released the first full song from their upcoming album Return to Life. You can see the lyric video for "Redeemer" here: http://www.youtube.com/watch?v=S5EabSfqgys. Pre-order a copy of Return to Life and be entered to win one of 6 prizes awarded weekly. Prizes include a custom Truth snare drum and an ESP guitar. Return to Life will be out on April 24. http://facedown.merchnow.com/products/preorders (from Facedown Records)
>> Is Holding Onto Hope Done?
On Sunday, Come&Live! band Holding Onto Hope made the following announcement, titled 'Goodbye, for now,' "Hello everyone, This is Anton checking in from HOH camp with a bittersweet update regarding the band. As some of you know, we have been in quite the silence for a while. To clear up the tumbleweed of events. I am going to be open and honest with all of you and say we are currently in debt like no other. In the process of recording our newest record, we got pretty screwed financially (by a few unforeseen things that i dont feel right discussing at the moment), and for that reason, it put a halt on the printing of our record, the replenishment of merchandise in our store, rewards for the kickstarter, and even gas to hit the road. We were so financially hurt that certain members were taking the burden of it all on their own, and as a band we pretty much fell apart. We are all still great friends and moved on to a few new chapters. Matt Black joined up with the California act Briertone, Mike Neely works for a sweet little coffee shop down in his stomping grounds, Gabe Davis is kicking back in Florida, Josh Lucas goes to school full time at a salon (so if your ever in California, do not hesitate to contact him to cut your hair. He does great work), and I will be making a record in mid April (stay tuned). I wanted to apologize from the bottom of my heart for the silence that we put you through, and wanted to let you know that we are still working to get each and every one of you reimbursed. Thank you all so much for your patience and being there. As for the many years of Holding Onto Hope, we are not saying farewell, but just a goodbye for now. Call it a hiatus if you will. Cant promise anything, but you may get another record from us in the near future. Once again thank you all so much for being who you are as fans. Stay posted on our facebook page for updates regarding things. Peace, love, and blessings. Over and out."
>> Humble Beast Announces New Artists
Rap label Humble Beast has announced a few new signings. Check it out... "We are proud to announce that we've added TWO new artists to the Humble Beast family. Please welcome DJ Efechto & Lee Green! Both artists recently packed up their bags and moved to Portland, OR. Having them local has been very beneficial in building strong relationships and preparing the way for us to work together effectively. Among the many reasons we decided to partner with these two artists, the main factor involved was the rare combination we saw in them of talent, humility, servitude and genuine love for God and the Gospel. Both artists will be actively involved with various Humble Beast projects and releases this year. Stay tuned to humblebeast.com for more info and updates." (from Humble Beast)
For more info on these artists, visit the JFH Artists Database.