NEW SINGLES FROM JOHN SCHLITT'S UPCOMING CD, THE GREATER CAUSE, GAIN MOMENTUM
'Where I Wanna Be' and 'Hope That Saves The World'
Go For Adds at Christian Radio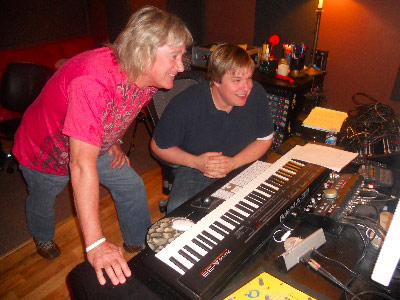 Photo caption: John Schlitt, left, works with producer Dan Needham, right, in the studio on The Greater Cause. (McCain & Co. Public Relations photo)
NEWS SOURCE: McCain & Co. PR
April 27, 2012
Nashville, Tenn. (April 27, 2012) - 4K Records has announced that "Where I Wanna Be" and "Hope That Saves The World," two singles from The Greater Cause, the upcoming CD from multiple Grammy and Dove Award-winning recording artist John Schlitt, have been released to Christian radio.
"Where I Wanna Be," written by Schlitt, Dan Needham and Scott Faircloff, has gone for adds to AC/CHR radio formats. "Hope That Saves The World," co-written by Schlitt and Needham, is being added to Christian CHR/Rock stations. Needham, in addition to being a songwriter on The Greater Cause, also produced the project.
Both singles are receiving significant airplay nationwide, including such markets as Dallas (KVRK), Flint, Mich. (WSNL), Greensboro-Winston Salem, N.C. (WBFJ) and Santa Rosa, Calif. (KORB). "Hope That Saves The World" has hit Christian Music Weekly (CMW)'s Rock Most Added chart for April 25.
"We're gaining strong momentum with John's first two singles," says Jeff McLaughlin of McLaughlin Music Group International, who is promoting Schlitt's singles. "The entire project is incredible and we're getting really positive feedback from the stations. I'm excited that the singles already are in medium to heavy rotation in a number of markets and each week brings more spins."
Tim Hopkins, music director at KORB in Santa Rosa, says the station has put "Hope That Saves The World" into hot rotation, with more spins coming up next week because of listeners' response. The Greater Cause, Schlitt's first full-length CD since his critically-acclaimed 2008 release, The Grafting, is set for a May 8 release through 4K Records and New Day Christian Distributors. Schlitt, named the best rock singer in Christian music history by GospelMusicChannel.com in 2011, stepped from behind the microphone to co-write seven of this project's 11 tracks with such Christian music luminaries as Grammy, Emmy and Dove Award winner Andrew Ramsey (India.Arie, Jonny Lang and Mandisa) and Dan Needham, who has worked on more than 40 Dove and Grammy Award-winning projects (Michael McDonald, Amy Grant, Chris Tomlin and more), as well as Chris Rodriguez, Scott Faircloff and Gene Miller. Dove Award winner and 2008 BMI Songwriter of the Year Ed Cash (Chris Tomlin, Amy Grant, David Crowder Band) and Dove Award winner Ian Eskelin (Francesca Battistelli, Hawk Nelson, Point of Grace) also contributed songs to the project. For more information about Schlitt or The Greater Cause, go to johnwschlitt.com.
About John Schlitt:
With more than three decades worth of water under the musical bridge, John Schlitt has enjoyed a stellar career as a solo artist, as lead singer for Grammy Award-winning Christian band Petra and as former lead singer for popular '70s mainstream rock band Head East. He has earned multiple Gold Records, Grammy Awards and Dove Awards, and has been inducted into the Gospel Music Hall of Fame as the lead singer of Petra, one of the most successful Christian rock bands of all time. Schlitt was recently named the best rock singer in Christian music history by GospelMusicChannel.com. According to the website, Schlitt "remains one of the most distinctive and impactful men to ever stand behind a microphone." Schlitt was also named Male Vocalist of the Year in About.com's 2011 Readers' Poll in a category that included Chris Tomlin, Jeremy Camp. Brandon Heath and Bebo Norman.
For more information on Schlitt, visit johnwschlitt.com or follow him on Twitter (@johnwschlitt) or Facebook (facebook.com/johnwschlitt).
For more info on John Schlitt visit the JFH Artists Database.