THE ROCKET SUMMER
ANNOUNCES NEW INDIE FULL-LENGTH ALBUM
'LIFE WILL WRITE THE WORDS'
AVAILABLE WORLDWIDE JUNE 5
CURRENTLY ON THE ROAD WITH SWITCHFOOT
BEFORE EMBARKING ON A SOLO HEADLINING RUN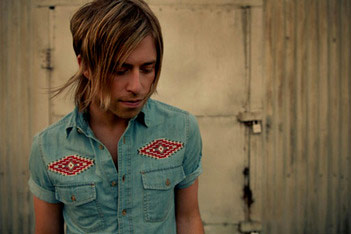 NEWS SOURCE: Biscuit PR
April 27, 2012
Multi-instrumentalist, singer, songwriter and producer BRYCE AVARY, known as THE ROCKET SUMMER, is gearing up to release his first independent full-length album LIFE WILL WRITE THE WORDS, available Tuesday, June 5 via his own AVIATE RECORDS. THE ROCKET SUMMER is currently out on the road supporting Switchfoot and playing select headlining dates along the way (dates below). Also in the works is a headlining run in support of the album release, with more info to come in the coming weeks.
Following two successful albums on Island/DefJam--2007's Do You Feel and 2010's Of Men And Angels--AVARY choose to return to his self-releasing, self-producing roots. As with his debut breakout self-titled EP in 2001 and album Calendar Days in 2003--when he was 16 and 19 years old, respectively--LIFE WILL WRITE THE WORDS draws not only AVARY's undeniably talents as a songwriter, musician and producer, but adds the heft of a young man with a tremendous pool of experience for someone still in his 20's.
"I really wanted to push myself musically and lyrically with this album, searching to pull out the stories within and around me," explains AVARY. "I like to write songs that are an honest reflection of what's going on in my life and in my mind while I observe and attempt to learn more about myself and this beautiful, intense world we live in."
As with previous albums from THE ROCKET SUMMER, AVARY wrote and performed every note on LIFE WILL WRITE THE WORDS. Between sellout acoustic tour dates in the USA and numerous headlining and festival touring abroad, 2011 saw AVARY experimenting with numerous new sounds in the studio, sounds including mandolin, a banjo, some trashcans and even a typewriter. His songwriting likewise stretched to a broader scope, examining the human existence with the advantage of both a strikingly personal eye experience and the experiential outlook of writers many years older. The result is a 12-track multi-dimensional collection that further establishes AVARY as a modern-day Renaissance man with the engaging outlook embodied in the album's title LIFE WILL WRITE THE WORDS.
"To me, that phrase in a sense captures a bit of the human experience. I believe there's a song in everything," AVARY says. "Literally everything you look at, you can pull a song out of it. We all have a song, we all have a story."
With high-energy, bouncy moments on "Revival" and "Run And Don't Stop," sensitive and endearing sentiments felt on "Old Love," the charming "200,000," and the album's emotional bedrocks "Soldiers" and "Just For A Moment Forget Who You Are," AVARY is ready to share his story with the world.
For those attending THE ROCKET SUMMER/Switchfoot dates, AVARY is offering up a sneak-peek of the LP with an exclusive, free mp3 of the album's lead-off track, "Run And Don't Stop." If that's not enough, fans awaiting the new music can download a free live acoustic album Bryce Avary, His Instruments and Your Voices, now available at www.therocketsummer.com.
Catch THE ROCKET SUMMER on tour:
DATE CITY VENUE

Headlining shows
Sat 4/28 Wichita, KS Groundzero
Sun 4/29 Bixby, OK The Compound
Tue 5/1 Memphis, TN Newby's
Wed 5/2 Nashville, TN 12th and Porter

w/ Switchfoot
Thu 5/3 Birmingham, AL Samford University
Fri 5/4 Springfield, MO Gillioz Theatre
Sat 5/5 Greenville, IL Bond County Fairgrounds
Mon 5/7 Asheville, NC The Orange Peel
Tue 5/8 Athens, GA Georgia Theatre
Thu 5/10 York, PA Pullo Family Performing Arts Center
Fri 5/11 Chattanooga, TN Track 29

w/ Switchfoot
Wed 5/16 Selma, TX Blue Bonnet Palace
Thu 5/17 New Orleans, LA Tipitina's

Headlining show
Sun 5/20 Madison, WI The Loft

w/ Switchfoot
Tue 5/22 Winnipeg, MB The Garrick
Thu 5/24 Saskatoon, SAS Louis' Pub - Univ of Saskatchewan
Sat 5/26 Calgary, AB MacEwan Ballroom
Sun 5/27 Vancouver, BC Commodore Ballroom
Track listing for LIFE WILL WRITE THE WORDS:
1. Run and Don't Stop
2. Revival
3. Prove It
4. Old Love
5. 200,000
6. Just for A Moment Forget Who You Are
7. Circa 46
8. Underrated
9. Soldiers
10. The Rescuing Type
11. Scrapbook
12. Ashes Made of Spades
For more info on The Rocket Summer visit the JFH Artists Database.