EMI CMG PUBLISHING ANNOUNCES THE SIGNING OF GRAMMY®-AWARD WINNING AARON LINDSEY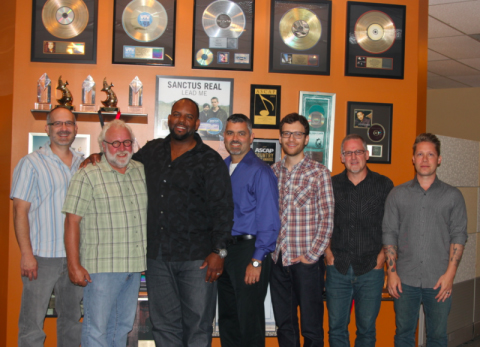 Casey McGinty (Sr. VP, EMI CMG Publishing) Eddie DeGarmo (President, EMI CMG Publishing) Aaron Lindsey, Ken Johnson (Production and Booking Manager for Aaron Lindsey) Matt Ewald (Creative Director, EMI CMG Publishing) Jimi Williams (Director of Worship Resources, EMI CMG Publishing) Jeremy Ash (Creative Director, EMI CMG Publishing)
NEWS SOURCE: Merge PR
July 10, 2012
NASHVILLE, Tenn. -July 10, 2012 -EMI CMG Publishing announces the signing of GRAMMY-award winning songwriter Aaron Lindsey to their critically acclaimed roster of writers. Over the last 20 years, Lindsey has become a well sought after musician, producer, and clinician in Gospel and Christian music. Recognizing the variety of Lindsey's writing talent, EMI CMG Publishing sees his great potential in various styles of the Christian music industry.
"During the time that I have been administering and controlling my own publishing, I have realized that I have not explored the full depth of what I am capable of writing and producing," shares Lindsey on his move to EMI CMG Publishing. "Eddie DeGarmo and John J. Thompson were critical to my final decision because there was a transparency and positivity present that gave me the sense that they recognized my potential as a pop Christian/CCM writer as well as a gospel writer."
Throughout his career, Lindsey has become one of the top producers and songwriters in the gospel genre. His friendship with Israel Houghton led him to become partner and co-founder of New Breed Productions and the group Israel & New Breed. For over eight years the partnership co-wrote, produced, and birthed some of the most powerful songs used in churches today.
"Anyone who has been paying attention knows all about Aaron's success in Gospel Music," says EMI CMG Publishing President Eddie DeGarmo, "but fewer understand the passion, expertise and finesse he brings to other genres such as pop and rock. It's a true honor to work with a songwriter - and person - of his caliber, and we can't wait to see this next chapter of his ministry and career unfold."
As a multiple Stellar, Dove, Soul Train and GRAMMY winner, Lindsey's accomplishments have been acknowledged and respected among his peers and avid music lovers internationally. Over the years, Lindsay has written and produced artists such as Yolanda Adams, Israel Houghton, Marvin Sapp, Martha Munizzi, Fred Hammond, Lakewood Church, and GRAMMY-nominated newcomers Royal Tailor.
About EMI CMG Publishing:
As a full-service publisher, EMI CMG Publishing represents more than 40,000 songs, hundreds of copyright catalogs and over 300 writers, including Chris Tomlin, Ben Glover, VaShawn Mitchell, Jeremy Camp, Gerald Crabb, Matt Redman and Sanctus Real, to name a few. EMI CMG Publishing also administers such prominent catalogs as Hillsong and Integrity, as well as administering for top-selling artist/writers such as TobyMac, Casting Crowns, Third Day and Kirk Franklin. As the current BMI, ASCAP and Billboard Christian Music Publisher of the year, EMI CMG Publishing is recognized as an industry leader in Christian music worldwide. Its mission is to impact modern culture with the timeless relevance of Christ through its diverse roster of writers and songs. EMI CMG Publishing is a division of EMI Christian Music Group. For further information, please visit www.emicmgpublishing.com.
About Aaron Lindsey:
For over 20 years Aaron Lindsey has shared his passion for music with people. As the son of a Minister of Music and choir director, Lindsey has always been surrounded by song. As a multiple Stellar, Dove and Grammy winner and recipient of the 2005 Soul Train Gospel Album of the year award, Lindsey's accomplishments have been acknowledged and respected among his peers and avid music lovers internationally. In addition to his continuing efforts with New Breed Productions, Lindsey and wife Adrian, founded Whatbox Global Media, Aaron Lindsey Publishing, and Groove Habitat Studios and became a premier songwriter for Warner Publishing in 2006. Lindsey's first joy and ministry are to his wife, daughter, and sons.