Kevin Max Is The New Lead Vocalist For Audio Adrenaline!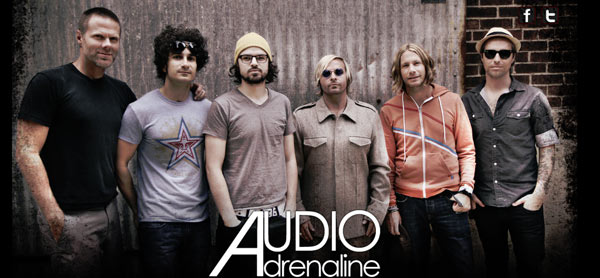 NEWS SOURCE: Audio Adrenaline / Jesusfreakhideout.com
August 21, 2012
September 13, 2012 UPDATE: Billboard has posted the first official story on the new Audio Adrenaline, revealing plans for a Spring 2013 album release via record label Fair Trade Services (home to MercyMe, Derek Webb, Disciple, and more!). Also, a partnership with Know Hope Foundation allows album proceeds to directly support funding for orphans! Their first single, "Kings & Queens" goes to radio this November. Check out the full story here: http://www.billboard.com/news/audio-adrenaline-reboots-with-ex-dc-talk-1007946602.story#/news/audio-adrenaline-reboots-with-ex-dc-talk-1007946602.story

...........

August 21, 2012 AFTERNOON UPDATE: Sorry folks, Will McGinniss had originally told us Stu from Delirious was on guitar. Apparently it "didn't work out," but he did tell us that guitarist Dave Ghazarian of Superchick is on guitar and Jason Walker (Know Hope Collective) is on keys and additional vocal work!

...........

The word is finally out and we at JFH are thrilled to no longer have to keep our lips sealed. CCM pop rock staple Audio Adrenaline may have disbanded in 2007, but recent developments have made it possible for the band to resurface as a new entity. With the fact that original lead vocalist Mark Stuart has had vocal issues for years, which then played a part in the band's break-up, fans have wondered how it could be possible for Audio Adrenaline to ever make music as a band ever again.
No doubt inspired by Newsboys decision to recruit former dc Talk and Tait band vocalist Michael Tait when Peter Furler stepped down, Audio Adrenaline has enlisted the aid of dc Talk vocal powerhouse Kevin Max to take the reins. As far as other Audio A members returning, the only original member to pick up his instrument once again is bass player Will McGinniss. Drummer Ben Cissell will not be returning, and neither will guitarist/vocalist Tyler Burkum who has been on the road with Mat Kearney (almost since Audio A disbanded in the spring of '07) and is also a member of the band Leagues.
Joining Max in the new Audio Adrenaline is former Superchick guitarist Dave Ghazarian on guitar (who also has been playing with Peter Furler's band this year) and Bleach drummer Jared Byers on drums. Byers actually filled in for Cissell on Audio A's final spring tour in 2007 when Cissell had already been committed to his first post-AA job as manager of Nashville youth club Rocketown. To make the band a quintet, solo artist Jason Walker will be providing keys and additional vocals (much like Burkum did, according to McGinniss), and recently worked with AA members Mark Stuart and McGinniss on the Know Hope Collective project.
The newly revitalized band is hoping to raise funds and awareness for the Haitian orphan ministry called The Hands and Feet Project through this new musical chapter in Audio A's history, and are hoping to hop on the festival circuit in the coming months. Audio Adrenaline is also planning a new studio album to be released in 2013! (We can tell you it's shaping up to be pretty great, too!)
More details about the new Audio Adrenaline will be announced soon.
For more info on Audio Adrenaline visit the JFH Artists Database.