WORLD VISION PRESENTS THE STORY TOUR,
RETURNING THIS CHRISTMAS WITH ALL-STAR MUSICAL CAST
FEATURING MARK HALL, JEREMY CAMP, NATALIE GRANT, MATTHEW WEST,
NICHOLE NORDEMAN, SELAH, RAWSRVNT
AND SPECIAL GUEST AUTHOR/SPEAKER RANDY FRAZEE

Multi-Media Christmas Celebration Set to Kick Off Nov. 23
And Hit 14 Major Markets Across the U.S.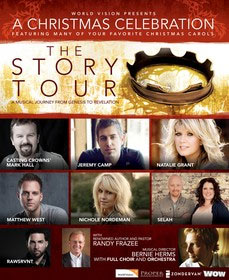 NEWS SOURCE: Southside Entertainment
October 1, 2012
NASHVILLE, TN - THE STORY TOUR, presented by World Vision, is a Christmas celebration featuring an all-star cast of some of today's top Christian recording artists including Casting Crowns lead singer/songwriter Mark Hall, Jeremy Camp, Natalie Grant, Matthew West, Nichole Nordeman, Selah and Rawsrvnt, along with special guest author/speaker Randy Frazee and musical director Bernie Herms. THE STORY TOUR is a fully-produced multi-media experience with the artists, along with a full choir and orchestra, performing the multi-artist album of the same name in its entirety. The production includes stunning visuals and live-action video to accompany every song, projected on a massive screen encompassing the entire stage. Based on 2012's Dove Award-winning Special Event Album of the Year [(Music Inspired By) The Story], THE STORY TOUR debuted last Christmas to multiple sell-out performances in front of more than 45,000 people. This year's events will again include performances of favorite Christmas carols along with a musical journey from Genesis to Revelation.
Released in late 2011, (Music Inspired By) THE STORY is an unparalleled project from the some of the best-known artists in Christian music. Based on a collaboration with authors Randy Frazee (The Heart Of The Story) & Max Lucado (God's Story Your Story) as well as Zondervan's bible The Story, the songs on THE STORY album take timeless biblical stories and provide a completely new context into how God's story of love and redemption intersects with our story of brokenness and failures resulting in a new story of hope and rescue. The 2-CD set features 18 original songs written by multiple Dove Award-Winners Nichole Nordeman and Bernie Herms. The project is produced by Herms and Brown Bannister, and features a stellar lineup of artists across all major labels who combined have sold over 75 million albums.
THE STORY TOUR is partnering with Christian child-sponsorship/humanitarian organization World Vision ( www.worldvision.org). World Vision provides assistance to approximately 100 million people in nearly 100 countries by tackling the causes of poverty and injustice.
THE STORY TOUR DATES - 2012
11/23 - Louisville, KY - Southeast Christian Church
11/24 - Greensboro, NC - Greensboro Coliseum
11/25 - Duluth (Atlanta), GA - Gwinnett Center
11/26 - Tampa, FL - USF Sun Dome
11/27 - Columbia, SC - Colonial Life Arena
11/29 - Grand Rapids, MI - Van Andel Arena
11/30 - Champaign, IL - University of IL - Assembly Hall
12/1 - Independence, MO - Independence Event Center
12/2 - St. Paul, MN - Xcel Energy Center
12/3 - Sioux Falls, SD - Sioux Falls Arena
12/4 - Hoffman Estates, IL - Sears Centre Arena
12/6 - Cypress (Houston), TX - Berry Center
12/7 - Dallas, TX - American Airlines Center
12/8 - San Antonio, TX - Freeman Coliseum
For ticket & concert info, visit www.thestoryCD.com/tour.
About Mark Hall
Serving nearly 20 years in youth ministry, Casting Crowns' lead singer/songwriter and author Mark Hall is the student pastor at Eagle's Landing First Baptist Church in Atlanta. Mark has co-written several best-selling books including Lifestories, Your Own Jesus, and The Well. During an eight-year career as lead singer of Casting Crowns, Mark Hall has seen nine of Casting Crowns' projects become RIAA certified, with a tally of one RIAA Double-Platinum Album, three RIAA Platinum Albums, three RIAA Platinum DVDs, one RIAA Gold Album, one RIAA Gold DVD and 4 RIAA Gold Singles, holding position as Billboard's top-selling act in Christian music since 2007. The group also claims two American Music Awards, with six total nominations, 2 Billboard Music Awards, three GRAMMY Awards, and 15 GMA Dove Awards. In addition, Mark has been named BMI Songwriter of the Year. For more information, visit www.castingcrowns.com or follow Mark Hall on Twitter at twitter.com/markhallCC.
About Jeremy Camp
Over his stellar 10-year career, BEC Recordings' artist Jeremy Camp has established himself with these landmark accolades: over 3 million albums sold, four RIAA Gold-selling studio albums including his debut album; one RIAA Multi-Platinum long-form video; 32 No. 1 Radio Hits across all formats; GRAMMY® nominated project for his album Speaking Louder Than Before; Billboard's No. 3 Christian Artist of the Decade including five songs in the Top 50 Billboard Christian Songs of the Decade; Four ASCAP Songwriter of the Year awards; ASCAP Song of the Year award; Five Dove awards including two-time Male Vocalist of the Year. Jeremy is a Compassion International artist. For more info, visit JeremyCamp.com.
About Natalie Grant
A powerhouse vocalist/songwriter, Natalie Grant has an unshakable determination to remind us of the simple significance of love, and the revolutionary power that it carries, as expressed on her latest project, Love Revolution, the highest-selling album debut of her career. As a Grammy Nominee, five-time GMA Female Vocalist of the Year, and the top-selling Adult Contemporary female solo artist in 2005, 2006 and 2008, Grant is among a select number of artists to have achieved a formidable foothold at mainstream media and radio. Despite these accomplishments, it is the message of the Gospel, and the revolutionary power of love it carries, that she waves as her banner and her hope. Beyond her artistry, Grant remains an outspoken advocate for victims of human trafficking through Abolition International, which she created in 2005. She balances all of these endeavors with her greatest calling-as a wife, and mother of three. For more info, visit www.nataliegrant.com.
About Matthew West
Lauded by The New York Times as "a vivid and compelling songwriter with impressive approaches to the familiar," two-time GRAMMY® nominee Matthew West's discography includes acclaimed releases: Happy (2003), History (2005) and Something to Say (2008). His 2010 studio album, The Story of Your Life, was inspired by 10,000 stories from every state in the U.S. and 20 countries, while garnering attention from CNN Online, Fox News, Billboard, Country Weekly, American Songwriter and more. The Story of Your Life gave West the largest street week debut of his career selling over 10,000 units the first week landing at No. 3 on Christian Soundscan, and No. 41 on the Billboard Top 200. A multiple ASCAP "Song of the Year" winner, West has had four No. 1 radio hits including his latest GRAMMY®-nominated tune, "Strong Enough" and the Top 10 mainstream AC radio hit "The Heart of Christmas" from his like-titled Christmas project. West was recently nominated for a Primetime Emmy® Award for Original Music & Lyrics for "The Heart of Christmas" from the film of the same name. West's sixth studio album, Into The Light, released on September 25. For more information, visit www.matthewwest.com.
About Nichole Nordeman
Nichole Nordeman is a recording artist and songwriter for Sparrow/EMI CMG with numerous No. 1 and Top Ten singles to her credit, along with cumulative CD sales of over 1 million. A two-time Gospel Music Association winner for Female Vocalist of the Year, she has won a total of nine Dove Awards, including one recently as the lyricist on the best-selling album, (Music Inspired by) The Story. Nichole lives with her family in Tulsa, Oklahoma. Connect with her at www.nicholenordeman.com and @nicholenordeman on Twitter.
About Selah
Over 2.75-million-album-selling and 7-time-Dove-Award winning trio Selah, has an evolving sound that is indebted to each member's eclectic tastes. Pianist/vocalist Allan Hall bleeds country and bluegrass; vocalist Todd Smith breathes classic rock and yesteryear's CCM, and vocalist Amy Perry marches to the beat of pop and urban gospel. Selah's mission is to use the gifts that God has given them to encourage the people that listen to their music and attend their concerts, "If we can remind them that God is real, and He is here, and He will take care of them, we're doing what He wants us to do." For more information, visit www.selahonline.com.
About Rawsrvnt
Eddy "Rawsrvnt" Puyol is known by some as the bachelor who told reality TV star Omarosa he loved Jesus more than her on the "Donald J. Trump Presents The Ultimate Merger" dating show. Such priorities and passion have led him to travel extensively, bringing his Grammy-recognized and Billboard-certified "Hip-Hop Worship" blend of hip-hop/rock/reggae music to preach, uplift, and touch hearts across the globe with the redemptive nature of God's love. For more information, visit www.rawsrvnt.com.
About Randy Frazee
Randy Frazee became the senior minister of Oak Hills Church in San Antonio in 2008, where he teaches and leads in partnership with pastor and author Max Lucado. Prior to Oak Hills Church, Frazee served as teaching pastor at Willow Creek and as senior pastor at Pantego Bible Church in Fort Worth, Texas for fifteen years. He is the author of The Connecting Church, Making Room for Life, The Christian Life Profile Assessment and Renovation of the Heart Student Edition. Frazee lives in the San Antonio area with his wife Rozanne, their four children and granddaughter. For more information, visit www.randyfrazee.com.
About Bernie Herms (musical director)
Producer…Composer…Songwriter…Grammy nominee. These are just a few words to describe GMA's 2009 Producer of the year and ASCAP's 2007 Songwriter of the Year, Bernie Herms. His success in each of these areas has led to work with well-known artists such as Brad Paisley, Jackie Evancho, The Canadian Tenors, The Military Wives, Casting Crowns, CeCe Winans, Natalie Grant, Sammy Kershaw, and Steven Curtis Chapman. His work has garnered multiple Gospel Music Dove Award nominations in categories like Producer of the Year, Song of the Year, Pop Contemporary Album of the Year and more. The 2012 Dove Awards came with a nomination and a win for Herms in the Inspirational Album of the Year category for the highly respected album, (Music Inspired By) The Story. Herms recently signed a production and publishing deal with renowned producer David Foster and Universal Music Publishing.