StompTown Revival Reaches #3 On iTunes Album Chart With Debut Self-Titled EP
Duo One Of The Featured Artists At Christian Music Summit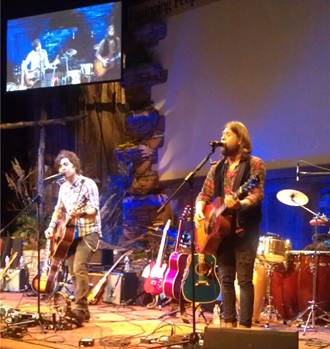 Left to Right: Gabe Martinez, Brandon Bee - StompTown Revival
NEWS SOURCE: Bozeman Media
October 11, 2012
Nashville, TN (October 11, 2012) ---- StompTown Revival's rootsy blues sound is starting to resonate with fans and the music community, which developed impressive chart numbers for their debut EP. The self-titled project rapidly climbed to #3 on the iTunes chart the morning of the album's release and remained in the Top Ten during the duo's release week. The strong debut is a very remarkable achievement, but not surprising when considering the talent of Gabe Martinez and Brandon Bee.
The talent of the duo led to StompTown Revival becoming one of the featured performers at the Christian Music Summit that was held for the first time in Nashville, TN. The invitation to perform came from one of the co-founders of the 9-year conference, Bruce Adolph, who is also President of the Adolph Agency in Seattle, WA and publisher of Christian Musician and Worship Musician.
"StompTown Revival is a musical force to be reckoned with, and at our CMS Nashville conference they thoroughly impressed an all musician crowd," says Adolph. "I was sitting next to Phil Keaggy for StompTown's set and halfway through their first song Phil leaned over to me and said, 'they're awesome!' What more can I say? Their fresh approach to Christian Americana/Folk/Roots music was a joy to watch. If you're a music fan - buy their record, if you are a radio programmer - play their music, and if you are a concert or festival promoter - book this two member band. You will not regret it. They are that good and that original."
StompTown Revival also had the privilege of performing on one of the Night Of Joy stages at Disney World and at the Experience Conference last month in Orlando, FL. This week the guys are in Texas playing dates that will also include an appearance on San Antonio's popular morning show, Good Day SA.
About StompTown Revival
Seattle native Brandon Bee and Texas native Gabe Martinez grew up in different parts of the country but both developed a passion for blues/roots music at a young age. As they began their own careers, Martinez as the frontman for the critically acclaimed Christian rock group Circleslide and Bee as a solo artist with over 80 production credits to his name, their paths crossed at a music retreat in Seattle, WA in 2004. The pair struck up a friendship, and when a guitarist with Circleslide was injured Bee stepped in as the fill-in musician for a few months. The guys started writing songs together and that's when they discovered their mutual interest in American Blues music. It was at that point when StompTown Revival was organically born. Shortly after that, the music caught the attention of Save The City Records which led to the new release. StompTown Revival is managed by Artist Garden Entertainment, who developed the innovative new website for the duo that includes a log-in for citizenship and voting privileges for mayor. For more information on StompTown Revival please visit them online at www.stomptownrevival.com, www.facebook.com/StompTownRevival and on Twitter @strevival.
###
For more info on StompTown Revival visit the JFH Artists Database.