ABANDON KANSAS PREMIERES VIDEO FOR SONG "TURN IT TO GOLD"
TODAY AT TVU
SINGER JEREMY SPRING GEARING UP FOR THE LIVING ROOM TOUR 4

BAND LENDS SONG TO TIS THE SEASON TO BE GOTEE TOO
HOLIDAY COMPILATION OUT NOW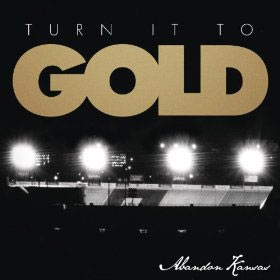 NEWS SOURCE: Independent Music Media
October 24, 2012
Gotee Records band Abandon Kansas premiere the music video for the song Turn it to Gold, directed by Kevin Wildt, today at TVU. Watch the premiere at http://radiou.com/. The single is available now at iTunes http://bit.ly/itgold
"We went back to our hometown director Kevin Wildt for this new video, since he did such a great job with "Heaven Come My Way." The animation almost gives it a sci-fi feel, larger than life, if you will. We knew we wanted the performance to feel big, and between the lighting and high def shots I think Kevin nailed it." -explains frontman Jeremy Spring
The band is also excited to contribute their version of the holiday classic "Do You Hear What I Hear?" to this year's installment of Tis The Season To Be Gotee Too. The compilation is the label's second Christmas album and is available digitally and at Christian retailers now. You can download the compilation at iTunes here.
Abandon Kansas frontman Jeremy Spring will once again embarked on his very intimate and original tour deemed The Living Room Tour 4. The run kicks off on November 27 and and features Jeremy playing solo the living rooms of fans and friends across America.
"This is our fourth year doing The Living Room Tour and it looks to be the best one yet. This tour is built around the fans; fan-booked in fan's living rooms full of fans, old and new. I love connecting with everyone in such an intimate setting with food, stories, and of course our songs. These shows are open to the public so I'd encourage anyone curious as to what a living room show is like to come on out and join us." Says Spring
The Living Room Tour 4-
Nov 27 - Hutchinson, KS
Nov 28 - Lawrence, KS
Nov 29 - Lincoln, NE
Nov 30 - Sioux Falls, SD
Dec 1 - Minneapolis, MN
Dec 2 - Eau Claire, WI
Dec 4 - Milwaukee, WI
Dec 5 - Chicago, IL
Dec 6 - Fort Wayne, IN
Dec 7 - Franklin, OH
Dec 8 - Dayton, OH
Dec 9 - Emporium, PA
Dec 10 - Buffalo, NY
Dec 11 - Columbus, OH
Dec 12 - Columbus, OH
Dec 13 - St Louis, MO
Dec 14 - Springfield, MO
Dec 17 - Clay Center, KS
Dec 18 - Raymore, MO
Dec 19 - Omaha, NE
Dec 20 - Lenexa, KS
Also a second leg will be added to the Living Room Tour 4 for January including dates in OK, TX, LA, AL, FL, GA, SC, NC, TN and KY
For show specific information visit www.abandonkansaslovesyou.com or http://jeremyspring.tumblr.com/
For more info on Abandon Kansas visit the JFH Artists Database.