AUDIO ADRENALINE ANNOUNCES SPRING 2013 KINGS & QUEENS TOUR
SPECIAL GUESTS GROUP 1 CREW, SEVENTH DAY SLUMBER AND MANIC DRIVE

DEBUT RADIO SINGLE "KINGS & QUEENS" AVAILABLE NOW AT ITUNES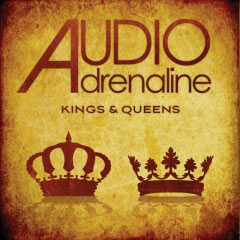 NEWS SOURCE: Merge PR
October 24, 2012
NASHVILLE, TENN. -October 24, 2012 -Supporting their forthcoming studio album, Kings & Queens, Audio Adrenaline announces their first headlining tour with the new line-up beginning in late February through the Spring 2013- tour dates to be announced soon. Special guests on this tour will include Group 1 Crew, Seventh Day Slumber and Manic Drive.
In addition to this special tour announcement, fans can now purchase Audio Adrenaline's debut radio single and title track Kings & Queens on iTunes. Click here to get the song. More than 50k fans have viewed the inspiring official music video that was taped in Jacmel, Haiti at the Hands & Feet Project Children's Village, showcasing the beautiful children of Haiti. Click here to view "Kings & Queens" music video.
Earlier this fall came the announcement of the re-formed Audio Adrenaline with former dcTalk member and industry mainstay Kevin Max as lead vocalist, CCM vets Dave Ghazarian (Superchick) on guitar, Jared Byers (Bleach) on drums, and singer-songwriter Jason Walker playing on keys along with original member Will McGinnis on bass.
With the same heart, passion and infectious musical prowess they developed as a band in the 1990's, multi-GRAMMY® award-winning Audio Adrenaline is back and has put together a new lineup of like-minded musicians with the same common goal; to be the voice for orphans in Haiti and around the world. Net proceeds from the Audio Adrenaline album will go to Hands & Feet Project to continue growth and support of the nearly eight-year-old charity.
Group 1 Crew has become one of the leading hip-hop focused acts in the Christian music scene, broadening the parameters of faith-based music with songs that percolate with energy and resonate with the truth of God's grace. They recently released their fourth studio album, Fearless, on Fervent records.
Seventh Day Slumber released their eighth studio album, The Anthem of Angels, to much acclaim in 2011 on BEC Recordings. As the band has matured over the last 15 years, they've faced newfound challenges head on, and today their perspective and relevancy are as strong as ever, and their anthems of praise are even more profound.
Manic Drive released their latest project, EPIC in 2011. The band's previous three albums, Blue, Reason for Motion and Reset & Rewind have landed them Billboard Top 10 & 20 singles on CHR & Christian Rock Radio. Their life experience, spiritual maturity and ministry have opened doors to speak into the lives of their own generation and that is perhaps the most defining characteristic of this group of guys.
ABOUT HANDS & FEET PROJECT
In 2004, the members of Audio Adrenaline founded the Hands & Feet Project. Inspired by fan reaction to the band's song "Hands and Feet," HAF is a non-profit organization dedicated to providing long-term, family-style care for orphaned and abandoned children with the love of Christ. They strive to raise a generation of orphaned children who will grow up to reach their God- given potential, while empowering first world citizens to partner with them in service at home and abroad.
The organization broke ground on their first Children's village in Cyvadier, a small town on the Southern coast near Jacmel, and began their journey of serving the forgotten children of the impoverished Caribbean nation. Currently tending to over 70 children in Cyvadier, a second village opened in Grand Goave in 2008 and is caring for 30 children. handsandfeetproject.org.
For more info on Audio Adrenaline visit the JFH Artists Database.