SECOND ANNUAL CANTINAS MUSIC FESTIVAL TO FEATURE MULTI-PLATINUM SELLING ARTIST MICHAEL W.SMITH & GRAMMY NOMINATED VOCALIST FRANCESCA BATTISTELLI ON AUGUST 24, 2013 IN PASO ROBLES, CALIF.
FESTIVAL WILL FEATURE NUMEROUS STAGES AND ENTERTAINMENT THROUGHOUT THE DAY, AS FOLLOW-UP TO LAST YEAR'S SOLD-OUT INAUGURAL SHOW, WHICH DREW OVER 5,000 ATTENDEES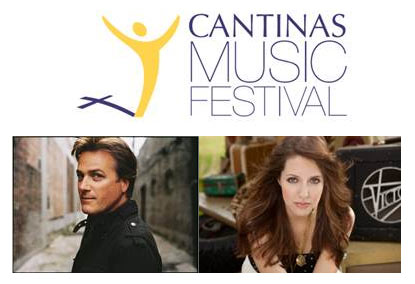 NEWS SOURCE: Rogers & Cowan
April 2, 2013
Los Angeles, Calif. (April 2, 2013)- The Cantinas Ranch Foundation will embark on its second annual Cantinas Music Festival on August 24, 2013, featuring three-time Grammy Award winner and multi-platinum selling artist Michael W. Smith and Grammy nominated vocalist Francesca Battistelli. The highly anticipated event will be held at the Paso Robles Event Center in Paso Robles, Calif. General Admission tickets are available for $35 at www.CantinasMusicFestival.com.
Cantinas Ranch Foundation is a non-profit 501(C)(3) entity whose mission is to encourage talented Christian teen and college-level artists to promote healthy family values and interaction. Last year's debut festival was a sold-out success drawing over 5,000 attendees who gathered together to engage in a full day of festivities and be entertained by multi-platinum selling band MercyMe, Newsboys, Building 429 and breakout artist Kylie Rose.
"Knocking on Heavens door once again on August 24, 2013, we hope you join us in seeking His presence and impacting families, future leaders and the community for the glory of God," says Wendy Hughes, Co-Founder & Executive Director of Cantinas Ranch Foundation.
The 2013 Cantinas Music Festival will kick off at 12pm PT with its popular Village Festival featuring countless interactive fun for the entire family. In addition, attendees will have the opportunity to experience live entertainment from various community vendors as they meet local artists, enjoy arts and crafts, photo booths, food concessions and more. The headlining acts will take the main stage at 6pm PT.
To coincide with this year's music festival, Cantinas Ranch Foundation will once again host its annual Worship Song Talent Contest. Finalists will be chosen to perform in front of a soon-to-be announced all-star panel of judges for 2013. In 2012, three frontrunners (out of thousands of submissions) were selected to take the stage before celebrity judges that included Today Show's Kathie Lee Gifford, actress and former Full House star Candace Cameron Bure, and T.V./Feature Literary Agent Michael Van Dyck. The 2012 winner, Kyler Gentry, from Simi Valley, Calif., took home the grand prize of $2000. Additional details and submissions for the 2013 contest will be available later this spring at www.CantinasMusicFestival.com.
For more information, please visit www.CantinasMusicFestival.com and www.cantinasranchfoundation.org.
About Cantinas Ranch Foundation:
The Cantinas Ranch Foundation looks to transform our modern day culture through opportunities where God can be magnified through the Arts. Our motivation is to raise up the leadership and talent within the art community, which will inspire a new generation to fall in love with our Lord. Our leaders will be equipped with the expertise, training, and Christian spiritual development to impact the world for Jesus Christ. We aim to provide opportunities for Christian leaders to be change agents that can touch lives through concerts, music festivals, community service outreaches, cutting edge technology, and the non-profit funding of music, theatre, art, dance, and media that the entire family can enjoy. Cantinas Ranch endeavors to orchestrate programs of excellence that will glorify God and send a fresh wind of His Spirit.
# # #