CARMAN KICKSTARTER CAMPAIGN EXCEEDS $235,000,
FUNDING HIS FIRST NEW ALBUM, MUSIC VIDEO IN OVER 10 YEARS
CARMAN ANNOUNCES 60-CITY U.S. TOUR,
OFFERS 500 TICKETS IN EACH MARKET TO KICKSTARTER BACKERS FIRST

Terminal Cancer Diagnosis Paradoxically Revives Carman's Creative Spirit Through Fan Outpouring,
Second Most Successful Kickstarter Music Project Ever And Climbing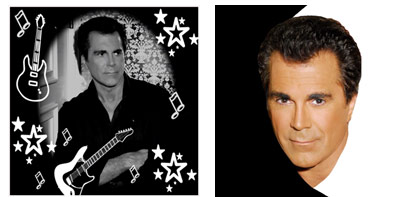 NEWS SOURCE: Hoganson Media
May 17, 2013
Inspired by tens of thousands of fans encouraging him after doctors told him he had three to five years to live following a terminal cancer diagnosis, Christian music pioneer Carman launched a Kickstarter campaign April 19 with the goal to raise $200,000 for his first new album and music video in over 10 years. Remarkably, Carman not only reached his goal in 25 days, but also exceeded that goal, raising over $233,000 so far, making this the second most funded music project ever on Kickstarter, the world's largest funding platform for creative projects. With 32 days left before the campaign ends June 18, Carman fans are continuing to push closer to making this the No. 1 most funded music project on Kickstarter as they continue to donate as little as $1 up to several thousand dollars with commensurate gifts of appreciation from Carman.
Energized by people's prayers, kind words and support of the Kickstarter campaign, and determined to not let cancer detract from doing what he does best - sharing the hope of the gospel to live audiences, Carman announces a 60-city, 28-state tour in anticipation of his new album and music video. With concerts being planned now in top markets like New York, Los Angeles, Houston, Chicago and Dallas, where he holds an attendance record of 71,132 in Texas Stadium (the former home of the Dallas Cowboys), Carman is also extending an opportunity on Kickstarter for fans to be the first to support his tour and receive tickets before they begin going on sale to the general public July 1.
Available at Kickstarter now, and limited to 500 tickets for each city on the tour, backers who donate $100 will not only receive 2 VIP concert tickets and backstage passes to meet Carman after the concert of their choice, but will also receive the new CD at the concert, a single and video download one month before the actual street date of the upcoming album, a t-shirt, an autographed Game Changers CD and more. See http://bit.ly/CarmanKickstarter for all the details, and here is the full list of cities/states selected for the tour:
Alabama

Birmingham

Huntsville

Montgomery

<![if !supportEmptyParas]> <![endif]>

Arizona

Phoenix

<![if !supportEmptyParas]> <![endif]>

California

San Diego

Orange County

San Jose

<![if !supportEmptyParas]> <![endif]>

Colorado

Denver

<![if !supportEmptyParas]> <![endif]>

Florida

Fort Lauderdale

Orlando

Tampa

Jacksonville

Pensacola

Georgia

Atlanta

Columbus

<![if !supportEmptyParas]> <![endif]>

Illinois

Wheaton - Elgin

<![if !supportEmptyParas]> <![endif]>

Indiana

Fort Wayne

Indianapolis

<![if !supportEmptyParas]> <![endif]>

Iowa

Des Moines

<![if !supportEmptyParas]> <![endif]>

Kansas

Wichita

<![if !supportEmptyParas]> <![endif]>

Kentucky

Lexington

Louisville

<![if !supportEmptyParas]> <![endif]>

Maryland

Baltimore

Michigan

Detroit

Grand Rapids

<![if !supportEmptyParas]> <![endif]>

Missouri

Kansas City

St. Louis

Springfield

<![if !supportEmptyParas]> <![endif]>

Nebraska

Omaha

<![if !supportEmptyParas]> <![endif]>

New Jersey

New Brunswick

<![if !supportEmptyParas]> <![endif]>

New York

Long Island

<![if !supportEmptyParas]> <![endif]>

North Carolina

Charlotte

Asheville
Raleigh

Greensboro

Ohio

Akron

Columbus

Dayton

<![if !supportEmptyParas]> <![endif]>

Oklahoma

Tulsa

<![if !supportEmptyParas]> <![endif]>

Oregon

Portland

<![if !supportEmptyParas]> <![endif]>

Pennsylvania

Philadelphia

Lancaster-Harrisburg

Williamsport

Pittsburgh

<![if !supportEmptyParas]> <![endif]>

South Carolina

Columbia

Tennessee

Knoxville
Nashville

Memphis

Chattanooga

<![if !supportEmptyParas]> <![endif]>

Texas

San Antonio

Houston

Dallas

Midland-Odessa

Austin

Amarillo

<![if !supportEmptyParas]> <![endif]>

Virginia

Virginia Beach

Richmond

<![if !supportEmptyParas]> <![endif]>

Wisconsin

Milwaukee

<![if !supportEmptyParas]> <![endif]>

Washington

Seattle

Tacoma
Churches or venues wishing to host a Carman concert in these markets are encouraged to contact AttendStar at (615) 223-1973, and anyone interested in receiving Carman Concert Alerts can go to: http://christianconcertalerts.com/get-concert-alerts/.
Touring from coast-to-coast, Carman will share new music alongside his hit songs and his most recent offering, "The Flag," a compelling anthem that weaves the Pledge of Allegiance into a melodic and inspirational message of pride in America. "The Flag" concept video can be seen now at http://youtu.be/Bp8E9pov0Jo, and Carman's full tour schedule can be seen at http://www.carmanlive.com/.
The process that led to the launch of this Kickstarter campaign began in March of this year as singer, songwriter and television/film actor/writer Carman was diagnosed with terminal, multiple myeloma cancer, a cancer of the blood that affects the body's bone marrow. Stunned and initially devastated by the news, Carman's spirit was soon lifted up by the overwhelming love and support received by tens of thousands of fans after posting the news on his Facebook page. He is now determined to fight the cancer and turn the death sentence into a renewed vision and hope for the future.
With 16 RIAA Certified Platinum and Gold albums and videos, over 10 million albums sold and attendance records for the largest solo Christian concerts in history, Carman is already meeting with producers and planning to record the new album and music video. Amazingly, it was a death sentence by doctors that paradoxically revived this entertainer's creative spirit through his fans.
About Carman:
Carman, whose full name is Carman Domenic Licciardello, is an enigmatic Christian music pioneer. Often described as part evangelist, part Vegas showman, his concerts are like a rock and roll Billy Graham Crusade. They combine drama, rock, comedy, funk, satire, acting, singing and preaching, all woven together for a unique style not duplicated by any other artist in any other musical genre. The only Christian "stadium act" ever, Carman drew 80,000 outdoors in Charlotte, 50,000 in Johannesburg, South Africa and filled many other significant venues across the world. He also held the No. 1 position on the Billboard Christian sales charts for an astounding 33 weeks, with his The Champion album staying on the Billboard overall sales charts for a record 168 weeks. Known for such hit "story" songs as "Sunday's on the Way," "Satan Bite The Dust," "Lazarus Come Forth," "Revival in the Land," "Witches Invitation," "No Monsters," "The Champion" and more, Carman has also has written songs for several motion pictures, including The Prince of Egypt.
With as many as 5,000 people responding each night to the gospel message delivered by Carman, he has also collected the most names on a petition in American history by any individual - one million signatures for a constitutional amendment favoring prayer in public school. He is further the co-founder of the Parable Christian Film Festival and received the Humanitarian Award, whose other recipients include former President and Mrs. Regan, Dr. Billy Graham, Dr. Bill Bright and others.
Among the greatest of Carman's contributions to Christianity at the end of the 20th and beginning of the 21st century is his bringing back a full force, worship revival - not just through song and music, but also through dance and drama, revolutionizing Christian arts and music.
More information on Carman can be found at http://www.carman.org, www.facebook.com/CarmanLicciardello and Twitter (@carmantv).
###
For more info on Carman visit the JFH Artists Database.