MICHAEL W. SMITH ANNOUNCES 2014 "MICHAEL W. SMITH & FRIENDS CRUISE" TO ALASKA
All-Star Lineup Includes Scott Hamilton, Darlene Zschech, Phillips Craig & Dean, and Comedian John Branyan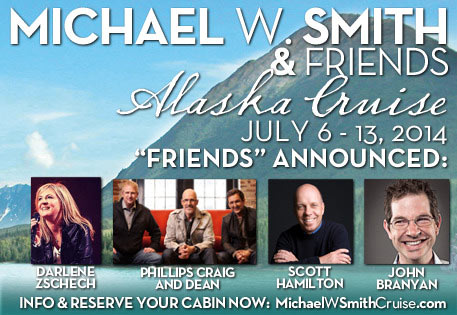 NEWS SOURCE: Savvy Media
May 23, 2013
(NASHVILLE, Tenn.) May 23, 2013- GRAMMY® Award-winning and multi-platinum-selling artist Michael W. Smith announces the 2014 "Michael W. Smith & Friends Cruise" to awe-inspiring Alaska. This fan favorite event, which has sold out in previous years, will showcase a top-notch roster of entertainment, including Olympic gold medalist Scott Hamilton, internationally renowned worship leader Darlene Zschech, Dove Award-winning trio Phillips, Craig & Dean, and comedian John Branyan.
"Michael W. Smith & Friends-Alaska 2014" will set sail July 6, 2014 from Seattle, cruising Tracy Arm Fjord while making stops in Juneau, Alaska; Sitka, Alaska; Ketchikan, Alaska; and Victoria, British Columbia, Canada. In addition to regular cruise festivities, the 7-day tour on Holland America's MS Amsterdam will feature nightly concerts, daily devotions, meet and greets as well as photo opportunities, all with Smith and his friends. There will also be special faith-based youth activities for kids and teenagers.
Making its debut on the 2014 trip will be the first-ever Michael W. Smith Cruise Choir. This unique experience will allow 250 guests a once-in-a-lifetime opportunity to perform with Smith and other artists, both on the ship as well as at a special concert in one of the port cities.
"These cruises have been among the highlights of my career," says Smith. "The friendships that we have formed and strengthened by these trips are a treasure to my family and my whole team. From the special onboard concerts to powerful devotions and some pretty hilarious moments: the week affords us all a chance to unwind while connecting with friends and family in a deeper way. We go into these cruises with great expectations - and God always exceeds our biggest hopes. If there is one part of cruising that I enjoy more than any other it's listening to the personal stories of spiritual walks being strengthened, friendships being formed and relationships being restored."
Cabins are now available at www.michaelwsmithcruise.com. Those interested in joining the Cruise Choir are urged to sign up now, as spaces are available on a first come, first served basis. For more information on this and other Michael W. Smith events, visit: www.michaelwsmith.com.
About Michael W. Smith
Throughout his 29-year career as a recording artist, Michael W. Smith has amassed an impressive catalog of achievements. His 24 albums have garnered multiple honors including an American Music Award, three GRAMMY ® Awards (from 13 nominations), 44 GMA Dove Awards and 33 No. 1 radio hits. In addition, he holds 16 Gold, seven Platinum and two Double-Platinum albums for career sales of 15 million. Most recently, Smith released GLORY, his second full-length instrumental album, on Nov. 21, 2011 and Decades of Worship, a collection of his most popular worship songs, Jan. 17, 2012.
Inducted into the Gospel Music Hall of Fame in 2009, Smith has scored film projects, written 12 books and been featured by media outlets including "Hannity," NBC's "Today," ABC's "Good Morning America," "NBC Nightly News," "Larry King Live," "FOX & Friends," The Associated Press, Billboard, USA Today, The New York Times, The Washington Post, Los Angeles Times, Newsweek and more.
Constantly giving back to the community, one of Smith's current projects is Rocketown - a nightclub for teens in his hometown of Nashville, Tenn. - which serves as a safe place for young people to enjoy music and for artists to be discovered. He and wife of 30 years, Debbie, are the proud parents of five children.
About Scott Hamilton
The most recognized male figure skating star in the world, Scott Hamilton has won 70 titles, awards and honors, including an Emmy Award nomination, induction into the United States Olympic Hall of Fame, and is a privileged member of the World Figure Skating Hall of Fame. He captured the attention of the world more than 25 years ago with his Olympic gold medal performances in Sarajevo and since has shared his love and enthusiasm for the sport as a commentator, performer and best-selling author. He further inspires others as a speaker, philanthropist, and cancer and pituitary brain tumor survivor. Most recently, Hamilton released his inspirational book "The Great Eight" and returned to the ice at age 51 before conquering a recurrence of the brain tumor in 2010.
About Darlene Zschech
A worship leader, pastor, singer, songwriter, speaker and author who has led millions of Christians in worship, Zschech has written and performed more than 80 songs, including such global anthems as "Shout to the Lord," a song that is sung by an estimated 30 million churchgoers every week and has been covered by at least 20 other artists. She has also penned best-selling books, such as "Extravagant Worship," "The Kiss of Heaven" and "The Art of Mentoring," which combined have been translated into 19 different languages. Darlene's latest project, Revealing Jesus, achieved No.1 on the Praise and Worship charts and features Michael W. Smith, Israel Houghton and Kari Jobe. The accompanying devotional book takes readers on a 365 day journey through the scriptures. As a teenager, she sang jingles for McDonalds, Special K, KFC and Diet Coke, and in 2000 she received the Gospel Music Association International Award for her impact on the global church. While serving as a worship leader and pastor for Sydney's Hillsong Church, Darlene wrote for, performed on and helped produce 16 Gold- and one Platinum-selling Australian Recording Industry Association (ARIA) live Hillsong albums.
Today, Darlene and her husband, Mark, are senior pastors of Hope Unlimited Church on the Central Coast of New South Wales, Australia, and together founded HOPE: Global (www.hope-global.org) and work with Compassion International, serving the world's poorest of the poor. The couple has three daughters, Chloe, Zoe and Amy, a granddaughter, Ava Pearl, and a grandson, Roman Emmanuel Mark. Learn more about Darlene Zschech and Revealing Jesus at www.darlenezschech.com.
About Phillips, Craig & Dean
Since forming more than 20 years ago, Phillips, Craig & Dean have released 12 albums which have now produced 20 No. 1 radio hits, almost three million records sold, two GMA Dove Award wins, including the Inspirational Album of the Year for their 2009 release, Fearless, and Inspirational Song of the Year for their single "Revelation Song," released in 2010.
About John Branyan
Born and raised in the heart of fly-over country, John is committed to "comedy that won't leave a filthy residue." There's nothing in his act that you wouldn't want to hear your children repeat. (In fact, if your children repeat anything he says, send him a video copy of it...he'd love to see it!) John has made lots of people laugh from coast to coast. On stage, he's energetic and contagiously enthusiastic about numerous topics including: Electronic cigarettes, Snuggies, automatic flushing toilets and the proper age to stop chewing your shoe in church.
###
For more info on Michael W. Smith visit the JFH Artists Database.