Underoath Release "The Beginning" Reissues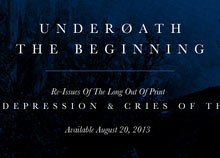 NEWS SOURCE: Solid State Records
August 23, 2013
Underoath have become legends in the world of metalcore, having solid over 1.3 million albums with two RIAA-Certified Gold albums. The band became known for those Gold albums, 2004's
They're Only Chasing Safety
and 2006's
Define The Great Line
." These albums were monumental in developing metalcore into what it is today.
What many fans don't know is that these two fantastic albums were Underoath's fourth and fifth albums! Their Solid State Records/Tooth & Nail Records debut The Changing of Times was actually their third full-length record.
On July 4, 1999, Underoath released their debut album Act of Depression on Takehold Records. Exactly a year later on July 4, 2000, the band released their second album Cries of the Past. These two records, out of print for years, are the foundation of the influence that Underoath would turn out to be.
Underoath has now rereleased Act of Depression and Cries of the Past so that fans can complete their Underoath album collections! You can pick up your copy at the iTunes links below, or at your local Best Buy or independent record store.
iTunes:
Act of Depression
Cries of the Past
- ### -
For more info on Underoath visit the JFH Artists Database.