Jesus Culture Presents a Night of Worship and Ministry with Chris Quilala, Justin Jarvis, and Pastor Scott Thompson
Tickets Now on Sale for Night of Ministry and Worship Events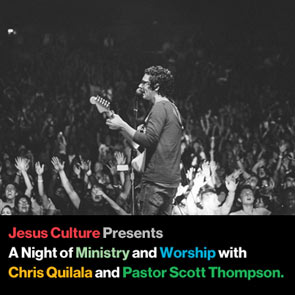 NEWS SOURCE: TKO Marketing
January 21, 2014
(High Point, N.C.) January 21, 2014 - Jesus Culture is calling all revivalists to gather for a Night of Worship and Ministry, an evening focused on seeking the Lord through whole-hearted worship, prayer, and preaching, coming soon to a city near you. Chris Quilala and Justin Jarvis lead the journey of worship, along with the inspiring sounds of the Jesus Culture band. Pastor Scott Thompson ends the wondrous night with a time of preaching and ministry. The Night of Worship and Ministry dates kick off March 9 in Los Angeles.
The Night of Worship and Ministry is a special evening in which passionate believers join the Jesus Culture band, Quilala, Jarvis, and Pastor Thompson to seek the Lord and encounter his presence. Tickets are now on sale for the Night of Worship and Ministry at jesusculture.com/events.
DATES/CITIES/VENUES:
March 9, 2014 Los Angeles, CA Hollywood Palladium
March 10, 2014 Phoenix, AZ Grand Canyon University Arena
March 12, 2014 El Paso, TX Abraham Chavez Theatre at El Paso Live
March 13, 2014 Albuquerque, NM Legacy Church
March 15, 2014 Houston, TX The Berry Center
March 16, 2014 San Antonio, TX Westover Hills Assembly of God
March 17, 2014 Dallas, TX Verizon Theatre
March 19, 2014 Oklahoma City, OK Crossings Community Church
March 20, 2014 Tulsa, OK Rhema Bible Church
March 21, 2014 Springfield, MO James River Church
ABOUT JESUS CULTURE:
In the summer of 1999, the youth group led by Banning Liebscher at Bethel Church in Redding, California launched the first Jesus Culture conference. The heart of those gatherings was to serve other churches and lead young people to experience the radical love of God. A few years after hosting conferences in Redding, the Lord spoke to the group about helping develop a new breed of revivalists. Soon after, they mobilized taking Jesus Culture conferences to different regions of the U.S. and around the world. The Jesus Culture band was formed organically through the momentum of a movement whose focus is to equip a generation to be influencers of society. It's hard to separate the band from the movement, as they really are joined together with one focus: to bring people into an encounter with God's love through worship and to disciple them to transform society. The Jesus Culture band is fronted by Kim Walker-Smith and Chris Quilala with Ian McIntosh playing keys, Jeffrey Kunde as the lead guitarist, Brandon Aaronson as the bassist, and Josh Fisher as the drummer. Over the past 5 years, the Jesus Culture band has released five CD/DVDs with the latest one being Jesus Culture Awakening; Live from Chicago, in November of 2011. Each album captures the heart of this generation burning for God and seeking an encounter with His presence.
For more information on Jesus Culture, please visit: http://new.jesusculture.com/about/
About Premier Productions: Formed in 1996, Premier Productions is the largest producer of Christian concert events in the nation and the co-founder of the Winter Jam Tour Spectacular - Christian music's largest annual tour! With more than 200 events a year, Premier promotes award-winning artists with No. 1 hits such as - TobyMac, Skillet, Casting Crowns, Hillsong Live, Hillsong UNITED, Bill Gaither & Friends Homecoming, Jesus Culture, Lecrae, Kari Jobe, Matthew West and many more! For more information on Premier Productions, please visit www.premierproductions.com.
# # #