Grammy-nominated Building 429 Rocks New York City with National
Appearances on FOX News Mike Huckabee Show and Spirited Debate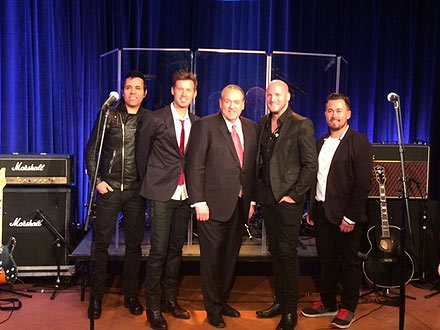 Left to Right: Jesse Gracia, Jason Roy, Building 429; Governor Mike Huckabee; Aaron Branch, Michael Anderson, Building 429
NEWS SOURCE: Bozeman Media
February 20, 2014
Nashville, TN (February 20, 2014) ----- Grammy-nominated Building 429 was in New York City over the weekend with high-profile appearances on FOX News' Mike Huckabee Show and FOXNews.com Live Spirited Debate.
Building 429 performed their new single, "Press On," on the Mike Huckabee Show and the Governor joined the performance by playing bass with the band. Governor Huckabee also interviewed Jason Roy, lead singer for the group, about their recent Grammy nomination for the album, We Won't Be Shaken and encouraged the audience to buy the album! The show also aired Building 429's new video for the song, "Bonfire," that was shot on location at a Winter Jam tour date. Check out the video here: http://youtu.be/2p9rUiVcufk. The Mike Huckabee Show aired Saturday and Sunday nights on the FOX News Channel at 8:00 pm EST.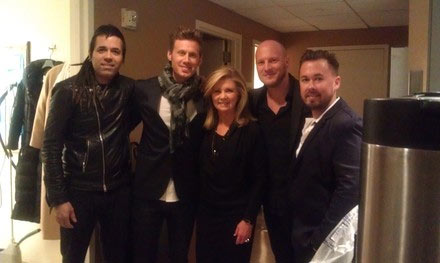 Building 429 meets Tennessee Representative, Marsha Blackburn, backstage at the Mike Huckabee Show
On Friday, Building 429 interviewed with host, Lauren Green, at FOXNews.com LIVE Spirited Debate where Jason, Jesse and Aaron discussed their new album and single. They also covered the challenges of being family men with a heavy touring schedule and their upcoming We Won't Be Shaken Tour. Check out the interview here: http://video.foxnews.com/v/3203728801001/band-inspires-fans-to-walk-the-christian-walk-through-music/#sp=show-clips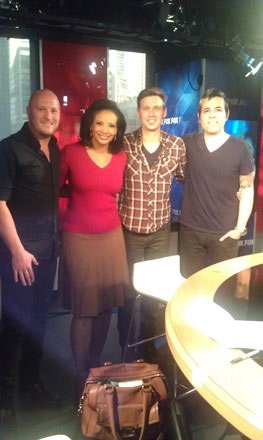 Building 429 with Spirited Debate host, Lauren Green
Building 429 has returned to Nashville and started rehearsals for the upcoming tour that will feature Family Force 5 and Hawk Nelson. The 37- city We Won't Be Shaken Tour launches February 21st in Pennsylvania and concludes May 10th in Minneapolis, MN.
About Building 429
Building 429, comprised of Jason Roy (vocals), Jesse Garcia (guitar), Michael Anderson (drums), and Aaron Branch (bass), released its new album, We Won't Be Shaken, June 4, 2013 and it debuted at No.1 on Billboard's Christian Albums chart. The strength of the album resulted in the band's first Grammy nomination for Best Contemporary Christian Music Album. The first single and title track became a multi-week No. 1 hit on the Hot AC/CHR chart and AC Indicator charts, and had over 246-million accumulative audience impressions. For the second time in the band's career, Building 429 was honored with a BMI 2013 Song of the Year award for "Where I Belong." The group's fifth studio project, Listen to the Sound in 2011, debuted at the top of iTunes' Christian & Gospel Albums chart. The title track hit No. 1 on the CHR chart and Top 5 on Billboard's National Christian Audience Chart. Follow up single "Made For You" reached Top 5 on the Christian CHR charts, while the project's third single, "Where I Belong," was the No. 1 song on Billboard's Christian Audience chart for 15 consecutive weeks. "Where I Belong" was Billboard's 2012 Christian Song of the Year, Christian AC Song of the Year, Christian Songs Artist of the Year and Christian AC Songs Artist of the Year. Building 429 first broke through with its 2004 No. 1 hit "Glory Defined," which was named BMI's Christian Song of the Year in 2005. That same year, Building 429 was recognized as New Artist of the Year at the Gospel Music Association's Dove Awards. For more information on Building 429 visit www.Building429.com, www.facebook.com/building429 or www.twitter.com/building429.
# # #
For more info on Building 429 visit the JFH Artists Database.