ROYAL TAILOR TO PREMIERE "READY SET GO" MUSIC VIDEO ON RYANSEACREST.COM MAY 5
Band Wraps First Headlining Tour; Featured Pepsi MidAmerica "Artist of the Month"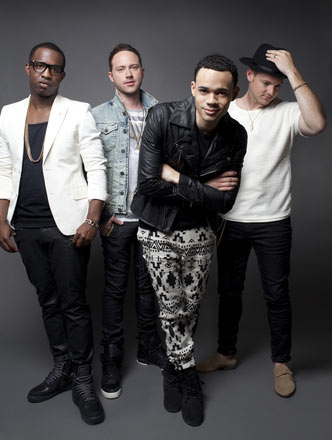 NEWS SOURCE: Provident Music Group
May 2, 2014
(NASHVILLE, Tenn.) May 2, 2014-GRAMMY Award nominated pop/rock band Royal Tailor debuts the new music video for its latest single, "Ready Set Go," on internationally renowned media mogul Ryan Seacrest's web site, RyanSeacrest.com, this Monday, May 5. The video premiere is just one in a string of recent high profile opportunities for Royal Tailor, who wraps its first headlining tour next week while currently being featured as Pepsi MidAmerica's "Artist of the Month."
Shot on location at a Nashville high school, "Ready Set Go," boasting a guest appearance by electronic pop duo Capital Kings, captures the song's dance-floor energy and enthusiastic call to action so much so that leading online entertainment news outlet RyanSeacrest.com has signed on to host the world premiere. The video will also appear on Seacrest's "On Air With Ryan Seacrest" YouTube channel (www.youtube.com/user/ryanseacrest) and be promoted by him via social media.
Such top-notch exposure continues to fuel Royal Tailor's unprecedented momentum, which recently earned the band its first national headlining tour. The "Walls Down Tour" kicked off late March, visiting more than 21 cities, including major markets Cleveland, Oklahoma City, Indianapolis, Cincinnati and Baltimore. Visit www.royaltailor.com/#/tour/ for a list of remaining tour dates.
Furthermore, Royal Tailor has been tapped as "Artist of the Month" for May by Pepsi MidAmerica, already receiving airplay on Top 40 station CIL-FM in southern Illinois. In addition, the group is highlighted as part of a vending machine promotion in more than 2500 middle and high schools across five states, offering students a free song download of the song "Ready Set Go."
Royal Tailor will continue to support its latest project this summer with performances at major festivals, both domestic and abroad, as well as select headline dates. For an up-to-date tour itinerary, visit www.royaltailor.com.
About Royal Tailor
Comprising Tauren (lead singer), DJ (guitar), Blake (bass) and Jarrod (drums), Royal Tailor's high-energy, contagious blend of pop, R&B, hip hop and rock is well-suited to reach its target audience--students suffering from symptoms of a visionless life. The four-member group met during high school in Indianapolis and began to hone its sound while playing for churches and youth groups around the country.
Its Essential Records debut, Black & White, released June 7, 2011. The album received a 2012 GRAMMY Award nomination for Best Contemporary Christian Music Album and produced Royal Tailor's first No. 1 radio single, "Make A Move," while earning Royal Tailor recognition among Google's "50 under 30." Additionally, "Make a Move" was highlighted on YouTube Sports Stunts Channel's "Dude Perfect-NFL Kicking Edition" (more than 7 million views to date). The group released its self-titled sophomore project October 2013, whose lead single "Remain" climbed to No. 2 on the CHR chart.
In just four years, Royal Tailor has performed more than 425 shows to more than a million fans, including playing at the Nashville GRAMMY Chapter's Block Party stage alongside artists including Old Crow Medicine Show and The Civil Wars. The band continues to tour heavily, being featured on Casting Crowns' 43-city "Come To The Well" tour, Britt Nicole's "You're Worth More Than Gold" tour, and the Pollstar-topping 2013 Winter Jam arena tour, among others.
For more information on Royal Tailor, please visit: www.RoyalTailor.com, www.facebook.com/royaltailor or follow the band on Twitter at www.twitter.com/royaltailor.
###
For more info on Royal Tailor visit the JFH Artists Database.