AUDIO ADRENALINE ANNOUNCES NEW LEAD VOCALIST
Kevin Max Transitions Out As Former Abandon Singer Josh Engler Becomes Frontman
Kevin Talks About Departure And New Solo Album In New
Jesusfreakhideout.com Interview
!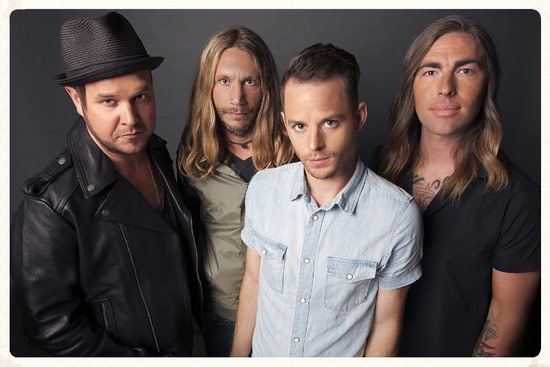 NEWS SOURCE: Merge PR
June 4, 2014
June 4, 2014 - Franklin, Tenn - After nearly two years and over 150 shows, Audio Adrenaline has announced that Kevin Max is stepping down as lead singer of the band. Josh Engler, formerly of the band Abandon, will replace Max as the group's new lead vocalist.
Kevin Max spent the last two years utilizing his unique vocal and writing talents along with bass player Will McGinniss, drummer Jared Byers, and guitarist Dwayne Larring, who joined the group in August of 2013. Together their efforts continued to share Audio A's foundation, which was started by the band's original lead singer Mark Stuart, as well as McGinniss and former band mate Bob Herdman, which is caring for "the least of these" in Haiti and providing support and care for the orphaned and abandoned children residing at the Hands & Feet Project in Jacmel and Grand Goave.
Audio Adrenaline's musical direction will remain focused on vertical-based songs complemented with their signature energetic rock sound. The band has also recently partnered with Teen Mania's Acquire The Fire to provide a renewed worship experience for future Acquire The Fire events, and will join its founder Ron Luce in expanding the organization's worship programming.
This is a mutual decision between Kevin Max and the band. The transition will allow Max to further pursue solo and creative opportunities through song and word, one of his biggest passions.
"It has been an honor and a great privilege to be a part of the work Audio Adrenaline has done these last two years," Max shares. "Mark Stuart and Will McGinniss have always been close friends of mine, and this chapter of our lives in service together has been beautiful. I look forward to continually being involved in the Hands and Feet Project and also as a creative ally in anything Audio Adrenaline does in the future." Josh Engler previously was Abandon's lead singer for eight years (2004-2012), leaving that role in 2012 to focus on his family and his church. In 2013, he became the worship arts pastor of Bethel Church in Evansville, IN. Now, with the full support of his church leadership he is excited to continue the role that Stuart so passionately created before permanently losing his vocal abilities more than seven years ago.
Audio Adrenaline will continue their work with the Hands & Feet Project, being the voice for orphans in Haiti and around the world. Additionally, through their new partnership with Acquire The Fire, they will be able to partner with Global Expeditions to bring groups of missionaries on short-term mission trips to Haiti. Net proceeds from their music sales continue to go to the Hands & Feet Project to continue growth and support for the organization. More information about Hands & Feet Project is below.
Audio Adrenaline co-founding member Will McGinniss shares, "I love Kevin and it has been nothing but an honor and a joy to get to journey life with him these last two years. During every show I would look across the stage and smile and think 'God, you are a Creative and Redemptive God.' AudioA and the Hands and Feet Project will be forever grateful to Kevin. I pray that God will continue to use Kevin in a powerful way through music. He is and always will be a dear brother to us all."
Audio Adrenaline - McGinniss, Engler, Byers and Larring - has been hard at work writing songs and are currently in the studio working on their follow-up to the band's 2012 critically-acclaimed release, Kings & Queens. The new album is slated for release in 2015 by their record label and ministry partner, Fair Trade Services. Connect with Audio Adrenaline by visiting AudioA.com.
# # # #
ABOUT THE HANDS & FEET PROJECT:
In 2004, the members of Audio Adrenaline founded the Hands & Feet Project. Inspired by fan reaction to the band's song "Hands and Feet," HAF is a non-profit organization dedicated to providing long-term, family-style care for orphaned and abandoned children with the love of Christ. They strive to raise a generation of orphaned children who will grow up to reach their God- given potential, while empowering first world citizens to partner with them in service at home and abroad.
The organization broke ground on their first Children's village in Cyvadier, a small town on the Southern coast near Jacmel, and began their journey of serving the forgotten children of the impoverished Caribbean nation. Currently tending to over 70 children in Cyvadier, a second village opened in Grand Goave in 2008 and is caring for 30 children. handsandfeetproject.org.
ABOUT FAIR TRADE SERVICES:
Fair Trade Services, LLC launched in June 2011 by music industry veteran Jeff Moseley. Fair Trade Services is a partnership based on dialogue, transparency, and respect, formed for the development of remarkable Christian artists who desire artistic excellence, cultural relevance and spiritual significance. Located in Brentwood, Tennessee, their roster includes MercyMe, Laura Story, Audio Adrenaline, The Afters, Phillips, Craig & Dean, Derek Webb, Sara Groves, Phil Wickham, Disciple, Mark Schultz and more. Fair Trade Services is distributed by Provident Distribution and Sony Music. FairTradeServices.com.
For more info on Audio Adrenaline visit the JFH Artists Database.
For more info on Kevin Max visit the JFH Artists Database.
For more info on Abandon visit the JFH Artists Database.