COLTON DIXON READIES FOR ANTICIPATED RELEASE OF ANCHOR, ALREADY CAPTURING COVERAGE WITH RADIO SUCCESS, NUMEROUS UPCOMING MEDIA APPEARANCES AND HOMETOWN CD RELEASE SHOW
Dixon Set To Appear On Millions Of Mountain Dew Cans, Launches New Site
NEWS SOURCE: Merge PR
August 11, 2014
NASHVILLE, TENN. (August 11, 2014) - Colton Dixon, 19 Recordings' Dove Award-winning artist and Season 11 American Idol finalist, is ready to release his anticipated new album, Anchor, with 19/Capitol CMG on August 19. With still a couple weeks out until street day, Dixon and his new album are already capturing great coverage through radio airplay and numerous media appearances.
With Dixon set to appear in such outlets as Seventeen Magazine, US Magazine, Breathecast, Christian Post and appearances on FOX News Entertainment, Fox & Friends and ABC News Entertainment, the album's first single, "More Of You," is already climbing up the radio charts. This week the single is up seven spots to No. 18 on the National Audience chart with a total audience of close to four million. "More Of You" is also up to No. 22 on AC Monitored and the Hot AC/CHR chart takes the song up to No. 6.
Dixon will kick off the release of Anchor in his hometown of Murfreesboro, Tennessee with a CD release show next Thursday, August 14. To be held at New Vision Baptist Church, the special concert begins at 7:30pm. For tickets and more information, click here.
The music video for "More Of You" is also out now and can be viewed by clicking on the video image below. In addition, Anchor is available for pre-order digitally via iTunes by visiting smarturl.it/Anchor. For all pre-orders, fans can receive advanced singles of "More Of You," "Dare To Believe" and "Our Time Is Now."
Additionally, Colton Dixon is not only ready to share his new music but he's also ready to share his image - on Mountain Dew cans! Fans will be able to purchase Dixon's special edition cans this fall when Pepsi MidAmerica is set to distribute 25 million of the specially marked cans in select Wal-Mart stores across Illinois, Missouri, Arkansas, Kentucky and Tennessee. Additionally, consumers will be able to download a free song by Dixon on the specially marked cans.
Kicking off their Christian artists series campaign at 2013's inaugural KLOVE Fan Awards, Pepsi MidAmerica is excited to partner up yet again with more artists this year. "We are proud to represent great artists such as Colton Dixon on our Pepsi products, and after last year's successful kick off, we are so excited to share this new series for 2014," shares Pepsi MidAmerica President Lee Crisp. Past artists who have participated in the series are TobyMac, Matthew West, Josh Wilson, among others.
ABOUT Anchor:
For his sophomore effort, Colton Dixon co-wrote with renowned songwriters and artists such as Trevor McNevan (TFK), Matthew West, TobyMac, Ben Glover, Matt Bronleewe and the album's producers, David Garcia (TobyMac, Mandisa, Newsboys) and Red Decibel (Switchfoot, Kelly Clarkson, Jeremy Camp). Anchor was recorded in Nashville's Berry Hill neighborhood, a creative hub dotted with recording studios.
Anchor follows Dixon's 2013 debut, A Messenger, which set the record for biggest first-week sales by a new solo Christian act, becoming the No. 1 selling album of 2013 by a new Christian artist and the No. 9 best selling album of 2013 in the Christian genre overall. Dixon played to more than 300,000 people last year and his current tour schedule through 2014 will place him in front of more than 800,000. After his appearance on American Idol (Season 11), Dixon had national media exposure and received three Dove Award nominations, winning one for Best Contemporary Rock Album. He was also named a finalist in the recent Ryan Seacrest online Fan-Favorite American Idol Contestant from past seasons - placing 3rd overall. Colton Dixon has also been named the latest Steinway artist, following in the footsteps of folks like Harry Connick, Jr., Diana Krall and Billy Joel. Additionally, Dixon will have an exclusive ice cream flavor named after him. Boston-based boutique ice cream maker Emack & Bolio's will debut Dixon's unique flavor later this month.
For more information about Colton Dixon, be sure to check out his newly launched website at: ColtonDixon.com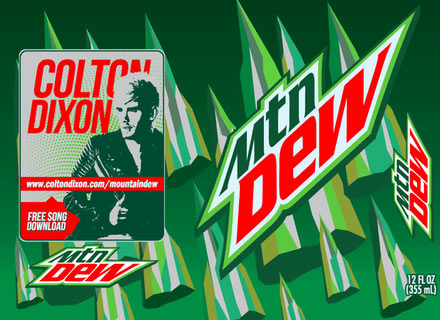 ###
For more info on Colton Dixon visit the JFH Artists Database.