SANCTUS REAL REVEALS THE DREAM
Band Launches #TheDreamIsYou Campaign For Fans To Share Their Dreams
NEWS SOURCE: Merge PR
October 16, 2014
16 October 2014 - Franklin, Tenn - The anticipated album from Sanctus Real - The Dream - is now available. Released on Tuesday, October 14th, this is the seventh studio album from the two-time GRAMMY-nominated band based in Toledo, Ohio. Since banding together 18 years ago, Sanctus Real's The Dream (Capitol Christian Music Group) shares 12 brand new songs including its first single, "Lay It Down," which is currently No. 8 this week at Hot AC and continues to climb the National Audience and AC charts.
The Dream was produced by Pete Kipley (MercyMe, Matthew West, Phil Wickham), while Kipley also co-produced two songs with Chris Stevens (TobyMac). The Dream is the follow-up to Sanctus Real's 2013 album, Run ("Pray"), and 2010's GRAMMY®-nominated Pieces of A Real Heart ("Lead Me").
The media has shared how excited they are as well for new music from this award-winning band. Sanctus Real recently graced the cover of CCM and are currently JesusFreakHideout.com's Artist of the Week. Reviews are hitting in numerous outlets, such as Homelife, Christian Music Review, JesusFreakHideout.com and more. A few are highlighted below:
"While some groups like to mix in 'fun' tracks with 'religious' ones, Sanctus Real is pretty consistent throughout. Here, that's absolutely a strength though, and it makes for an extremely uplifting listen, no matter the circumstances." - JesusFreakHideout.com

"Sanctus Real has the kind of music that soothes an anxious heart and weary mind. It reaches deep within your soul and calms you from the inside out. The Dream is classic Sanctus Real as you know and love them. It's an elixir for the exhausted. It's a reminder to seek out the one Who gives true peace and hope for an uncertain future. It's the hand of fellow believers lifting you to your feet again and helping you find solid ground where once you stumbled." - Christian Music Review

"The result is an album that will no doubt delight longtime fans and will for sure draw in a few more, bringing the band's faith-filled lyrics to the masses." - Soul-Audio.com

"Sanctus Real re-hooks with a twelve-track breath of fresh air, a relentless optimism focused on the goodness and omnipresence of God." - HollwoodJesus.com

__________________
The band has also launched a brand new campaign, thedreamisyou.com, where fans can share about their dreams with the masses. In the video below, Sanctus Real's Matt Hammitt shares a direct message with their fans to share their dreams, to share whatever God is doing in their lives. "Maybe it's a dream that has come to pass, maybe it's something you're still finding your way through. Maybe it's a story about a dream you layed down, and that God brought you something even bigger and better. Whatever it is, we want to hear about it."
Share your story on thedreamisyou.com with Facebook, Twitter or Instagram using the hashtag #thedreamisYou and your story will show up on The Dream Wall here.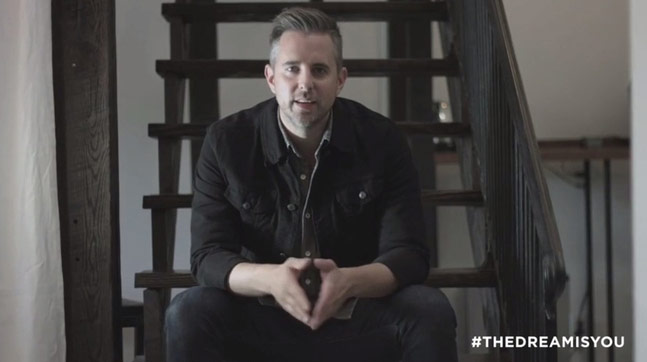 To promote the new album, Sanctus Real celebrated with a CD release party on their street date with family, friends and fans in their homestate at the historic Maumee Indoor Theatre in Maumee, OH. Then heading on the road to continue on the "If We're Honest Tour" with Francesca Battistelli, Sanctus Real will tour throughout November headlining their "Sanctus Real Live Tour" featuring Josh Wilson and Jon Bauer. They will then join Newsong's "Very Merry Christmas Tour" in December. For tour dates and more, please visit SanctusReal.com.
About Sanctus Real:
Over their stellar 18-year career, Sanctus Real has received critical acclaim as a Christian rock and alternative CCM band. The success of their albums landed Sanctus Real eight No. 1 singles and seven Top 5 radio singles. To date, the band's total digital track sales exceed one million, with over 700,000 career album sales, 4.5+ million views on YouTube, and thousands of days clocked on the road touring all over the world. Sanctus Real has earned two GRAMMY nominations, including 2009 Best Rock Gospel Album for We Need Each Other and 2010 Best Contemporary/Pop Gospel Album for Pieces of a Real Heart. Since 2004, Sanctus Real has been nominated for eight Dove Awards and won Modern Rock Album of the Year for Fight the Tide in 2005. Sanctus Real was named R&R magazine's most played CHR radio Christian artist of 2006 and Billboard's No. 4 most played Christian band of 2010. Sanctus Real has toured alongside notable artists such as Tobymac, Casting Crowns, Third Day, MercyMe, Steven Curtis Chapman, and Skillet.
#thedream2014
- ### -
For more info on Sanctus Real visit the JFH Indie Artists Database.