VERIDIA Launches Unconventional Prom Dress Giveaway
Continues strong showing at radio

Currently appearing on Winter Jam 2015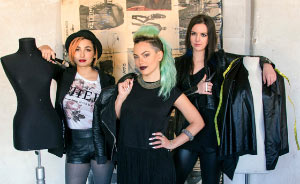 NEWS SOURCE: Warner Music Group/Word Entertainment
January 21, 2015
Nashville, TN, January 21, 2015-Word Records Artist VERIDIA has proven to be a standout at radio and on tour. Now, they're taking that one step further by marching way outside the box to offer one lucky fan a once-in-a-lifetime opportunity.
This week, VERIDIA launches the Unconventional Prom Dress Giveaway, in which one lucky girl will have a chance to win a one-of-a-kind prom dress designed just for her by VERIDIA's vocalist, Deena Jakoub, who frequently designs performance ensembles for the band. Additionally, the winner will win a new wardrobe, shoes, makeup and a personal visit from Deena and fellow designer, Emily Swinson (MADNESS IS) and makeup artist Anais Shiba on prom day to help get ready and to celebrate kindred spirits.
The winner will be selected from stories submitted by or about young women who buck convention to stand up for what they believe in. VERIDIA wants to acknowledge and celebrate individuality and the unique beauty that makes us all one of a kind.
"I am so excited about this contest," says Deena. "I've always been sort of a misfit...maybe a little awkward and definitely unusual. Fashion is one area that allows me to express my uniqueness. Emily and Anais are world class artists and as proud to be unconventional as I am. As the three of us have grown into womanhood, we have embraced our unique qualities and features. I hope this contest will encourage everyone to love who they are and appreciate the beauty in their individuality."
Entries are being received now here. All entries must be received by February 13 and the winner will be chosen on February 22.
The contest is an extension of the momentum the band generated towards the end of 2014. Their most recent single, "Furious Love" was the most added song at CHR Radio. Likewise, their two most recent videos, "Furious Love" and "Disconnected" have amassed more than 120,000 views in just a few months.
Currently on Winter Jam 2015, the largest tour in the world for the last four years according to Pollstar, VERIDIA also made an appearance at Voodoo Fest in New Orleans last fall, where 12th and Broad named them one of the 12 must-see bands of the entire festival.
For more information, visit VeridiaMusic.com.
Click here to enter the Unconventional Prom Dress giveaway.
About VERIDIA
VERIDIA is a unique fusion of alt-rock with electronic elements, wrapped around the evocative vocals and presence of front woman, Deena Jakoub. Of Egyptian descent, Deena's look and voice when mixed with the electronic/rock soundscape provided by co-founder and guitar player, Brandon Brown, drummer Kyle Levy and guitarist Trevor Hinesley is capturing fans at every show.
- ### -
For more info on VERIDIA visit the JFH Artists Database.