Andy Mineo Debuts First Single Off Uncomfortable Album, Available For Pre-Order Now
Upcoming Nationwide "Uncomfortable Tour" Dates Announced With Mali Music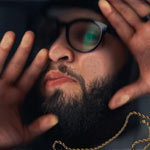 NEWS SOURCE: Stache Media
August 7, 2015
(New York, NY, August 7, 2015) - Artist Andy Mineo debuts "Uncomfortable," the title track off of his highly anticipated forthcoming album, Uncomfortable, to be released September 18, 2015 (Reach Records). The new full-length album, available now for pre-order across iTunes, Amazon, and Google Play is currently #3 on iTunes Hip-Hop/Rap Charts and ranks top ten on iTunes overall charts. Fans who purchase the pre-order will receive an instant grat download of the first single "Uncomfortable."
Listen To "Uncomfortable":
Devoted fans can also enjoy the Extended Experience via Instagram, where they will be able to explore an immersive website via Instagram's tagging feature to see behind-the-scenes content for the new Uncomfortable single, as well as the other thirteen tracks on the album. A full tutorial for the Extended Experience can be viewed here.
Uncomfortable, produced by !llmind (J.Cole, Drake, 50 Cent) is the follow-up album to Mineo's previous project entitled Never Land, which debuted at number one on iTunes, selling over 25,000 digital albums its first week. The official video for "You Can't Stop Me" off Never Land has been viewed over one million times on YouTube and the single has sold over 90K units.
With the support of music heavy-hitters such as Grammy-Award winning artist, Lecrae, MTV journalist and music expert, Rob Markman and acclaimed producer !llmind, Mineo announced this new project through a timed release of behind-the-scenes video clips across social media. The final video, the official cover announcement, was shared with eager fans via Mineo's social channels. The full video can viewed at andymineo.com.
The first leg of the nationwide Uncomfortable Tour will begin October 1 and Andy Mineo will be joined by Grammy®-nominated Mali Music. Dates for Andy Mineo's nationwide Uncomfortable Tour are listed below.
For more information on Andy Mineo visit andymineo.com or connect with @andymineo on Twitter, Instragram and Facebook.
2015 UNCOMFORTABLE TOUR DATES
October 1 St. Peters, MO Church on the Rock
October 2 Tulsa, OK Guts Church
October 3 Houston, TX The Venue/Grace Community Church
October 4 Arlington, TX Texas Hall/UTA
October 8 San Antonio, TX The Aztec Theatre
October 9 Lubbock, TX City Bank Auditorium
October 10 Denver, CO Summit Music Hall
October 11 Omaha, NE Sokol Auditorium
October 15 Des Moines, IA Wooly's
October 16 Arden Hills, MN Benson Great Hall/Bethel University
October 17 Chicago, IL House of Blues
October 18 Grandville, MI Ground Floor/Resurrection Life Church
October 22 Detroit, MI St. Andrews Hall
October 23 Louisville, KY Mercury Ballroom
October 24 Cincinnati, OH The Underground
October 25 Indianapolis, IN Deluxe
October 29 Cleveland, OH House of Blues
October 30 New York, NY Irving Plaza
October 31 Philadelphia, PA Theatre of Living Arts (TLA)
November 1 Columbus, OH Newport Music Hall
November 5 Silver Spring, MD The Fillmore
November 6 Lynchburg, VA Liberty University
November 7 Chesapeake, VA New Life Providence Church - Deep Creek
November 8 Charlotte, NC The Fillmore Charlotte
November 12 Tampa, FL Crossover Church
November 13 Miami, FL Alpha & Omega Church
November 15 Atlanta, GA Center Stage
About Andy Mineo:
New York native Andy Mineo is a born communicator with an infectious passion for hip-hop. Following his debut release, Heroes for Sale, Mineo raised the bar with his seven song EP, Never Land. The release moved over 25,900 units in the first week, landing the number 2 spot on the Rap charts and number 13 on the Top 200. Mineo began to gain traction with appearances on Sway in the Morning, MTV's Live Rapfix Cypher, Thisis50.com, and more, breaking Mineo into new territory. Coming off of the spring run of the nationwide Anomaly Tour with Lecrae, Andy is gearing up for his next full-length album, Uncomfortable, expected to be his biggest release yet.
About Reach Records:
Reach Records, an independent record label, was founded in 2003 by Ben Washer and Grammy Award-winning hip-hop artist Lecrae Moore. Since its beginnings, the Atlanta-based label has sold over 2.7 million albums. Home to five artists, Lecrae Moore, Andy Mineo, Tedashii, Trip Lee and KB, Reach followers can be found worldwide. The overwhelming passion of the label is to change the way people see the world and they continue to push forward to make this passion reality. For more information on Reach Records, visit www.reachrecords.com.
###
For more info on Andy Mineo visit the JFH Artists Database.