Jesusfreakhideout.com
Releases
Songs We've Been Trying To Tell You About (And Others We Haven't), Volume Six
The sixth entry of the popular compilation series releases on the heels
of the website's 21st Anniversary
CLICK HERE To Download The Compilation For FREE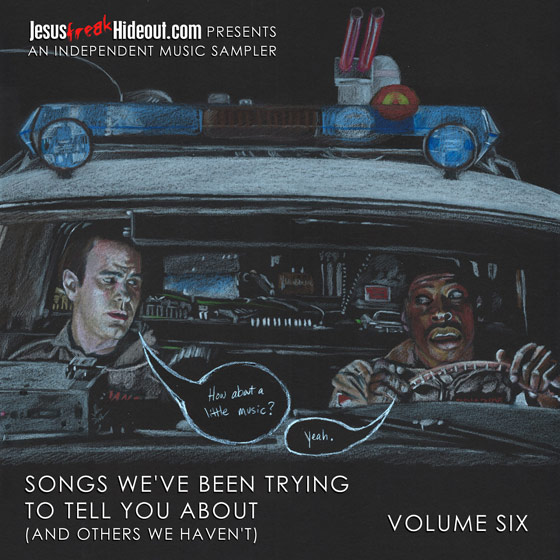 NEWS SOURCE: Cross The Streams PR
August 18, 2017
Bethlehem, PA (August 18, 2017) - JesusFreakHideout.com, one of the pioneers of Christian music media on the web, is proud to announce the release of Songs We've Been Trying To Tell You About (And Others We Haven't), Volume Six, the sixth entry in the website's popular free indie song compilation series. The 37-song compilation releases less than a week after the Jesus freak Hideout celebrated 21 years online.
"This is one of my favorite things that we do," says longtime JFH staff member Scott Fryberger about the compilation. "It's so great to introduce people to new music, especially artists that aren't major players in mainstream music. If you never venture away from major labels, you're going to miss some truly amazing music, and we just can't let you live your life that way. We've gotten many comments about how we've caused financial hardship on people because they heard a bunch of artists on our samplers and bought their music, and it fills me with joy each time. With 37 tracks to choose from, I'm hoping Volume Six continues that trend!"
Click here to download the free 37-song indie sampler.
Like JFH's fifth
Songs We've Been Trying To Tell You About
compilation release in 2015,
Volume Six
features original cover artwork drawn by JFH founder and Editor-in-Chief, John DiBiase. Prints of the original artwork are available for purchase in DiBiase's online
Etsy art shop
to help support JFH.
"We have a lot of fun with these compilations," adds DiBiase. "Anyone who knows me, knows my favorite film is the original Ghostbusters, and I couldn't resist representing a key scene - which has spiritual relevance, actually -- on this compilation's cover." To view the scene in question on YouTube, click here.
"There's a lot of music out there these days -- it can be overwhelming, actually," continues DiBiase. "But we know there's a lot of great Christian music that extends beyond what's being played on the radio. And we hope that we can play a part - even if it's just a small one - in helping people find good, quality music to inspire, entertain and edify."
Like each compilation before it, Songs We've Been Trying To Tell You About, Volume Six is comprised of artists that the JFH staff personally invited to be a part of the project. Check out the full artist list below.
The full, 37-song Songs We've Been Trying To Tell You About (And Others We Haven't), Volume Six track listing:

Undiscovered (from EP "Undiscovered") (3:59) - The Incandescent
Lose One Friend, Lose All Friends, Lose Yourself (from "The Breakdown and the Fall") (2:37) - At the Wayside
My Storm (from EP "Photographs") (4:27) - Mainsail
Brooklyn Blackout (from "Soul: Deluxe Edition") (3:09) - Ravenhill
I Feel It (from EP "By Declaration and the Death") (3:51) - John Ball
Start Over (from "Heart On My Sleeve EP") (4:18) - B.Reith
Not Alone (from EP "Not Alone") (3:43) - Echoboy
Letting Go (from "We Are Fearless") (3:55) - Fearless BND
Light A Fire (from EP "Programmer") (3:45) - Company of Saints
Aftermath [acoustic] (from EP "Native Color II") (3:38) - Fever Fever
Still Gotta Fight It (from "Can't Curse the Free") (3:48) - Jetty Rae
Lost Boy (from EP "Side A") (3:47) - K I D S
In Awe (from EP "Kat&Jared") (4:32) - Kat&Jared
Broken Man (single) (4:01) - Southlen
Believe (single) (5:06) - Heath McNease (feat. JGivens and Propaganda)
Though We Cannot See You [Charlie Powers Remix] (single) (3:35) - Lovelite
Trip To Heaven (single) (2:35) - Miss Angie
Looking (from EP "Chosen") (5:36) - Rita West
Thirty Years and Counting (single) (4:31) - Seth Davey
At Last, the King (from "Ghost of a King") (4:07) - The Gray Havens
Cardboard Box Spaceship (from "Musings") (4:01) - Little Image
Ghost Town (from EP "Work") (3:30) - Whosah
The Science of Programming the Soul (from EP "Album-in-a-Day Project, Vol. 1") (3:35) - Ours By Accident
Soul Doctor (from EP "Shoulder to the Sun") (4:49) - Another Language
Dead Head (from EP "Dude, Lame") (3:32) - Light the Way
Superstructure (single) (3:45) - Mainframe
Wages of Sin (from "Volume 1") (5:38) - Dire
SS Naronic (from "Mortal Ghost") (5:20) - Rusty Shipp
Powerless (from EP "Gilded") (2:06) - Prevailing Providence
Ghost Ship (from "Ghost Ship") (4:39) - Theocracy
The Things We Do (from "The Union of Sinners and Saints") (3:57) - The Union of Sinners and Saints
All That You Wanted [live] (from "Hangnail [Live]") (5:06) - Hangnail
Seasplitter (from "From Small Seeds Come Giant Trees") (3:42) - DENS
Pain (from "Wild One") (3:48) - Jameson McGregor
Blush (from "Joy & Sorrow Meet") (2:01) - Weston Skaggs
Anxiety [single] (spoken word) (5:00) - Levi the Poet
Heaven Will Make It Right (from EP "Sabbath") (5:43) - David Layser & October Wedding
All five previous Jesusfreakhideout.com FREE indie mp3 compilations can still be downloaded here: JFHmusic.com
Jesusfreakhideout.com on the web:
Facebook - http://www.facebook.com/jesusfreakhideout
Twitter - http://twitter.com/jfreakhideout
Instagram - http://instagram.com/jesusfreakhideout
YouTube - http://www.youtube.com/jesusfreakhideout

###
About Jesusfreakhideout.com
The Jesus Freak Hideout (JFH) launched in August, 1996 as one of the first Christian music websites of its kind. JFH has gone on to inspire many other of today's popular Christian music sites and continues to be a leader in Christian music media on the web over two decades later. For more information about Jesusfreakhideout.com, visit www.Jesusfreakhideout.com. Visit http://www.facebook.com/jesusfreakhideout to "Like" the Jesusfreakhideout.com Facebook page.
You can help support JFH and keep the site online by donating. Visit this link for some options on how you can help be a part of The Hideout.