Switchfoot Announces Break from Touring "For the Foreseeable Future"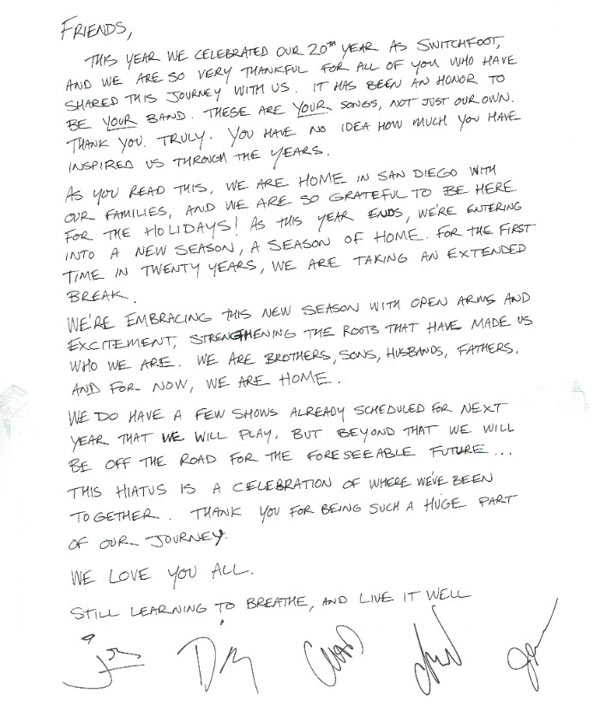 NEWS SOURCE: Jesusfreakhideout.com
December 15, 2017
It's been twenty years since San Diego pop rock band Switchfoot released their label debut, The Legend of Chin back in 1997. The band has been actively touring regularly for almost their entire run, so it shouldn't come as too much of a surprise that the band has announced their decision to take an extended break.

In a handwritten note to fans, the band announced:


"Friends,
This year we celebrated our 20th year as Switchfoot, and we are so very thankful for all of you who have shared this journey with us. It has been an honor to be your band. These are your songs, not just our own. Thank you. Truly. You have no idea how much you have inspired us through the years.

As you read this, we are home in San Diego with our families, and we are so grateful to be here for the holidays! As this year ends, we're entering into a new season, a season of home. For the first time in twenty years, we are taking an extended break.

We're embracing this new season with open arms and excitement, strengthening the roots that have made us who we are. We are brothers, sons, husbands, fathers and for now, we are home.

We do have a few shows already scheduled for next year that we will play, but beyond that, we will be off the road for the foreseeable future... This hiatus is a celebration of where we've been together. Thank you for being such a huge part of our journey.

We love you all.

Still learning to breathe, and live it well,

Jon, Tim, Chad, Drew, Jerome
For the latest on Switchfoot, visit www.switchfoot.com and sign up for their email list.
###
For more info on Switchfoot, visit the JFH Artists Database.