JONATHAN CAIN RELEASES THE SONGS YOU LEAVE BEHIND TODAY
Legacy Album Inspired By Bestselling Donít Stop Believiní Book

Cain Continues 58-City Stadium/Arena Tour With Journey, Def Leppard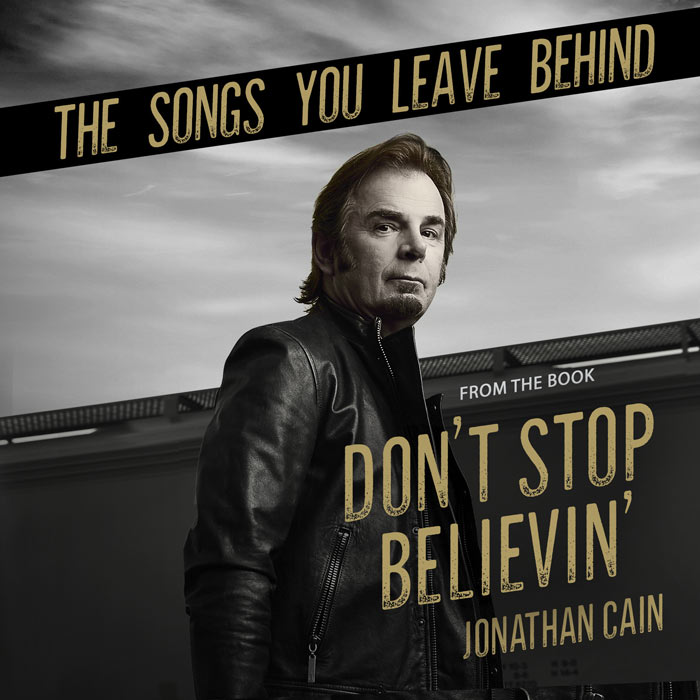 NEWS SOURCE: Hoganson Media
June 8, 2018
Rock & Roll Hall Of Fame inductee and Journey member Jonathan Cain releases globally his third solo album in as many years, The Songs You Leave Behind (From the Book Don't Stop Believin'), today (June 8) from Identity Records with The Fuel Music distribution. This new digital album is available now at iTunes, Apple Music, Amazon.com, Spotify, Google Play and more digital and streaming outlets everywhere.
The Songs You Leave Behind features 19 tracks, including two new songs, five recordings never before released and 12 more autobiographical songs selected by Cain for his Audiobook, the companion to his Rolling Stone-featured book, Don't Stop Believin': The Man, the Band, and the Song that Inspired Generations. The book became a Publishers Weekly bestseller following its release May 1 (Zondervan Trade) and the songs provide the soundtrack for this first memoir by a member of the band Journey. In the book, Cain shares his remarkable story as well as behind-the-scenes details of his 36-year career with one of America's favorite rock bands.
Prior to its release today, The Songs You Leave Behind title track was premiere-streamed by Billboard followed by an AllMusic premiere-stream of the album for its audience that drives over 27 million monthly page views to the site.
Earlier this week, JUCE TV also hosted the broadcast premiere of "The Songs You Leave Behind" lyric video while Cain further performed "Take These Ashes" from the album on The 700 Club and as CCM Magazine lauded the recording as a "Soundtrack of Your Summer."
In addition to the new song / title track that is about one's legacy and features guitarist Miles Schon (the son of Journey guitarist Neal Schon), the second new song on the recording, "What Else Have I Missed," is dedicated to Cain's children and highlights the talents of Grammy Award-winning songwriter Gary Baker and legendary steel guitar player Dan Dugmore.
The never-before-released songs on the project include "Waitin' On The Wind," "Crossing The Great Divide," "Shine," "Mixed Blessings" and "The Day They Became Angels," the latter track commemorating the tragic school fire in which 92 of Cain's grade school classmates died. Cain first performed the song during the standing-room-only Memorial Mass, 50th Anniversary of the fire at Holy Family Church in Chicago.
Several more tracks that appeared on Cain's solo albums Anthology (2001) and Back To The Innocence (1995) were remastered for the new album at Cain's state-of-the-art Addiction Sound Studios in Nashville by producer, mixer David Kalmusky known for his work on multiple Platinum albums.
Writing/co-writing some of the biggest rock songs in history, including "Don't Stop Believin'," which is the No. 1 digital catalog rock song in history, as well as mega hits such as "Faithfully," "Open Arms," "Separate Ways," "Who's Crying Now" and many more, Cain continues to tour the world with Journey, one of the most popular American rock bands of all time. On a major, 58-city arena/stadium tour with Def Leppard, see all of Journey's tour dates at www.journeymusic.com/pages/tour.
For all the latest news about Cain, his solo albums and book, go to http://jonathancainmusic.com/, Addiction Sound, Twitter, Facebook and Instagram.
About Jonathan Cain:
In 1976 Jonathan Cain released his first solo record, Windy City Breakdown. In 1979 he joined the band, The Babys, and in 1980 joined the rock band, Journey, rounding out the songwriting genius behind the defining album, Escape. Cain's signature piano, synth playing and songwriting contributions with Journey, The Babys and Bad English have earned him many Billboard hits, multiple gold, platinum and Diamond-selling records, a Star on the Hollywood walk of fame, a Grammy nomination and the best-selling catalog rock song in iTunes' history ("Don't Stop Believin'"). Journey was named as the fifth best band in rock history in a 2005 USA Today opinion poll, was inducted to the Rock & Roll Hall of Fame in 2017 and continues today, selling out major venues worldwide.
About The Fuel Music:
Established in 2008, The Fuel Music & Management, LLC, is a leading artist management and artist solutions company that independently distributes music internationally. Based in Nashville, TN, the Fuel team brings nearly 70 years of combined music industry experience in record label operations, major label distribution and marketing, and artist management for artists ranging from upstart bands to GRAMMY Award nominated, multi-platinum artists. More information on the company can be found at www.thefuelmusic.com.
###


[2018]
Jan. | Feb. | March | April | May | June | July | Aug. | Sept. | Oct. | Nov. | Dec.
[2017]
Jan. | Feb. | March | April | May | June | July | Aug. | Sept. | Oct. | Nov. | Dec.
[2016]
Jan. | Feb. | March | April | May | June | July | Aug. | Sept. | Oct. | Nov. | Dec.
[2001 - 2015]
Visit our complete MUSIC NEWS ARCHIVE