WORSHIP LEADER MACK BROCK TO DEBUT FIRST-EVER SOLO PROJECT, GREATER THINGS, SEPTEMBER 14
Brock to begin touring this fall alongside Mosaic MSC and Cody Carnes, with dates in cities from coast to coast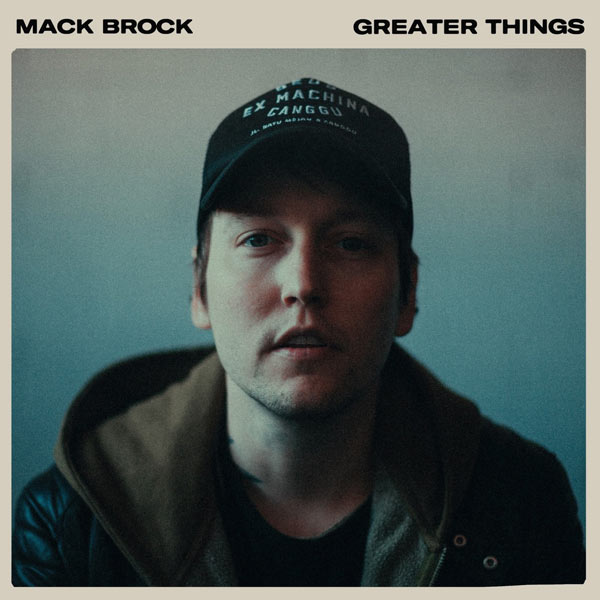 NEWS SOURCE: two PR
August 29, 2018
(NASHVILLE, TN) August 29, 2018 – Veteran worship leader, singer-songwriter and new Capitol CMG recording artist Mack Brock will release his first-ever solo studio project, GREATER THINGS, nationwide on September 14, 2018. The brand-new, nine-track album consists of digital songs inspired by God's continued faithfulness throughout challenging seasons.
Applauded by critics and listeners alike, the album's debut single, "Greater Things," garnered over 2.4 million streams globally upon its release, and close to 400,000 views of the video on YouTube. Collectively, Brock's three pre-release singles have clocked more than 33,000 in consumption and four million streams worldwide. In early summer, Brock released "Into Dust," a single inspired by New York Times best-selling author Lysa Terkeurst's recent journey through adversity as told in her forthcoming book, It's Not Supposed to Be This Way.
Last year, after a decade of being on staff, leading worship and producing the albums of Elevation Worship, Brock felt that the Lord was ending his assignment at Elevation Church and made the difficult decision to peacefully resign. Having no inclination as to where the Lord was leading next, he was able to spend time reflecting and writing and then, unexpected to him, began a new season as a solo artist. With lyrics that are relatable to so many, Greater Things considers what it means to step into the unknown by faith, believing for something, even when what is to come has yet to be seen.
"Knowing God was changing my assignment from being on staff at Elevation Church to something new and different was honestly terrifying," says Brock. "Not knowing what's next and stepping out in faith can be terrifying for all of us, but we serve a good God, a big God who doesn't leave us or forsake us. I'm learning that it's far more terrifying to not walk in obedience than it is to take that step into the unknown. This album has helped me with that journey. The songs on this project have been reminders to me of God's faithfulness and of His never-ending love for us. I hope that listeners find the same encouragement as I have in this season."
Brock, who has toured with a variety of notable artists--including Rend Collective on 30 dates across the country last spring--will hit the road alongside Mosaic MSC and Cody Carnes on the "Heaven Tour" this fall. For more information on this tour and to purchase tickets for Mack Brock's upcoming concerts, visit www.mackbrock.com/tour.
Upcoming Performance Calendar
September 9, 2018 | Soco Church | Bentonville, AR
September 21, 2018 | Mt. Zion Church | Independence Charter Township, MI*
September 23, 2018 | Crossroads Church | Youngstown, OH*
September 24, 2018 | Vineyard Church | Beavercreek, OH*
September 25, 2018 | Daystar Church, Hunter Hills Campus | Greensboro, NC*
September 26, 2018 | Piedmont Church | Marietta, GA*
September 27, 2018 | Alive Church | Gainesville, FL*
September 28, 2018 | Spanish River Church | Boca Raton, FL*
October 7, 2018 | Shepherds Fest | Severn, MD
October 12, 2018 | City Church Albany | Albany, NY
October 20, 2018 | Celebrate Community Church | Sioux Falls, SD
October 21, 2018 | Celebrate Community Church | Sioux Falls, SD
October 25, 2018 | Revive Conference | Tacoma, WA
October 26, 2018 | Revive Conference | Tacoma, WA
October 28, 2018 | Citymark Church | League City, TX
November 18, 2018 | Evermore Church | Riverside, CA
December 2, 2018 | Al Lang Stadium | Saint Petersburg, FL
*"Heaven Tour" dates
About Mack Brock
Mack Brock's greatest passion is to lead people into a heightened awareness of the presence of God and to see individuals experience the breakthrough God has for them through worship. He has been a worship leader for more than 15 years and co-wrote "O Come to the Altar," "Resurrecting," "Here as in Heaven" and "Do It Again" — each of which has had a significant impact on the worldwide church. Three of Mack's songs have landed in the Top 50 on CCLI, and four have placed in the Top 100 CCLI songs. Mack served as the music producer and a key worship leader with Elevation Worship for a decade and has led thousands in worship in arenas and auditoriums all across the United States. Mack is now on a mission to equip and pour into today's worship leaders, helping them to navigate the unique challenges they encounter and the calling God has placed on their lives. Mack is married with two children and lives in Charlotte, North Carolina.
About Capitol Christian Music Group
An unwavering vision combined with a commitment to excellence and an arsenal of exceptional talent continues to make Capitol Christian Music Group the leader in the Christian/Gospel music industry. Representing such iconic artists as Chris Tomlin, TobyMac and Amy Grant, CCMG is a multi-faceted company whose assets include such legendary labels as Sparrow and ForeFront Records as well as the industry's top distribution company and an award-winning, global leading publishing company. Formerly known as EMI Christian Music Group, CCMG is a division of Capitol Music Group, a Universal Music Group company. Over the years, the venture has grown from a scrappy family-owned independent music label to a multi-faceted business that includes CCMG Label Group (Sparrow Records, ForeFront Records, sixstepsrecords, Hillsong, Credential Recordings, Rend Family Records and Jesus Culture Music), CCMG Publishing, Motown Gospel and Commercial Partnerships. The company's roster features top names in the Christian and gospel communities, among them Jeremy Camp, Hillsong UNITED, Hillsong Worship, Mack Brock, Kari Jobe, Pat Barrett, Matt Redman, Riley Clemmons, Smokie Norful, Tye Tribbett, Crowder, Rend Collective, Tasha Cobbs Leonard, Mandisa, Matthew West and VaShawn Mitchell. For more information, visit www.CapitolChristianMusicGroup.com.
###