Sidewalk Prophets Continue Their Ten-Year Anniversary Celebration With The "These Simple Truths Tour" This Fall
30-Date Tour Kicks Off September 20, Pre-Sale Runs Through June 2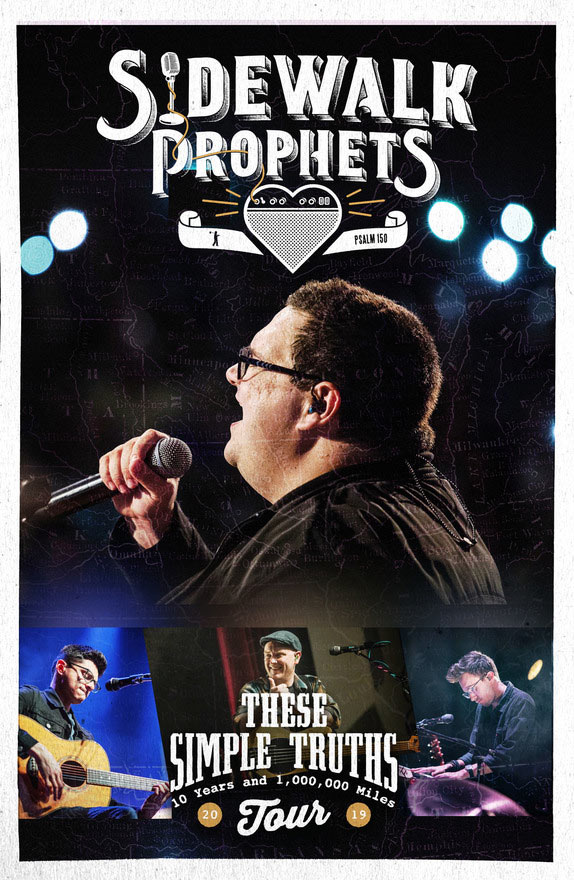 NEWS SOURCE: Merge PR
May 29, 2019
29 May 2019 - Nashville, Tenn - Today, Sidewalk Prophets announces the dates for the fall leg of their "These Simple Truths Tour." Celebrating their ten-year anniversary as a band , they kicked off the first leg of the tour this spring and plan to visit 30 more cities this fall. The first batch of tour dates releases today, and the remaining dates on the tour will be announced mid-June.
The tour continues its promise as an intimate experience where concertgoers take a journey through Sidewalk Prophet's history and hear numerous stories behind many of their biggest songs, such as "The Words I Would Say," "Come To The Table," "Live Like That," and more. Ticket holders will also be the first to hear new music from the band.
Tickets range from $15 to $50. For only $15 you receive a general admission ticket. An Early Entry ticket also includes a devotional with the band ($25/each), and the VIP ticket encompasses a Pre-Show Party, the band devotional as well as a special photo opportunity ($50/each). A $10 general admission ticket pre-sale just kicked off May 26 and runs through June 2.
"We had so much fun on the last leg of the These Simple Truths Tour that we decided we should keep a good thing rolling," Dave Frey, lead vocalist for Sidewalk Prophets, states. "It's been great to share stories behind songs and to get to play some new songs for the audience each night. One unexpected but awesome thing about the tour each night has been the gamut of emotions we have experienced. We're laughing together and we're crying together, and that is a special thing to share."
Comments about the spring leg of the "These Simple Truths Tour" have been pouring in from fans. Here are just a few:
"Having followed you guys for the entire ten years, this one was definitely at the top....pure music and pure vocals....nothing better." - Robert
"Absolutely incredible! Our family could feel the Holy Spirit moving in the whole place! Such an amazing experience!!" - Tabitha
"The heart and soul you put into your shows, we can feel it through music! Two shows down, can't wait to see you guys again! Keep up the great work your doing and good luck to all of you." - Connie
"Never felt so at home with so many people. Loved the stories, and look forward to seeing much more of you guys!" - Julie

"We laughed, cried, sang along, and laughed again! I was in awe throughout the entire concert feeling God's presence. The energy and soul that the band put on for us is something that I will remember forever." - Michaela Joy
Announced tour dates are listed below. For more ticket information and the most updated schedule, please view the tour video below and visit
sidewalkprophets.com/pages/tour
.
THESE SIMPLE TRUTHS FALL TOUR DATES*:
9/20 -
Jamestown, NY
- Willow Bay Theater
9/22 -
Medford, NJ
- Fellowship Alliance Chapel
9/26 -
North Augusta, SC
- Wesley Center
9/27 -
Ocala, FL
- Kingdom Revival Church
9/28 -
Pompano Beach, FL
- First Baptist Church Pompano Beach
9/29 -
Sanibel, FL
- Sanibel Community Church
10/4 -
Little Hocking, OH
- Porterfield Baptist Church
10/6 -
Bridgewater, VA
- Turner Ashby High School Auditorium
10/12 -
Manitowoc, WI
- Hope Church
10/13 -
Goshen, IN
- Community Church of Waterford
10/17 -
Van Buren, AR
- Fine Arts Center
10/19 -
Graham, TX
- Memorial Auditorium
10/20 -
Dodge City, KS
- Dodge City High School
10/26 -
El Dorado, AR
- El Dorado Municipal Auditorium
10/27 -
Henderson, TN
- Williams Auditorium
11/1 -
Lexington, SC
- Harvest Church
11/2 -
Valdosta, GA
- VHS Performing Arts Center
11/3 -
Gastonia, NC
- Union Road
11/9 -
Independence, KS
- Independence Memorial Hall
*
Tour dates subject to change; visit here for the most updated schedule
About Sidewalk Prophets: Dove Award-winning Sidewalk Prophets are a band who strive diligently for excellence in all things. Formed on the campus of Anderson University and built around vocal powerhouse and pop culture nerd Dave Frey, the band has sold over 500,000 albums, 1.5 million digital singles, played over 2,000 shows translating to being in front of 2.5 million fans, and garnered five number one singles and eight top five radio hits, such as their latest hit, "Come To The Table." The band has received over 11 million YouTube views, and been nominated for a Billboard Music Award as well as four Dove Awards, winning one. Sidewalk Prophets are a band known for spending the majority of their time on the road where they are passionate about connecting with their audience on a personal level.
###
For more info on Sidewalk Prophets, visit the JFH Artists Database.