Introducing Angelic Wars, First Rebellion - An Innovative Novel
Fusing Christian Science Fiction with Original Musical Literature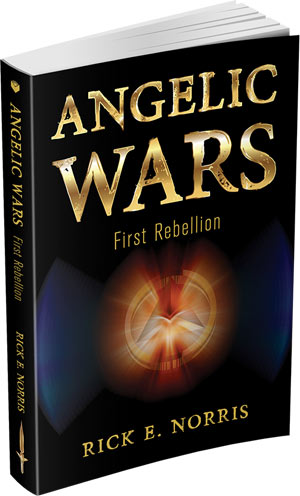 NEWS SOURCE: Corbin PR
December 6, 2019
Los Angeles, CA — Fantasy, theology, music and technology join forces in Rick E. Norris' debut novel, Angelic Wars, First Rebellion. Launching just in time for the holiday season, the illustrated novel introduces a revolutionary reader experience—one that involves simple technology to hear music. Readers will enjoy original music that follows this compelling action-adventure by activating QR codes inserted throughout the novel.
"I am ecstatic to introduce a piece that is as cutting edge as it is traditional," says Norris. "Angelic Wars, First Rebellion is inspired by biblical passages that outline a history dating back to the first struggle between good and evil. Yet with this book, the present-day reader has the opportunity to tap into a unique technology that engages their sense of hearing to make this story come alive: listening to songs sung by the book's characters."
Angelic Wars, First Rebellion is the first of a brand-new series of novels set in Heaven. It is the epic story of the internal struggles and external battles among the angels for the control of Heaven during Satan's rebellion. The seven Septemviri angels are commissioned through God's guardian cherub to seek out and conquer this rebellion by offering mercy or, if that fails, spiritual warfare. Little do they know that they are up against the most powerful angel of all—Satan—and his army consisting of a third of Heaven's population. Angelic Wars, First Rebellion caters to fantasy readers, religious scholars, musicians, novelty seekers and everyone in between.
Readers use their personal devices to activate the QR codes in the book. A simple scan automatically opens a free Internet playlist of five songs, which range from angelic choruses to electrifying ballads. All music of Angelic Wars, First Rebellion is written and composed by Norris. He also offers free sheet music downloads from the novel and a companion New Adult Bible Study on www.AngelicWars.com.
Angelic Wars, First Rebellion is published by Luminare Press. It will be released in hardback, paperback and e-book on November 20 on Amazon and Barnes and Noble. E-book pre-sales are available now on Amazon. Follow @angelicwarsbook on Instagram for previews and release details. For the full multimedia experience, head to www.AngelicWars.com.
About the Author
A graduate of UCLA and Southwestern University School of Law, Rick E. Norris practiced as a Certified Public Accountant for 37 years. He has taught various bible studies at his local Southern California church over the last 31 years. A member of the National Academy of Recording Arts and Sciences, Norris is a longtime songwriter, musician and lyricist. He is also the creator and co-host of the Rambling Business Podcast.
###