BRM AND BRODIEDAVINCI TEAM UP ON NEW ALBUM '20 SECONDS'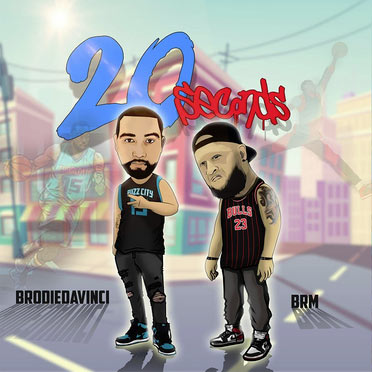 NEWS SOURCE: TwentyFive Collective
March 23, 2020
RRP North - It started as a simple contest on Facebook. Then as a collab track. Now…
The new head of the freshly minted RRP North (a division of Baton Rouge based Rapture Ready Productions), BRM has been hard at work pushing the CHH culture and building his personal brand. After hosting the "BRM Live Contest" and joining winner BrodieDaVinci on the track "Talk To Me", BRM realized that the two emcees had a connection that was undeniable.
"After BrodieDaVinci won my 'BRM Live Contest', we began featuring on each other's tracks and joked that we should just do an EP together. Well, 11 songs later, we got one for you!"
Releasing on March 27, 2020, the project, titled '20 Seconds', has a very focused message to give to its listeners.
"We still got work to do! There's still time to find God," explained BRM. "He could come in 20 years, 20 minutes, or 20 seconds but we're trying to bring souls to Christ and encourage those who know him."

Project Details:
Title - 20 Seconds
Artists - BRM & BrodieDaVinci
Release Date - March 27, 2020
Features - Jered Sanders, Applejaxx, A-Eazy, Qween, JDun, JayKnight, Kingsman, JË, B-Dub, Gabriel, De'Montrae, PGrant, GIGI, Marcello "Chruchboy" McNeil
Follow:
BRM - Instagram | Twitter | Facebook
BrodieDaVinci - Instagram | Twitter
About BRM
BRM is a Rap artist who isn't afraid to tell his story through his lyrics. With catchy hooks, energetic flow, and bold lyrics - you hear emotion, feelings, testimony, and his life story. BRM has a very unique sound that is missing in all rap genres! The music he puts out is relatable and you can tell his passion for music and people is real. BRM Leaves his heart on the mic, lyrics in your face, and points to GOD all at the same time.
About BrodieDaVinci
BrodieDaVinci is a Rap artist from Wilmington, NC. Brodie loves to create music that not only sonically sounds good, but music that has a message. He pours his heart out in the studio and often speaks on his personal life issues in hopes to help others in similar positions realize that God can pull them through. Calm, mellow music most of the time, but he is not afraid to give you an upbeat hit full of punchlines and metaphors. BrodieDaVinci strives to use his gift to glorify the Lord each and every time he is behind a mic!
###