Emery to Release 8th Full Length Album, "White Line Fever," June 5th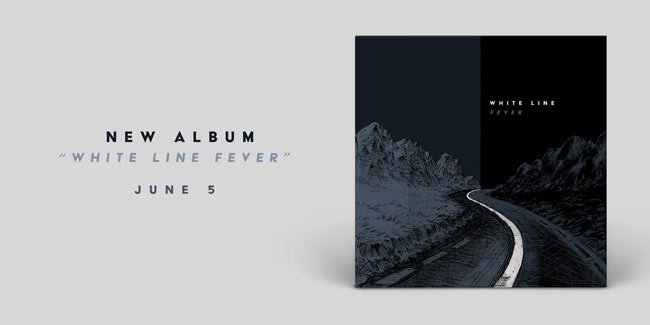 NEWS SOURCE: BC Music
May 19, 2020
Seattle, WA: DIY post-hardcore legends Emery, self-release their 8th full length album "White Line Fever," out June 5, 2020, available for pre-order now at emerymusic.com. From the band that brought the song "Walls" and albums like "The Question" to the scene in the mid-2000's, Emery hasn't stopped or slowed down for going on 20 years, and keeps going strong with the launch of Emeryland a year ago, and their new streamo show "Are You Listening?" This quarantine isn't about to slow these guys down!
In the Land of Emery
A year ago this month, Emery launched a new project called Emeryland - a subscription-model fan support plan that allows them to create music year-round, releasing an EP every quarter, compiling into a full length every year, bypassing the 2-year album cycle standard, and providing new and exclusive content to members of the community through a private Discord, Facebook group, exclusive store, and coming soon, weekly emails from the band. "White Line Fever" is the first full length to be created by the support of Emeryland's 1500 member strong community.
About White Line Fever
"White Line Fever" is the story of Emery taking a leap and leaving rural South Carolina in September of 2001, to move across the country to Seattle, WA to start the band. The fear, uncertainty, self-doubt, and excitement is evident in each song. The first single, "Civil Wars" (music video ) is resonating with listeners as an honest account of the struggle inside with lyrics like ". . . the wars we wage inside ourselves, the lies we can't escape. . ." this is a song you can grab onto. Singer Toby Morrell describes the song "Make Yourself Sick" (music video ) as a self-reflection on ways in which he realizes now, he let his doubt self-sabotage his experience of a lifetime, driving across the beautiful state of Washington on their way to record the band's first album. Another highlight on the album, comes from Devin Shelton's recollection of the uncertainty they felt on the morning of September 11, 2001, the date they had set not knowing that would be the day that would change the world forever from the terrorist attacks. "Some of Us" (story video) is a hauntingly beautiful reflection of what that day was like for them and the rest of the world.
Are You Listening?
In absence of physical tours, Emery has created an online variety streaming show airing every Sunday night on twitch called "Are You Listening: A Sunday Night Streamo Show," which features hilarious bits thought out and written by members of Emery throughout the week and preformed live, including The Damn News, Cover Corner, Songs from the Vault, and more! They also have a guest artist on each week, who prepares a collaborative cover of one of their songs to play during the show. Some past examples are Mae's "Embers and Envelopes," Norma Jean's "Self Employed Chemist," and Boys Night Out's "Punched in the Face." Find videos and more at areyoulistening.tv.


"White Line Fever" Pre-Order: emerymusic.com
"White Line Fever" on Singles Playlist on Spotify: spotify link
"Are You Listening: A Sunday Night Streamo Show" areyoulistening.tv


Emery on Socials
Facebook: https://www.facebook.com/emery/
Instagram: https://www.instagram.com/emeryofficial/
Twitter: https://twitter.com/OfficialEmery
Twitch: https://www.twitch.tv/emerymusic
###
For more info on Emery, visit the JFH Artists Database.