THE GETTY'S NEW EVENSONG ALBUM DISPLACES FROZEN 2 AFTER 36 WEEKS AS BILLBOARD CHARTS #1 KID'S ALBUM CATEGORY UPON RELEASE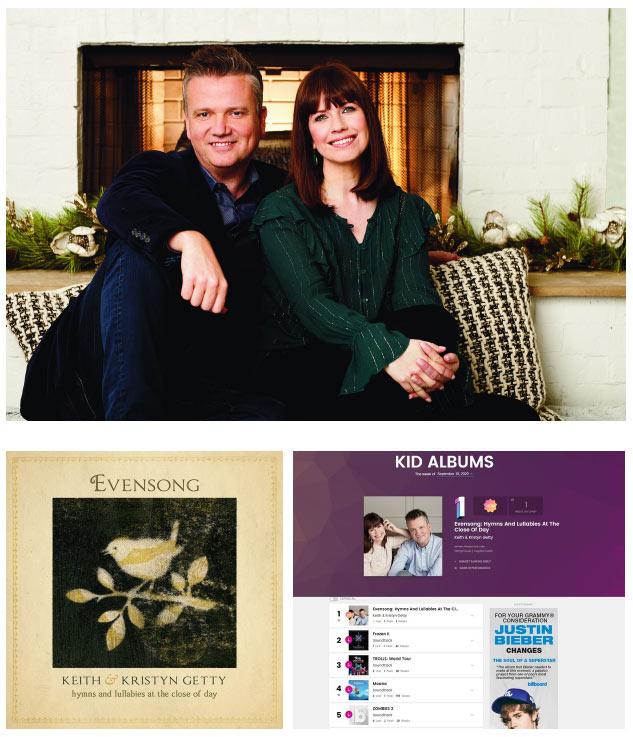 NEWS SOURCE: Wortman Works
October 2, 2020
Nashville, TN--(October 2, 2020)-- Irish-born modern-hymn writers, Keith & Kristyn Getty, have released their most acclaimed album to-date – Evensong: Hymns and Lullabies at the Close of Day. Born out of the thoughts, songs, and prayers the Gettys use to close each day with their own family, this project features a mixture of lullabies and hymns to help families and individuals alike declutter the mind and comfort the heart.

Known for inspiring hymns sung around the world like In Christ Alone, Speak O Lord, and Christ Our Hope in Life and Death, this isn't the first time the Gettys have garnered widespread acclaim from those outside of Christian music. In 2018, Keith Getty received the OBE (Officer of the Most Excellent Order of the British Empire) from Her Majesty, Queen Elizabeth II, for his contributions to music and modern hymn writing. The Gettys have appeared frequently on stage at many of the world's top venues such as Carnegie Hall, the Royal Albert Hall, the Kennedy Center, the Grand Ole Opry, and many others, performing to sell-out crowds. Additionally, the Gettys have been featured by top media outlets such as CBS Sunday Morning, Fox News, Public Television, the BBC, the Atlantic, and USA Today. It is estimated that each year, the Gettys' songs are sung by over 100 million people in churches worldwide, and recently they have started what has become the largest global conference for pastors and musicians around the world.

In the week of its debut, the Gettys' newest album, Evensong, topped the Billboard Charts at #1 in the Kid's Album category, surpassing the storied soundtrack to Disney's Frozen 2 for the first time in 36 weeks as the most popular Children's project in the United States. But, as Keith Getty states, "This project is so much broader than simply a project for children. From the earliest age to our waning years, the hymns and songs we sing are some of our closest companions, shaping the way we think about life, about God, about ourselves, and about others. We wanted to create a timeless album that our children could grow old gracefully with and that people of every age could use as a way to refocus their minds and hearts in the midst of the business of life. This project is for the entire family."

Kristyn Getty, who spearheaded the project as a way to memorialize the songs and prayers she and Keith sing to their own children, was ecstatic to hear of the widespread acceptance of this project. "During these uncertain times, the need for restful contemplation and focusing on the Word of God is more important than ever for Christians throughout the world. I hope these songs help people dwell on the Lord and His promises; to release a burdened mind, to calm a restless heart and point us towards real peace in Christ."

This project also represents a major collaborative effort between the Gettys and prominent country, bluegrass, and classical artists, featuring brand new collaborations with Vince Gill, Heather Headley, Ellie Holcomb, Sierra Hull, Deborah Klemme, Sandra McCracken, and Skye Peterson. Album producer, Ben Shive, was able to gather recordings from each musical collaborator and masterfully create a project fusing the Celtic, folk, bluegrass, classical, and Americana sound the Gettys have become known for around the world.

To learn more about this exciting new project, or to schedule an interview with the Gettys, please visit www.gettymusic.com/evensong or contact press@gettymusic.com.

About Keith & Kristyn Getty
Keith and Kristyn Getty are pre-eminent modern hymn writers in the world today. Keith was the first church musician of the modern era to be awarded the OBE from Queen Elizabeth II for his contributing influence to music and hymn writing. Their hymns like "In Christ Alone", written with Stuart Townend, uniquely cross musical genres, while also teaching sound Christian doctrine. As ambassadors of hymn writing, they have performed for presidents, prime ministers, and people around the globe. Their annual national hymn and Christmas tours produce sell-out concerts each year at Kennedy Center and Carnegie Hall.

Since the founding of Getty Music, it has expanded to include a publishing company of modern hymn writers, a record label, a touring company, an online learning company, a foundation, and (inspired by their first book) the "Sing!" Conference & Festival, which welcomes over 15,000 people to Nashville every year, as well as 600,000 online viewers globally. Keith & Kristyn live between Nashville and Northern Ireland with their four daughters.
###