JORDAN FELIZ NEW ALBUM SAY IT IS SET TO RELEASE DEC. 18, THREE SONGS AVAILABLE NOW WITH PREORDER
Parade Premieres Video For New Single "Next To Me" As "Glorify" Becomes Billboard Radio Hit

"Say It" Is About Kingdom Building With Actions, Words, Worship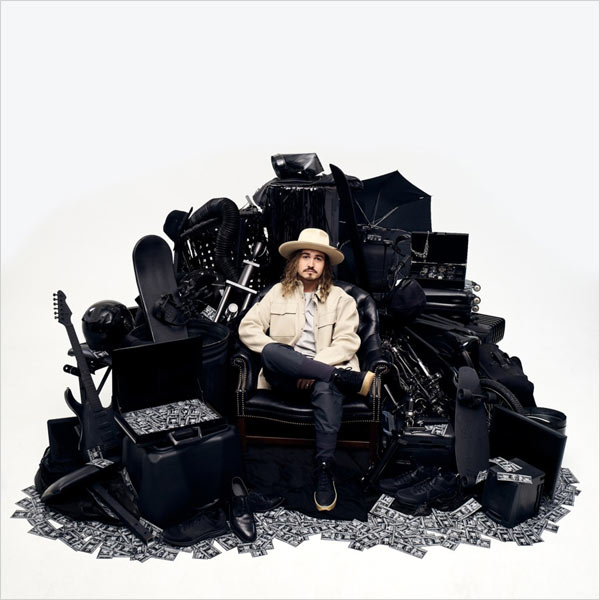 NEWS SOURCE: Hoganson Media
October 16, 2020
Gold-selling, Dove Award-winning pop recording artist and songwriter Jordan Feliz not only releases today (Oct. 16) his song "Next To Me" that Parade says is an "inspiring pop piece" that "you'll feel like dancing along to," but also reveals that his full-length album Say It is set to release Dec. 18 from Centricity Music. Available to pre-buy / pre-save now, the album includes immediate downloads / streams of "Next To Me," the Billboard hit song "Glorify" and confessional "Wounds."
Topping the Billboard Christian Albums chart when his sophomore LP, FUTURE, released in 2018, Feliz's trajectory for the new album was fraught with personal trials after success began to feel less like a blessing and more like a burden. Feliz suffered his first panic attack as he and his wife, Jamie, welcomed their second child and as he struggled to carry the weight of the spotlight and the livelihoods of multiple families connected to his career on his shoulders.
"It's like all your dreams kind of get handed to you, but there's really no fulfillment in it, and I realized that it was because everything was out of alignment for me," the singer reveals. "Nothing was in the right place in my heart or in my mind. I felt like I was letting a lot of people down."
Realigning his priorities and surrendering his anxiety to God, the hitmaker entered the studio to craft his third full-length project, Say It, with a renewed sense of identity and purpose.
"I've worked harder for this record than I've worked for almost anything in my life," says Feliz. "With these songs, I want to encourage people to talk more about the beauty and the miracles that God does in our lives when we invite Him into our struggles…this record is all about what God has done in my life."
Co-produced by Feliz's longtime collaborator Colby Wedgeworth and Jordan Mohilowski, Say It blends pop, Gospel and soul while offering some of the artist's most transparent lyrics to date.
The album's lead single "Glorify," which is No. 3 and climbing the Billboard AC/CHR chart this week, features Jordan's recognizable falsetto along with a full gospel choir. Two separate remix versions of the song feature multi-Platinum-selling recording artists Lecrae and TobyMac.
While "Glorify" is more of a proclamation than a confession, other tracks on Say It find Feliz mining personal experience, including the poignant "Wounds," which reveals the singer working through a past trauma.
"I realized that I hadn't dealt with an old wound, something that I had been holding on to for a really long time," he shares. "I'm realizing that it's such a common thing to have a really, really deep cut on your heart that people don't want to take to Jesus. It's almost like we feel like God won't love us if we do; but I believe in a God who, when we invite Him into those places, He will heal us."
With today's pop dance release, "Next To Me," Feliz shares in Parade's premiere of the live performance video that "this song is a push to give Him all your baggage, your ego, control and whatever else you think you should hide away. Because when you do, you find yourself closer to the Father than you ever thought possible."
Along with the new video, Parade unveiled the new album cover. "The Say It cover is a reminder that our true focus should be building the Kingdom everyday with our actions, with our words and with our worship," shares Feliz. "Even though life can give temporary fulfillment with money, trophies, clothes, jewelry and other worldly trinkets, nothing fulfills more than letting all of that fade and fall, only to rise to lift the name above all names, Jesus."
Looking to the hope of heaven is a theme that appears throughout the new album. "We were meant to thrive here, but we're not meant to be here forever," Feliz asserts. "It's OK to feel out of place. It's OK to feel like you're not OK right now. It's OK to have all those feelings, because we're human, and we're meant for heaven; we were created for that."
Playing the new music and his fan favorites on the road while following all local pandemic guidelines, Feliz has six more events this month in five states with more concerts being added regularly. His current itinerary follows:
OCT 20 Dickinson, ND TICKETS
OCT 21 Bismarck, ND TICKETS
OCT 22 Gillette, WY TICKETS
OCT 23 Rapid City, SD TICKETS
OCT 25 Idaho Falls, ID TICKETS
OCT 28 Cleburne, TX INFO
For all the latest Jordan Feliz tour, music and more news, visit https://jordanfeliz.com/, Spotify, Apple Music, YouTube, Instagram and Facebook.
About Jordan Feliz:
Centricity Music recording artist Jordan Feliz quickly became a household name when his first radio single, "The River"—the title track from his critically-acclaimed debut—became a smash hit. Spending an unprecedented 12 weeks at No. 1, the chart-topping single was named ASCAP's "Christian Music Song of the Year" and garnered Feliz his first Gold certification. Thanks to his charismatic vocals and signature blend of soulful pop, each of his six subsequent radio singles has landed in the Top 10 with "Witness" notching another No. 1 for the singer. In addition, the California-native has been nominated for five Dove Awards, taking home the trophy for 2016's "New Artist of the Year," and has amassed more than 350K in worldwide consumption. Quickly rising to headliner status, Feliz has toured with some of the biggest names in Christian music, including TobyMac, for KING & COUNTRY, Matthew West, Michael W. Smith and Crowder. On Dec. 18, 2021 Feliz will release Say It as the follow-up to his sophomore LP, Future, which debuted at the top of the Billboard Christian Albums chart.
About Centricity Music:
Centricity is an independent Christian music company based in Franklin, TN. Founded in 2005 with a commitment to artist development and stylistic diversity, its artist roster includes Andrew Peterson, Apollo LTD, Caitie Hurst, Chris Renzema, Coby James, Jason Gray, Jonny Diaz, Jordan Feliz, Lauren Daigle, Neon Feather, North Point Worship, PEABOD and Unspoken. Providing label and publishing services, Centricity is a family-owned organization, and they like it that way. The committed work of its staff and artists has yielded successes such as Grammy Awards, Billboard Awards, Dove Awards, K-Love Fan Awards, and multiple Gold and Platinum Albums and Singles. For more information on Centricity Music, visit www.centricitymusic.com.
###
For more info on Jordan Feliz, visit the JFH Artists Database.