TIS' THE SEASON! PROVIDENT LABEL GROUP ARTISTS RELEASE NEW CHRISTMAS SONGS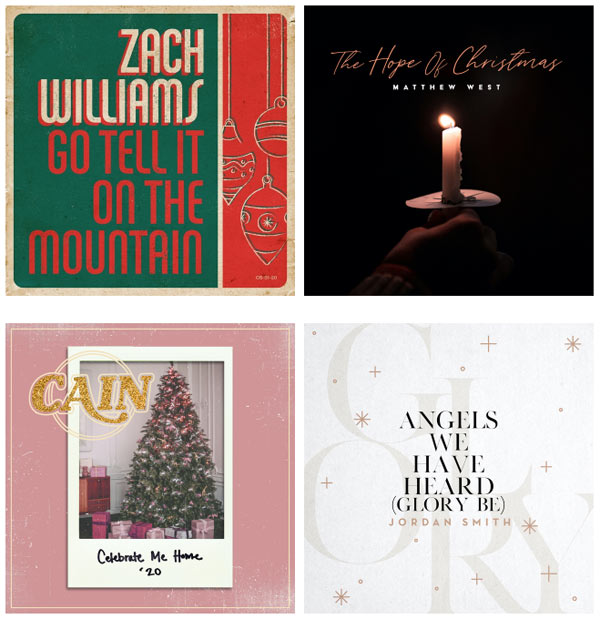 NEWS SOURCE: Merge PR
October 16, 2020
NASHVILLE, TENN. (OCTOBER 16, 2020)
Provident Label Group releases four new Christmas songs in time for the upcoming holiday season. Grammy-award winning artist
Zach Williams
is releasing his own style on the classic "Go Tell It On the Mountain." Multi-Grammy nominated artist
Matthew West
has written a new original song, "The Hope of Christmas." NBC's The Voice winner
Jordan Smith
takes a traditional hymn and adds his own style on the song, "Angels We Have Heard (Glory Be)." Label newcomers and sibling trio
CAIN
share their take on the song, "Celebrate Me Home."
"Go tell it on the mountain, that Jesus Christ was born - I can't think of a more needed message right now," Zach Williams states on his revised classic. "2020 has shaken many of us to the core, and as this year comes to a close, I want THIS to be the message that ends our year. No matter your struggles, Jesus Christ was born to set you free. I checked another box on my bucket list - recording at FAME studios in Muscle Shoals Alabama, and this rendition is filled with a mix of the soul of that legendary studio, the camaraderie of my bandmates, and the message of hope that Jesus was born to save us all."
"I had the idea for 'The Hope of Christmas' pretty early in 2020," shares Matthew West on his new holiday song. "It's felt like we could use a little Christmas right now! I find myself looking back at the Christmases of my youth, life seemed so much simpler then. There's a line in the song that says, 'these days peace on earth is hard to find, and I need you to remind me one more time.' I guess that pretty much sums up how I've been feeling this year, and I have a feeling I'm not the only one. I see a world reeling from the turmoil of a pandemic, political divides, and racial tension. I've always felt that my calling as a songwriter is to extract that hope even from situations where it seems all hope is lost. Writing this song helped me remember the reason why we can always have hope. Hope has a name. His name is Jesus, the Hope of Christmas."
"This new version of a classic Christmas hymn is my prayer this holiday season - that all hearts will be filled with peace, light, mercy, justice, truth, and love," Jordan Smith shares. "When the angels appeared before the shepherds on the night of Christ's birth, they brought with them Heaven's best regards, saying 'Glory to God in the highest, and on Earth peace, goodwill toward men.' My version continues their song, as we pray for peace, light, mercy, justice, truth, and love in all hearts."
"Christmas is going to look different for a lot of you this year," states Taylor with CAIN. "Traveling to see family and loved ones may not be a possibility for some. We hope that when you hear 'Celebrate Me Home,' you are able to close your eyes and picture your favorite friends and family cheering you in through the front door, handing you a gift from under the Christmas tree and hugging you tightly by the fireplace as you celebrate Jesus' birth. We pray that sweet memories would carry you through until you can be with the ones you love again. For those who can't make it home, may you still have something to celebrate this year."
About Provident Label Group:
Provident Label Group is part of Provident Entertainment, a division of Sony Music Entertainment, whose labels include Essential Records, Reunion Records, Essential Worship and Beach Street Records. The label group is home to many of the biggest names in the faith-based music industry including Casting Crowns, Zach Williams, Matt Maher, Matthew West, Tauren Wells, I AM THEY and more. In just the last two years, Provident Label Group has certified more than a dozen RIAA Gold-certified® singles, multiple RIAA Platinum-certified® singles, and a RIAA Gold-certified® album. As a faith-based industry leader, each year Provident Label Group receives multiple GRAMMY® Award nominations and wins, Billboard Music Award nominations and wins as well as GMA Dove Awards including recently winning two New Artist of the Year Awards (Tauren Wells, Zach Williams) and Artist of the Year (Zach Williams). The label also continues to hold top positions at radio with last year Casting Crowns' songs spent the most weeks at No. 1 at Christian Radio (according to Nielsen), naming them the only faith-based artist to rank consecutively in the Top 10 of the annual Christian Airplay Year-End chart over the last four years. For more information on Provident Label Group and their artists visit:
www.providentlabelgroup.com
###
For more info on Zach Williams, visit the JFH Artists Database.
For more info on Matthew West, visit the JFH Artists Database.