TIM TIMMONS' LIVE VERSION OF "YOU NEVER LET GO" FEAT. TAMMI HADDON OUT NOW;
Announces New Album, HERE, Set To Release April 2021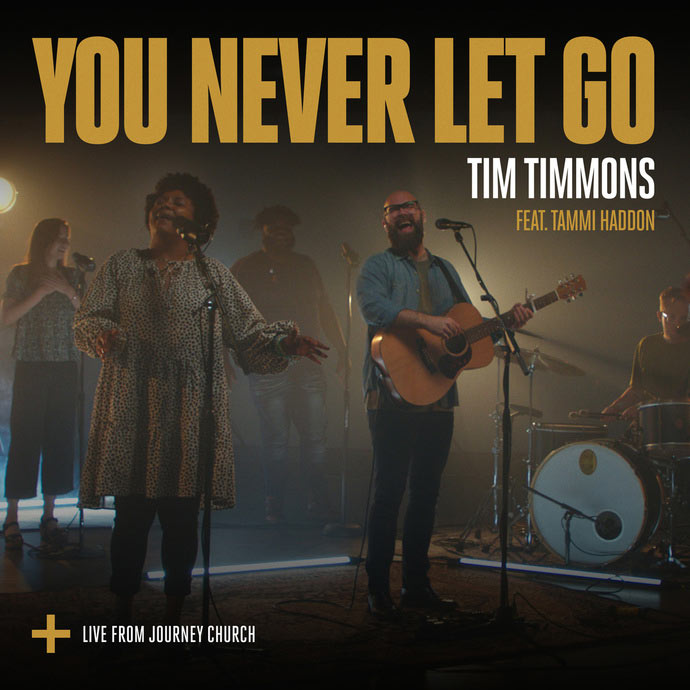 NEWS SOURCE: Merge PR
November 20, 2020
20 November 2020 - Integrity Music announces the official live single release of "
You Never Let Go
" from Tim Timmons featuring Tammi Haddon, is out now. This worshipful live version, which is also backed by a choir, combines Timmons' straightforward and vulnerable lyrics, highlighting his gifting and style of worship leading combined with Haddon's warm and powerful vocals. Watch
here
for the official live video of their recording.
"In the writing session where Tammi Haddon, Stephen Cashwell, and I wrote this song, all of us started sharing that there were hard things going on in each of our journeys," Tim Timmons shares. "I had just had a cancer appointment before that and they had told me that my tumors had not shrunk when they thought that they had. This song literally became our prayer. It's this great invitation to remember again that we still have a song to sing, that God is in control - He will never let go."
Additionally, a one-shot acoustic video of "You Never Let Go" released earlier this month and can be viewed
here
.
Also announced today is the release of Tim Timmons' upcoming album, titled HERE, slated to drop April 16, 2021. Further details about the album will be announced in the new year.
ABOUT TIM TIMMONS: Tim Timmons' life has been one of adventure, but for the first time, the singer/songwriter feels awake enough to live it. "For most of my life, I found myself working FOR God, not WITH Him, which led to my tired soul desperately searching for more. What could happen if we grasped how much we're loved and accepted by Jesus no matter what, and then lived like it was true?" Timmons proclaims.
This concept of the walking WITH Jesus permeates not only Timmons' music, but his daily life—a unique viewpoint shaped by an incurable cancer diagnosis he received twenty years ago when he was given five years to live. His diagnosis is a doorway for countless healthy, life-giving conversations, but Timmons has far more than a diagnosis to talk about.
"We spend 10,080 minutes in a week, 80 of those are spent gathered in a room, which is awesome...but there are 10,000 other minutes in a week... The Church gets to be the Church all the time— gathered, then scattered––all in the name, power and authority of Jesus."
This lifestyle has so captured hisheart that he started a non-profit and a weekly blog called 10,000 MINUTES–with the premise of inspiring, inviting and equipping people to practice Jesus all week long. This is Timmons' greatest desire—whether the catalyst is his cancer diagnosis, theology, his blog or songs, he wants to keep the conversation going so people can discover for themselves the real life found WITH Jesus. For more information, please visit
TimTimmonsMusic.com
and
10000minutes.com.
ABOUT INTEGRITY MUSIC: Integrity Music is part of the David C. Cook family, a nonprofit global resource provider serving the Church with life-transforming materials. With offices in Nashville, Tennessee (US) and Brighton, West Sussex (UK), Integrity is committed to taking songs of substance to the local church and its leaders around the world.
Integrity publishes many of the top songs in the Church, including "Great Are You Lord," "Revelation Song," "Open The Eyes Of My Heart," "In Christ Alone," "10,000 Reasons," "Here I Am To Worship," "The Lion And The Lamb," "Great I Am," and "We Believe," among others. Integrity Music artists include Matt Redman, Lincoln Brewster, Darlene Zschech, Martin Smith, Leeland, William McDowell, Paul Baloche, David Leonard, Jon Egan, David and Nicole Binion, Tim Timmons, Sandra McCracken, Selah, Kees Kraeynoord, ICF Church, Matt Marvane, and InSalvation, along with newer artists Thrive Worship, Local Sound, Sarah Kroger, Nashville Life Music, YWAM Kona Music, and MDSN. Additional information is available at
integritymusic.com
.
###
For more info on Tim Timmons, visit the JFH Artists Database.