COMPASSION LIVE PRESENTS 12 DAYS OF CHRISTMAS: A LIVESTREAM SERIES FEATURING TOP NAMES IN MUSIC, MINISTRY, LIFESTYLE, AND PODCASTING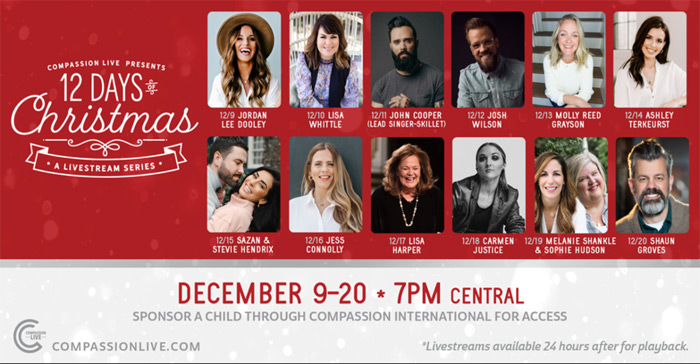 NEWS SOURCE: Compassion Live
November 30, 2020
Franklin, TN – Compassion LIVE partners with popular influencers, speakers, and musicians to present 12 Days of Christmas: A Livestream Series this holiday season. The festive series offers twelve nights of fun for families of all ages and features hosts like Jordan Lee Dooley, John Cooper of Skillet, Sazan & Stevie Hendrix, Ashley TerKeurst, Lisa Harper, and more. Compassion LIVE invites fans to take the bah humbug out of 2020 by grabbing a cozy blanket, warming up the hot cocoa, and preparing to have a holly jolly time during 12 Days of Christmas!

With all proceeds benefiting Compassion International, this is a chance to make a difference in a child's life while getting to hangout LIVE with fan-favorite influencers like never before.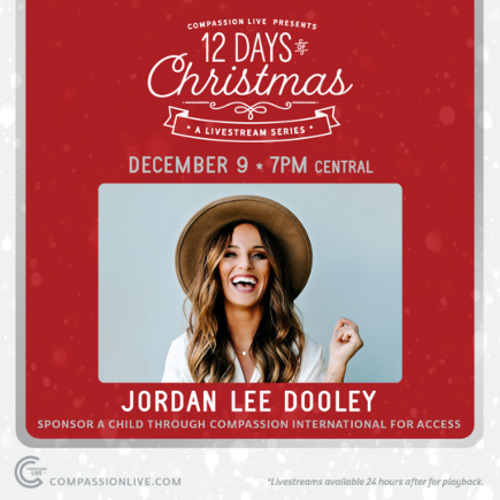 Jordan Lee Dooley, popular author, speaker, and podcaster kicks off the series on December 9th. Jordan discusses developing healthy habits and daring to dream again -- especially when it feels like life just hasn't gone how many hoped or planned. "Together, we'll dig into how we can steward what's right in front of us, prepare with hope and expectation for what's ahead of us, and support each other in the process!" says Dooley. Fans won't want to miss out on a live Q&A with Jordan, and a few other special behind-the-scenes surprises.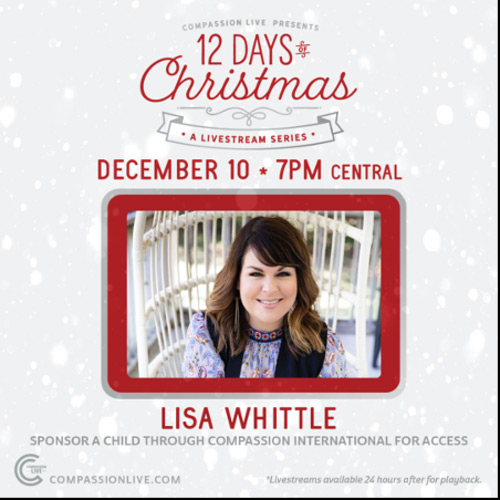 Lisa Whittle brings a live JOE Show to her December 10th event that includes some easy ideas for an uncomplicated Christmas, one practical way to find fresh joy no matter what, and a smokey eye makeup tutorial on an extra special guest from her former makeup-artist days to get us all holiday- ready! Lisa will bring a message of hope and strength for the coming year and will invite fans to remember the truth about Who holds us together and unites our hearts. "I can't think of any good reason not to be a part of this event — Kingdom purpose plus a packed night of holiday-fun and inspiration in your pjs? Sign me up!" exclaims Whittle. "If you don't know what to get your kids for Christmas this year, I've got the perfect solution: sponsor a child on their behalf and as a bonus, get to attend this fun show! I'm getting my whole family involved, a favorite easy recipe (everyone LOVES), and tons of good stuff, so don't miss it."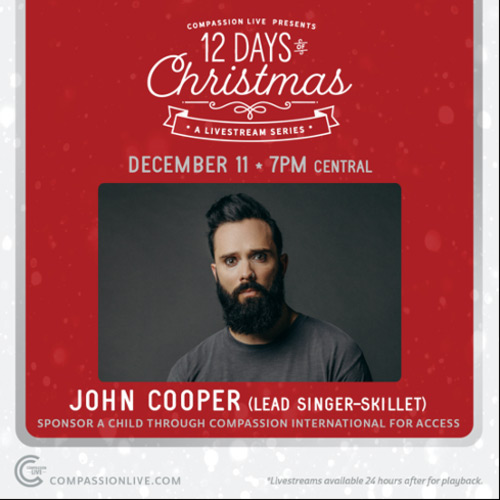 Skillet lead singer John Cooper hosts December 11th. Cooper will be sharing personal stories, taking fans on a tour of his Marvel/DC life-size memorabilia collection, leading a tutorial on furniture building, and hosting a live Q&A. He'll also be covering topics from his new book, Awake & Alive to Truth, including taking on 'cancel culture' and how to rebel against relativism in a world that rejects absolute truth. "I'm absolutely thrilled to be part of Compassion's 12 Days of Christmas livestream. My wife Korey and I are big believers in sponsoring as a family. We thought hosting a livestream would be a great way to give back and raise up sponsors for children in need this Christmas," says Cooper.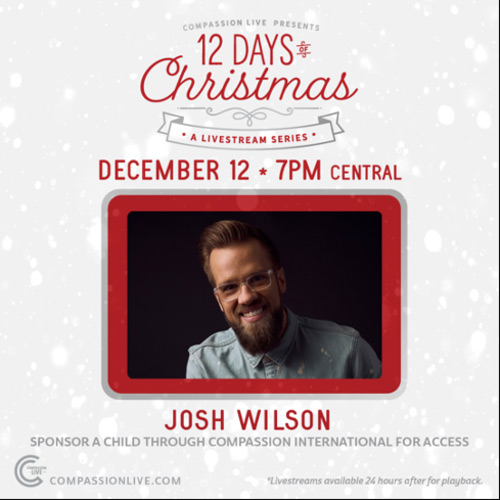 Josh Wilson and his wife Becca invite fans to join them in the kitchen on December 12th. The couple will teach viewers how to make their family favorite Caramel Sticky Buns and Orange Biscuits. The night will also include games, a live Q&A, a behind-the-scenes look into Josh's RV-LUTIONARY Tour, and of course music! "I am so excited about this one-of-a-kind event! I'll be sharing music like I have done at many shows, but this event will be so much more," says Wilson. "Join me for a quarantine haircut (given by my wife), a tour of my RV, and a cooking lesson from Yours Truly (which could either be delicious or disastrous). Don't miss it!"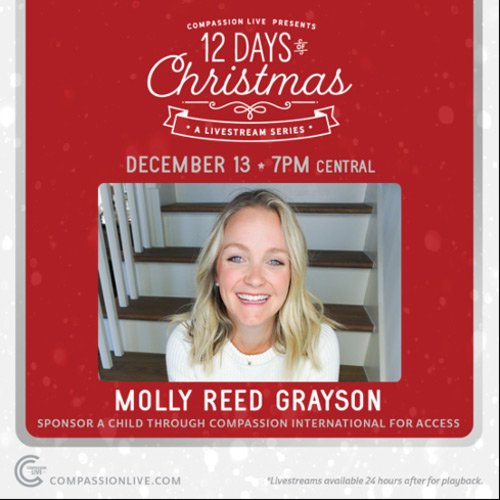 Molly Reed Grayson is cooking up some Christmas goodies on December 13th. The night will include some of Molly's popular Sunday Bakes recipes, but this joy filled evening will also include lots of laughs, encouragement, Christmas shopping secrets, her husband's famous taste tests, an exclusive Q&A, and a rare glimpse into the song writing process as fans help Molly write a Christmas song LIVE! Think of it as a "Molly Reed Grayson variety show" with the fun spilling beyond the kitchen. "I can't even begin to express how excited and honored I am to be a part of the 12 Days of Christmas livestream event," says Grayson. "Being a mom of three, I have a front row seat to seeing how special, valuable, precious and loveable children are. Helping, supporting and loving children is near and dear to my heart! I can't think of a better Christmas gift to give these sweet boys and girls, than a sponsor."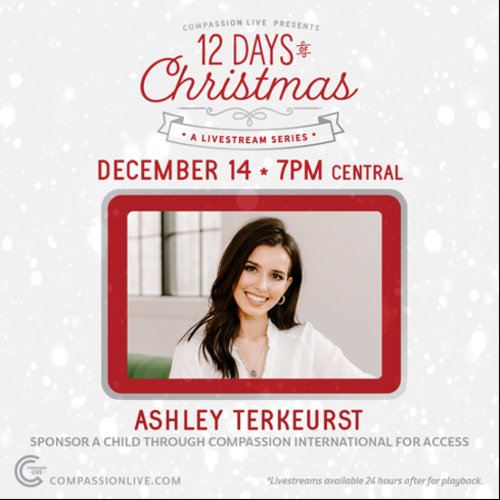 Ashley TerKeurst is opening up her heart and her home on December 14th for an incredible time of fun and inspiration. Ashley shares holiday gift wrapping tips, gift guides, holiday hair tutorials, toddler travel tips and so much more. "I'm so excited to be part of 12 Days of Christmas!" says TerKeurst. "I can't wait to share the things I'm passionate about like lifestyle, fashion, being a new mom, and most importantly my love for Jesus. I can't think of a better way to do that than by sponsoring a child through Compassion International. Don't miss this special night!"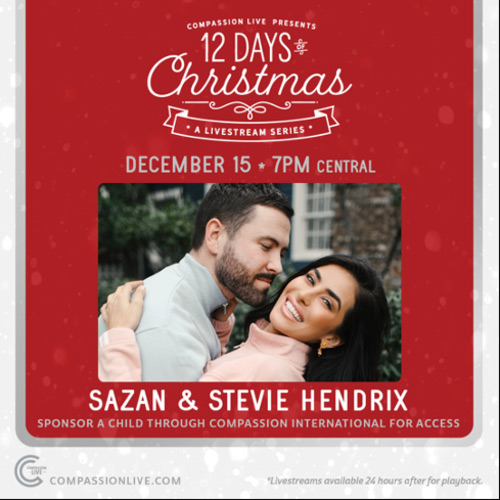 One of social media's favorite #powercouples is joining 12 Days of Christmas on December 15th. Sazan & Stevie Hendrix invite fans into their home where they have some fun things in store like an exciting Q&A, a special welcome debut of their greatest gift this year, and much more.

"If there's one thing that 2020 has taught us, it is that in difficult times, there comes the realization of just how important it really is to cherish the days you have with family and friends, to love others, and to be the first to extend a helping hand when someone is in need," adds Sazan and Stevie. "We love being able to take part in Compassion International's event this Christmas to help raise funds for children in need all around the world. We love bringing people together; that's our favorite thing to do, so by being part of this event, we are able to open our home (virtually!) and invite the world to join us for an evening of laughter, inspiration, and lifting up the voices of the children who need our love and support. What better way to ring in the holiday season than with an event like this? We're so thrilled and honored to be a part of it."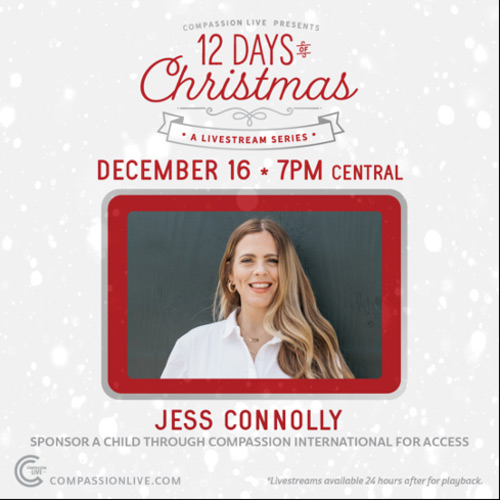 Jess Connolly, author, speaker, and coach hosts on December 16th. Fans of Jess won't want to miss this night as it will go down as the perfect night with the gals to laugh, learn together, and to lean into God-given visions and goals. Viewers will come together to find encouragement and empowering insight from God's Word, as well as partner with Compassion to serve while spurring one another on! "I'm thrilled to be partnering with Compassion for 12 Days of Christmas! We're hosting an online coaching event for women to help them close out 2020 with passion and intention, and welcome 2021 with joy and expectancy," explained Connolly. "Join us for coaching, community, fun, and an overall night of wild encouragement from my friends and me!"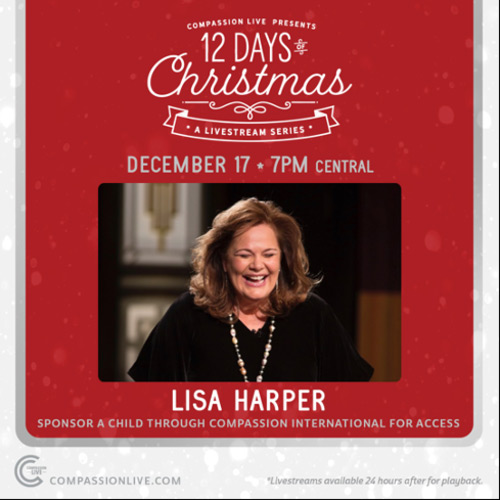 On December 17th, Lisa Harper hosts a totally real, if not slightly raucous, home Christmas party called "Merry Misfits" that'll include unplugged worship, an "Immanuel and His Band of Raggamuffins" devotional from Lisa, holiday recipes being prepared in real-time, as well as some old-school neighborhood caroling via some new-school Go-Pro livestreaming! "I'm delighted to get to be involved with Compassion and 12 Days of Christmas this year. I think it's a really fun and creative way to engage community in this oft-isolating age of COVID, while utilizing the collective power of these all-saints-shindigs to both align with and alleviate the suffering of poor and precious children around the world," says Harper.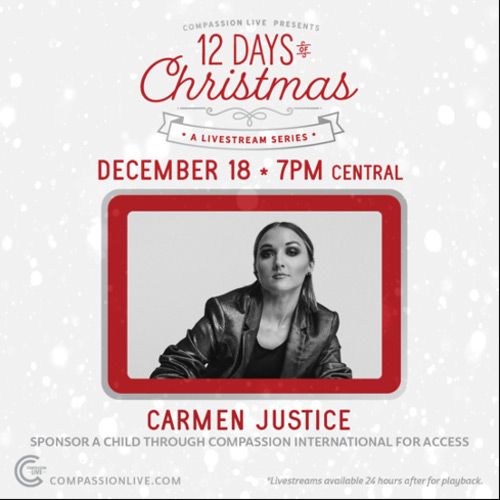 Carmen Justice has been working for close to two years on new music and December 18th is finally the night she will give her fans a listen to some of what is to come in 2021! Carmen invites fans to join her as she shares experiences that have impacted her over the years, last minute Christmas shopping ideas, and how the global pandemic has brought perspective to her life. "I am so excited to be a part of what Compassion is doing this Christmas season! Any time I can use my platform to not only raise awareness, but actually get my fans involved in changing the world for the better— that is what gets me up in the morning," adds the singer. My livestream event on December 18th is going to be an exclusive night that I don't want a single one of my fans to miss out on!"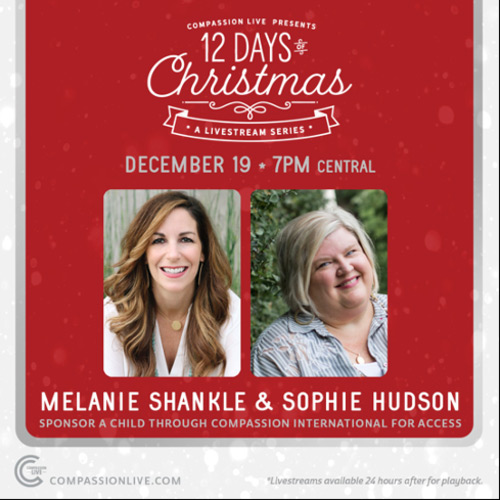 Sophie Hudson and Melanie Shankle invite fans to attend A Very Big Boo Christmas on December 19th. This live Big Boo Cast show will feature their favorite holiday recipes and traditions, Christmas playlists and hopes for the new year. This will be a night full of fun and laughter and all the usual Big Boo content followers have come to expect!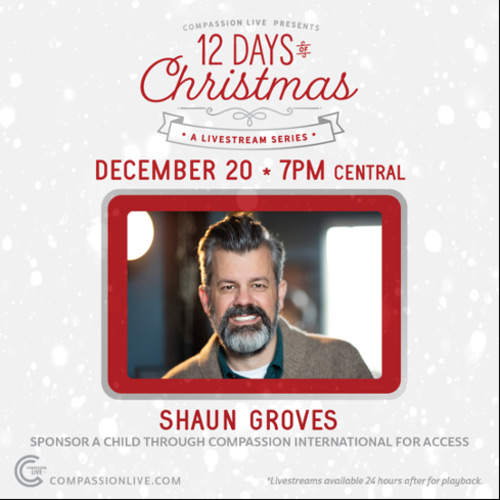 Speaker and musician Shaun Groves wraps up 12 Days of Christmas on December 20th. He invites fans to grab the family and gather around the laptop for an evening of stories and songs. Shaun will take questions LIVE from the audience and help put hearts and minds in the right space to celebrate the advent season. "There's no better way to celebrate the Gift of Jesus than to share Jesus with others," adds Groves. "I know my friends will jump at the opportunity to do that by sponsoring a child…or a few!" Fans won't want to miss this exclusive event filled with inspiration, entertainment, and a few surprise guests.
Sponsoring a child through Compassion International will allow access to the livestream events. One sponsorship needed per event. For more information on sponsoring a child or 12 Days of Christmas, visit www.compassionlive.com.
12 Days of Christmas: A Livestream Series – Winter 2020
Dates subject to change

ABOUT COMPASSION LIVE
Compassion LIVE, established in 2014 by Compassion International, provides the highest quality events for families to join together and grow with others in faith. Compassion LIVE partners with impact-making leaders, artists and communicators to produce life-changing events that share the message of faith and impact the church for children around the world. For more information, visit www.compassionlive.com.

Founded in 1952, Compassion International is a Christian child development organization that works to release children from poverty in Jesus' name. Compassion revolutionized the fight against global poverty by working exclusively with the Church to lift children out of spiritual, economic, social and physical poverty. Compassion partners with more than 6,700 churches in 25 countries to deliver its holistic child development program to over 1.8 million babies, children and young adults. Compassion's child sponsorship program has been validated through independent, empirical research. For more about the ministry, visit compassion.com or follow them on Twitter @compassion.

Stay Connected With Compassion LIVE:
www.compassionlive.com
www.facebook.com/compassionlive
www.instagram.com/compassionlive
###
For more info on these artists, visit the JFH Artists Database.