CJ RAY'S NEW EP FOR EACH OTHER DUE JULY 23rd
MICRO GRANT INITIATIVE ANNOUNCED: FIFTY $100 GRANTS TO BE DISPERSED TO INDIVIDUALS NOMINATED BY FAMILY AND FRIENDS IN CELEBRATION OF BEING THERE "FOR EACH OTHER"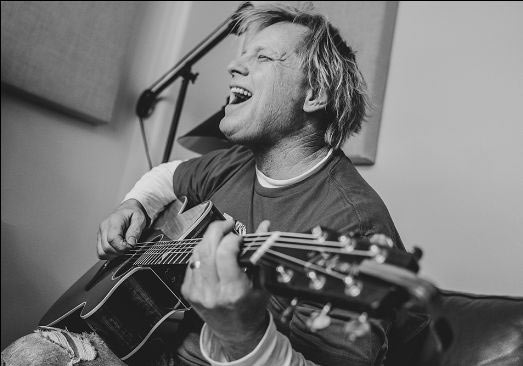 NEWS SOURCE: Mixtape Media
July 9, 2021
Las Vegas, NV – Lyric-centric, rock-infused-singer-songwriter CJ Ray is set to release his latest EP, For Each Other, on July 23rd. Comprised of four original songs and CJ's reimagining of Sarah McLachlan's "Sweet Surrender," the EP boasts visceral and heartfelt performances by the songwriter and his band and was produced by Paul Fig (Deftones, Coheed and Cambria, Trivium.) The majority of the songs were written and recorded during the Covid-19 pandemic and the social issues surrounding that time. Ray explores themes that include returning to normal life, caring for others, appreciating the past, desiring freedom, newness and rebirth.

The faith-based rocker also announces his "For Each Other" micro-grant initiative which will disperse fifty $100.00 grants to individuals whose family and friends have nominated them for being "there for each other" during this past, tumultuous year. The nominating process asks the nominator to post via social media a photo or video in celebration of the person or family who has been there for them in a meaningful way. The recipients of the "For Each Other" micro-grant will receive funds directly in August, 2021. Click here for the official micro grant process and rules.

"Over the last year and a half, I've been so inspired by my own family and friends as we've worked to stay both healthy and feel connected," says CJ. "I'm so grateful as it feels like we're closer than ever now. I wanted to find ways to pay it forward with the "For Each Other" release, so I am announcing a round of Micro Grants designed to help people share a little love back to those who have been there for them over these challenging months. The idea of the unexpected gift is so powerful and I hope it brings joy to many! Let's get back to being our best selves as the Human Race. God loves you."
The EP kicks off with CJ's electrifying interpretation of Sarah McLachlan's "Sweet Surrender." "As a songwriter, lyrics have always been crucial to me and when I hear a song with a powerful message, I just want to be wrapped up in it and become a part of the message," says CJ. I hope my treatment of her song is received in the same way as I approached its making -- with love, thankfulness and respect."
"I have been writing and working with Greg Karas (Andy Grammer) for the past few years and Greg kept saying, "CJ you are a rocker so let's keep these songs rock songs," says the singer. "The influences on my sound are numerous and there was not a particular sound we were chasing. We just knew we wanted to track the songs live and keep the songs honest. I think the sound of this EP is refreshing if you love live rock."
The EP's title track features a scorching guitar solo and is inspired by the racial injustice and pain witnessed in our culture in 2020. "So many people are hurting, disenfranchised, and angry about how life has panned out for them, says CJ. "My heart prompts me to always help a fellow life traveler and 'For Each Other' is my heart in words. No one is an Island to themselves and we need to be there For Each Other.
"Death Valley" finds CJ's raw, emotional and declaring, "I need a love that won't forsake me." The cinematic video was directed by Nicholas Wendl in partnership with Juel Concepts and premiered via V13.net who raved, "his impassioned new song features a classic, revved up 1980s rock influence, reminiscent of Van Halen or Bon Jovi… If 'Death Valley' is any evidence, we can be certain that whatever is coming soon from CJ Ray will be well worth the wait."
"It is terrifying to be in the Valley of Death but in my case Death Valley forced me to look to God for deliverance," the songwriter says. "Ultimately, God is there to love and heal His children but sometimes hope is only revealed when things seem most hopeless."
The video features shots of CJ performing with his band interspersed with the story of a young man (portrayed by actor Rhett Wellington) driving alone through Death Valley while experiencing inner turmoil.
Up next is hard rocker, "Fear Begone," and the lyrics invoke our natural world. "I am blessed to live in a place where I can be engulfed by nature after five minutes of driving," says the songwriter. "Living in the desert is eye opening. I take a ride into the desert and just shut off the machine and listen to the wind blow across the mountains. I will sit on a rock and look out, on what appears to be a lifeless place, just to see an abundance of life pop up once I am still and silent. It amazes me that I never noticed things until I slowed down and became silent. We need to slow down, be still, watch, and listen, to be able to see and hear God's message to our hearts. As I reflect on the abundant life living in the desert, I felt the words come to me that there is nothing to fear as a child of God. So I wanted the chorus to be a bold statement directing my fear to be gone and reminding myself that the sun/son is still shining even when hidden by clouds or by circumstances."
The EP closes with the sincere, acoustic, "Today." Louder Than the Music raves, "with gentle guitars, soothing vocals, and gorgeous tones, this heartfelt ballad oozes warmth and optimism, soaring later in the track to a triumphant declaration of praise. Stunning!"
"To surrender control of our life is a scary thought for most of us," says CJ. "We all want to maintain control because we know best what is right for us, but do we? 'Today' is a song about reconciling control of living with the purpose of living. It asks a profound question that every listener will be compelled to ponder, Today is the day!"
"The cinematic video shows CJ on the other side of darkness and accepting God and has three short vignettes of other people - including young actor Cade McWatt (General Hospital) - also struggling and ultimately coming into the light," enthuses CCM Magazine. "They all meet up in the end in praise and celebration."
"The order of songs on this EP was created to take the listener on a journey both sonically and lyrically," says CJ. "All people find themselves at crossroads in life. What to do, where to turn, what to choose. The first song on the EP is the realization that we all have some 'ugliness' that surrounds us and becomes a part of our existence. How do we find a safe place to admit our ugliness and lay that down? Once we do that, we are free to become a safe harbor for others. But even after we start living For Each Other, there are still dark moments we need to work through ("Death Valley"). And a part of being available to love our neighbor is being free from our fears and insecurities ("Fear Begone"). Ultimately, I believe that the more I choose each day to surrender my life to God, the better equipped I become to love God and reflect His love, grace, and mercy to the world. I hope people will listen to the lyrics and sing along with me on this journey."
While pursuing his desire to inspire, CJ Ray, known as Granddude to his family, brings forth his collection of lyric-centered rock, pop and contemporary music. Inspired by the sounds of Train, Gavin DeGraw, Jack Johnson, John Mayer and Jason Mraz.

A son, husband, father and Granddude, family is at the forefront of CJ's life. "My granddaughter calls me Granddude, which I adore and I absolutely love being a dad to my kids," he says. "I think having so many connections to others creates the ability for me to write music from numerous perspectives. I have been a kid and I have been in trouble and I have been a success and I have been a failure… I think the breadth of life allows one to interpret life from a perspective that can contain nuggets of wisdom and desire not to waste a word or a moment. I hope the listener feels that in my lyrics."
Raised in a suburb north of Chicago, CJ started playing music at a young age at church and with friends from his middle school. His first venture was as a drummer in a four-member rock band that covered songs from bands like Led Zeppelin, Van Halen, and Bad Company and for a short while, featured now-famous classmate, Tom Morello on guitar and lead vocals.
This Nevada based, singer-songwriter is seeking to find the best avenue to share his songs of hope and grace as well as other emotional subjects of the heart, mind and soul. CJ wants his music to make his listeners find joy and peace in any circumstance they find themselves in. This past summer, CJ Ray released "24 and 8," his emotional tribute to Kobe Bryant and his daughter, Gianna. Prior to that, he released a ten song LP, Be Where You Are, with the lead single, "Words," appearing in the 2019 feature film "High Strung Free Dance."
Find CJ Ray Online:
"For Each Other" Micro Grant Initiative Official Process and Rules: https://www.cjray.com/foreachother
Official: https://www.cjray.com/
Facebook: https://www.facebook.com/cjrayofficial/
Instagram: https://instagram.com/cjraymusic
Twitter: https://twitter.com/cjraymusic
YouTube: shorturl.at/zEH38
###