CROSSROADS MUSIC'S YEAR OF SONGWRITING CONTINUES WITH RELEASE OF NEW SINGLE, "UNBREAKABLE"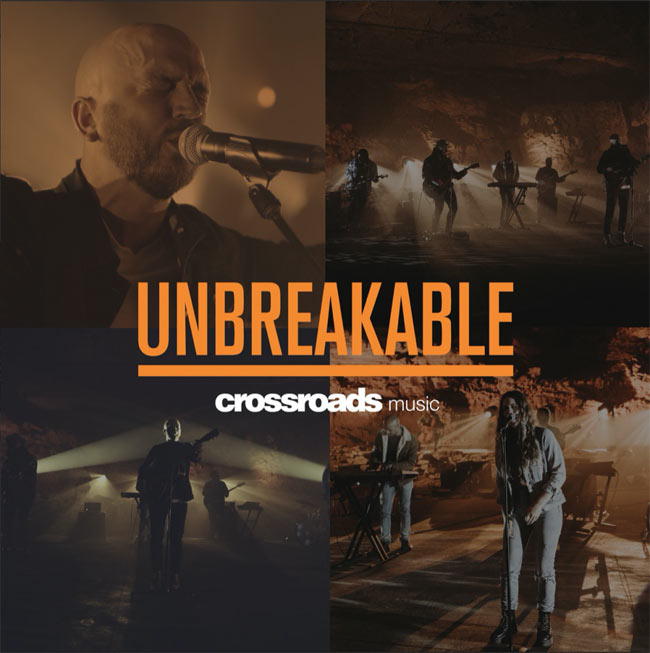 NEWS SOURCE: Marketing with Wisdom
July 23, 2021
Cincinnati, Ohio — Crossroads Music announces the release of their brand new single, "Unbreakable," to all digital music outlets Friday, July 23, 2021.

The triumphant new single — first introduced to the Cincinnati-area campuses of Crossroads Church this Easter — shares a message of security and strength in Christ.

"The true nature of Jesus' sacrifice on the cross is redemption and empowerment," says Crossroads' Josh Seurkamp. "Because of it, nothing on this earth can truly break His children. He died so we could become Unbreakable."

Seurkamp, Robbie Reider and Austin Livingood wrote "Unbreakable" as a direct response to the challenges of 2020.

"Lots of people suffered and struggled, and many were losing hope," Reider shares. "Our community needed to be reminded of the hope that's available to us. We desperately needed to be anchored in the truth that the same power that raised Jesus from the dead is living in us."

The new song comes on the heels of Crossroads' Conquered Grave EP, released in April — and it's the latest fruit of the worship collective's goal to write 100 songs in 2021.

"The songwriters in our church want to create songs that we can sing to Jesus, together, that make Him smile," says Crossroads' Robbie Reider, who produced and co-wrote the new single. "We're trying to get better at it, so we've made it a priority. Songwriting is a muscle that can be strengthened by regular rhythms or atrophy from lack of use. We want to strengthen the songwriting muscle, and we're growing."

Reider says Crossroads Music is on track to hitting their 100-song goal, and while not every song will be released, lots more music is on the way.

"We're going to keep writing and growing and asking God how we can bless Him through our creativity and leadership," he says. "He's moving and we want to go wherever He's leading us."

Listen to "Unbreakable" on your favorite streaming platform, and keep up with Crossroads Music at their website, www.crsrdsmusic.com.
About Crossroads Music: Crossroads Music is a part of Crossroads Church, based in Cincinnati, Ohio. The music they create and sing is meant to express the human journey — from brokenness to wholeness, from seeking to finding, from darkness to light. Their songs display the redemption and restoration of a loving God and the natural responses of gratefulness and worship. Crossroads Music's hope is that these songs become not simply the soundtrack of day-to-day lives, but tools used to get and give God as much glory as they can. Recently named the fastest-growing and third-largest church in the country, the Crossroads Church community of 30,000 gathers in 13 locations in Ohio and Kentucky, along with Crossroads Anywhere, an online campus.
###