MARK HUBBARD & THE VOICES RELEASE FIRST SINGLE IN SIX YEARS
"Now Cry Holy" Available on All Digital Outlets!

Hubbard Assembles First Choir Ever to Appear at Lollapalooza!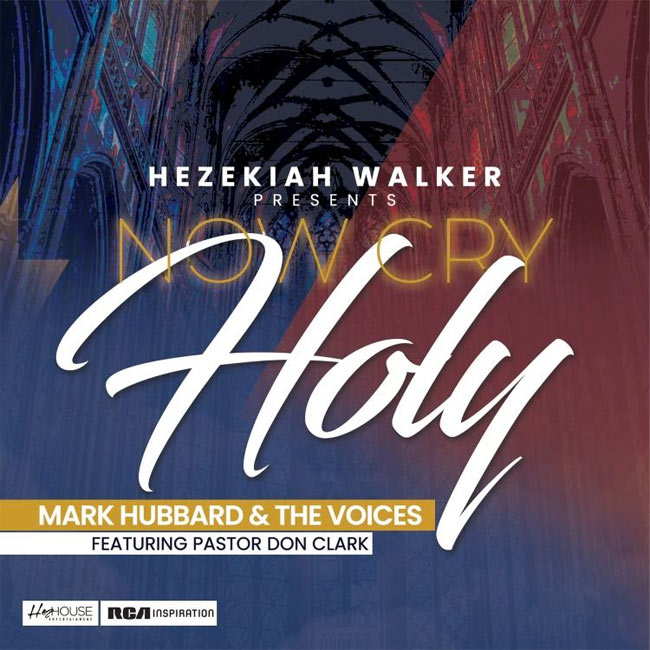 NEWS SOURCE: DREAM Records
July 30, 2021
Brooklyn, NY – July 30, 2021 – Chicagoan Mark Hubbard's name is synonymous with Gospel choir excellence. The highly respected, celebrated and decorated choir director has created unforgettable performances with musical legends including Richard Smallwood, Donald Lawrence, Hezekiah Walker, Melba Moore, Tramaine Hawkins, Stevie Wonder, Yolanda Adams, Kirk Carr, BeBe & CeCe Winans, Beverly Crawford, Kim Burrell, Karen Clark-Sheard and the late Aretha Franklin, among others. If a majestic constellation of voices is required, Mark Hubbard is the person called to bring them together.
In fact, it was Mark Hubbard who was enlisted by Chicago Mayor Lori Lightfoot's DCASE (Department of Cultural Affairs and Special Events) Team to assemble the first Gospel choir to perform on the Lollapalooza stage. The 40-person choir he put together – dubbed "Music in the Key of Chicago" – will provide a dose of uplifting sounds at the popular Grant Park event.
Hubbard also has a new single out: "Now Cry Holy," is a stunning showcase of his ability to weave many voices into one ethereal sound. Featuring his signature ensemble "The Voices," the song sublimely mesmerizes with every note.
"Now Cry Holy is so special to me for a few reasons," says Hubbard. "I fell in love with it at my church, New Life Covenant Southeast. The writer of the song was our worship leader and she used to sing it all the time. I loved how it was arranged and how it just arrests all of the senses so that you don't want to do anything but soak in every moment of it."
When Hubbard was preparing for an album recording, he asked the songwriter, Valencia Lacy, if he could record it. She agreed. The song was written to have a lead singer on it, but the singer wasn't available at the last minute. "I had to rearrange the song to accommodate not having a lead singer, and it ended up being perfect," says Hubbard. "Not having the lead took nothing away and the song really ministers to people the way that we recorded it."
That was in 2009. "For 12 years, the song has just been sitting," says Hubbard. "Every time we went to release it there were roadblocks."
In March of this year, Hubbard was determined to release the song and reached out to his friend Hezekiah Walker for radio support. Hubbard says, "I was confident that this was a song the world needed to hear. With all that we were and still are going through, we need the reminder that God is still holy no matter our conditions. I planned to call on everyone I knew to get support for the record. I was hoping that Hezekiah Walker would play it on his radio show." Instead, Walker offered him a record deal.
Within hours of that phone call, Hubbard had received and signed a recording contract: "I had no intention or motivation beyond getting my song played on the radio, but this is how God works…he gives you exceedingly, abundantly above what we can ask or think. I am literally brought to tears every time I think about how all of this happened."
"Mark has been out for quite some time and he has been consistent and dedicated. Even though he has had label deals before, Mark has been working independently for so long that I wanted to help him get his music out since I am in the position to do so. Mark is faithful to the Gospel genre and to the Gospel community, I felt like this was a moment to help him shine," says Hezekiah Walker.
"'Now Cry Holy' is the perfect song for this season. It was refreshing for me to hear because we have gotten away from singing about the holiness of God. There are so many catchy slogans and anthems in lyrics now, it felt good to just hear 'holy is the lamb' sung so beautifully. It reminded me of the Gospel music I heard growing up," Walker says.
"Now Cry Holy" is available now everywhere digital music is sold.
HezHouse Entertainment is a platform founded by Grammy Award winner Hezekiah Walker to keep progressive choir music alive. HezHouse is distributed through RCA Inspiration. Hezekiah Walker is a Gospel music pioneer, and the traditional sound and energetic style of his Love Fellowship Choir has influenced a generation of great singers and ensembles. He is also senior pastor of Love Fellowship Tabernacle, with locations in Brooklyn, New York and Bensalem, PA. He is also Presiding Bishop of the Pentecostal Churches of Jesus Christ where he oversees 28 churches in the U.S. and South Africa. The Brooklyn native is a dedicated New Yorker and a seminal fixture in his home borough. He will break ground soon on HezHouse Apartments, an affordable and supportive housing development by Hezekiah Walker & Love Fellowship Tabernacle, Brooklyn Community Housing & Services, and Alembic Community Development. Walker is also host of the The Hezekiah Walker Gospel Countdown and the Hezekiah Walker Afternoon Praise Show syndicated by AURN.
###