Carolyn Arends Set to Release a New Single and Video: "Without Music," featuring Amy Grant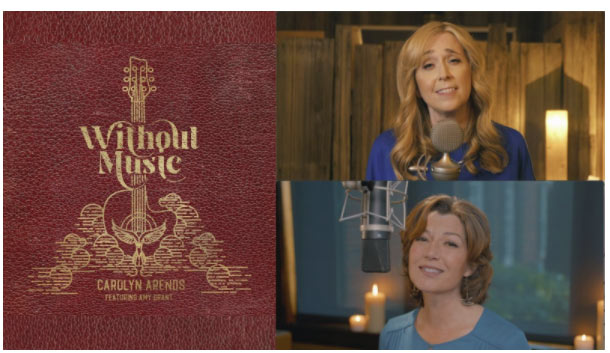 NEWS SOURCE: 2B Records
August 18, 2021
2B Records | Vancouver, BC | Seattle, WA .... On August 20th, Carolyn Arends will release WITHOUT MUSIC, the fifth single from her RECOGNITION project. Featuring shimmering acoustic production and a guest vocal from Amy Grant, WITHOUT MUSIC celebrates the enduring power of music.
"The song," Arends explains, "unfolded just the way the lyrics suggest: I sat down to write a cynical protest song, but the song had a mind of its own and instead became an ode to the gift that God has given us in music. The fact that we still make music even—especially—during difficult times reveals what a powerful and necessary treasure music really is."
Arends is particularly delighted by the collaboration with Amy Grant. "I just kept hearing Amy's voice on this track," she explains, "so I reached out to her and I was thrilled when she agreed to sing on it. Her artistry helped me learn to love music, so it just seems right to hear her voice on this."
Arends is simultaneously releasing a music video for WITHOUT MUSIC, which captures Grant in her Nashville recording studio and Arends and her bandmates in a session at Five Acres Studios in Abbotsford, British Columbia. The video is Arends's fourth collaboration with filmmaker The Arctic, with an assist from One Move Media in Tennessee.
Music critic Brian Walsh calls WITHOUT MUSIC "evocative, truth-telling and life-giving art … that awakens hope anew." Arends smiles at the description. "God seems to have given us music not only as a medium of expression and a resource for reliance, but as a kind of promise. No matter what happens, we continue to sing … to me, that points to a hope that, like music, just won't go away."
The WITHOUT MUSIC video will premiere on Arends's YouTube channel at noon pacific on Friday, August 20th. The single will be released the same day to all streaming platforms.
WITHOUT MUSIC comes from the new full-length project, RECOGNITION. While singles from RECOGNITION are being released one at a time to streaming platforms, the full project is available at www.carolynarends.com.

ABOUT CAROLYN ARENDS
"One of the most affecting communicators in any genre." – Billboard Magazine
Carolyn Arends has released 14 albums and is the author of 3 critically-acclaimed books. 15 of Arends' songs have become top 10 radio singles on the Canadian pop and US Christian charts. Arends has earned 2 Dove Awards, 3 Juno Nominations, and was recognized as the West Coast Music Awards' Songwriter of the Year. Her prose has been recognized by The Word Guild, The Evangelical Press Association and The Canadian Church Press Awards.
In 2020, Arends's song SEIZE THE DAY was inducted into the Canadian Gospel Music Hall of Fame.
Carolyn is celebrating the release of RECOGNITION (an album of twelve new rootsy and melodic originals) and IN THE MORNING (an acoustic worship EP).
In addition to her busy touring and speaking schedule, Carolyn serves as the director of education for Renovaré, a far-reaching organization that encourages and nurtures personal and spiritual renewal. She has also been a regular columnist for Christianity Today and Faith Today, and has served as an adjunct professor at a number of universities. She lives in Surrey, BC with her husband, Mark, and their young adult children Benjamin and Bethany. www.carolynarends.com
###
For more info on Carolyn Arends, visit the JFH Artists Database.