BREAKOUT ARTIST CADE THOMPSON ANNOUNCES THE RELEASE OF DEBUT ALBUM BIGGER STORY AVAILABLE ON SEPTEMBER 10, 2021
Title Track Available Now In Support of Pre-Order Launch Today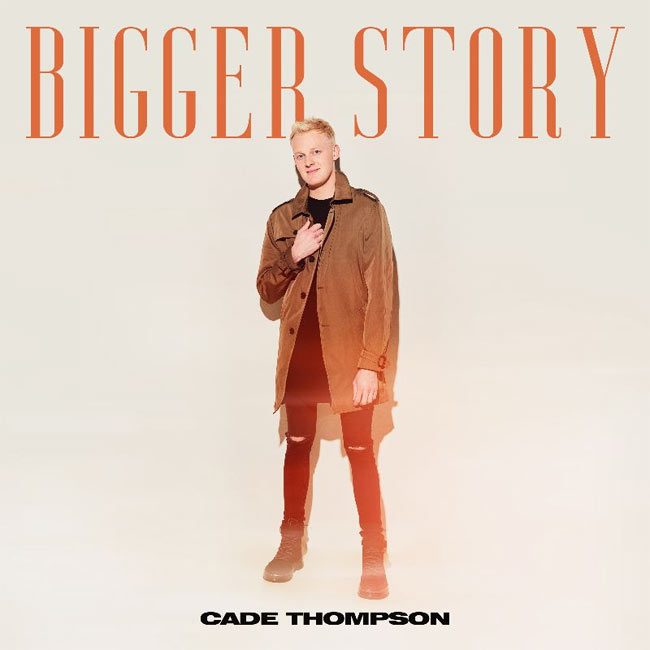 NEWS SOURCE: Sundari PR
August 20, 2021
Aug. 20, 2021 (Nashville, Tenn.) Stemming off the success of his radio singles "Provider," "Every Step of the Way" and the current single "Source of Life", Red Street Records' breakout artist Cade Thompson has announced the release of his first full length album Bigger Story available starting September 10, 2021. The pre-order is now live.
Bigger Story will feature 10 tracks produced by longtime collaborators Matt Armstrong, Bryan Fowler, Micah Kuiper and AJ Pruis. Recorded in the heart of Music City, Thompson sat down with some of the industry's top songwriters including award-winning artist Matthew West, as well as Krissy Nordhoff, Micah Kuiper, Ross King, Jeff Owen, Matt Armstrong, Jeff Pardo, Benji Cowart and Ethan Hulse to pen powerful and inspiring songs drawing inspiration from personal experiences about his experience with God.
Thompson explains, "This album was written out of my life experiences which led to this one question: How would I explain the Gospel to someone who might not have ever heard of Jesus? Each song on this album has a truth that reminds us we are all a part of a bigger story, one that is bigger than ourselves. My hope for this album is that it inspires each listener to truly walk in a relationship with Jesus and join the story."
In honor of the pre-order launch, Thompson has released the title track as an instant grat track when you pre-save, pre-order, or pre-add the album on any digital platform.
Throughout the past year, Thompson has revealed a variety of singles to radio introducing fans to his music and his journey and the response has been overwhelming.
"We are thrilled to see the impact Cade's music is having on the industry and listeners across the globe," says Red Street Records Founder & multi-award winning artist Jay DeMarcus from Rascal Flatts. "Last year, we planted seeds by releasing some radio singles and we are excited the date has been set for Cade to reveal his debut album. Cade is so talented, has such a heart for God and to inspire others and we are honored to be a part of his journey and help bring his music out to the world."
Fans can catch Thompson performing his hit songs and others found on the new project, live this fall on the Step Into The Light Tour alongside Newsboys, Mandisa and We Are Messengers. For a full list of tour dates, please visit www.cadethompsonmusic.com
Cade Thompson, is an energetic and soulful Contemporary Christian music artist with a sound that appeals to believers and mainstream pop audiences alike. Cade's effortless style promotes his personal musical influences, which draws heavily from the church. Cade has an admirable ability to transform his thoughts and faith into a powerful collection of melodies and lyrics that inspire people of all ages to step into all that God has for them.
For more information on Cade Thompson, please visit www.cadethompsonmusic.com.
Stay connected with Cade Thompson at:
ABOUT RED STREET RECORDS:
The desire of Red Street Records is to touch lives and spread the Gospel of Jesus Christ through music. To that end, they seek to partner with artists who share this aim and who strive to achieve it through their innovative and visionary craft. Red Street Records supports their artistry and ministries by providing a label that will give access to the highest standards in the recording industry.
###