KEVIN QUINN RELEASES AWAITED DEBUT EP AND TITLE TRACK, "IT'S ABOUT TIME"
THE FIVE-TRACK STUDIO RECORD OUT NOW FEATURES THE BREAKOUT POP ARTIST'S LAUNCH SINGLE "WILDFIRE" AND "I'M STILL BREATHING"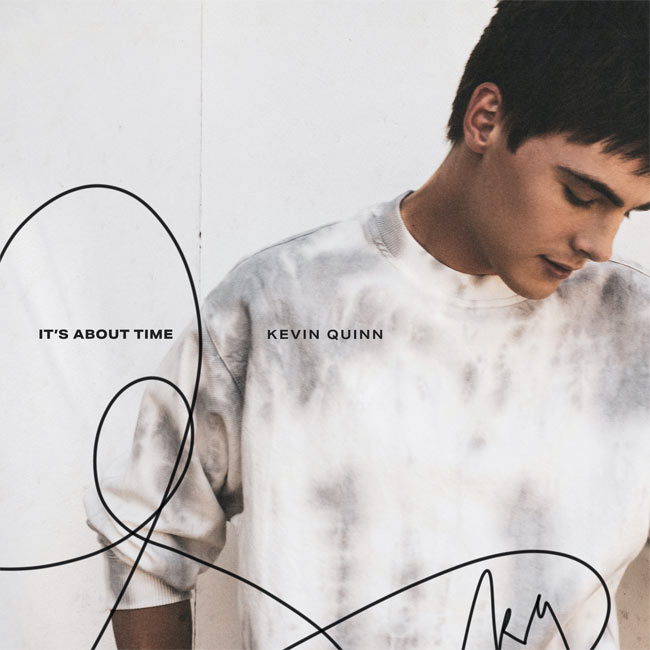 NEWS SOURCE: Rogers & Cowan
January 14, 2022
LOS ANGELES (January 14, 2022) – Today, Capitol CMG's breakout pop artist, Kevin Quinn, released his anticipated debut EP and single, "It's About Time." The five-track studio record features Quinn's 2021 hits "Wildfire," "I'm Still Breathing," "Over and Over Again" and "Fuego En Mi Interior," plus his standout new single, "It's About Time." In addition to releasing his first solo music project, Quinn is currently touring as a special guest on the 41-date Winter Jam 2022 tour, bringing his "pure pop sound that swirls with irresistible melodies" (American Songwriter) to arenas all across the U.S.

On "It's About Time," the EP, the promising musician offers a holistic introduction to his style and perspective, highlighting his knack for intimate storytelling. Through rich vocals and deeply personal songwriting, Quinn's lyrics strike a unique balance between growth and vulnerability, as he carries listeners along his journey as a young adult, while giving hope for the future.

The EP's title track "It's About Time'' thematically connects the project, affirming his "make the most of every moment" mantra. The coming-of-age song juxtaposes vocally-intimate verses with a powerfull and resounding chorus. "It's about time and how we spend it, every moment, every minute. It's about knowing that we're chasing all the beautiful things that make it worth the ride," Quinn sings.

"This is the best work I've done so far, and I'm proud of the journey that has led me here," said Quinn about the EP. "A lot of talented people came together to contribute to it, both in the studio and out. I hope that the fans love it as much as I do."

Upon Quinn's debut in 2021, American Songwriter predicted he was "just scratching the surface of this singer/songwriter's capabilities" with launch single "Wildfire," calling the debut "a powerful beginning." The track has garnered over 3 million global streams and generated forceful momentum for Quinn as a singer-songwriter and multi-instrumentalist. His singles "Over and Over Again" and "I'm Still Breathing" continued to blaze a trail for the rising star.

It's About Time EP (Track List)
Wildfire
It's About Time
I'm Still Breathing
Over And Over Again
Fuego En Mi Interior
"It's About Time," the EP, is available now everywhere get your music.

About Kevin Quinn:
At 24 years old, Chicago-born rising star, Kevin Quinn, is a recording artist, singer/songwriter, instrumentalist and actor, uniquely merging the genres of pop and inspirational. Known for his varied range of television, film and stage work, Capitol CMG's breakout artist showcases his vocal talents on his debut EP, "It's About Time," featuring his debut single, "Wildfire" (2021) qnd follow-up singles "Fuego En Mi Interior" (2021), "I'm Still Breathing" (2021), and "Over and Over Again" (2021) alongside the new title track, "It's About Time." With an upbringing that includes more musical theatre than any other activity, Quinn's natural penchant for performing ushered him straight into Hollywood. He starred on primetime hits including "Shameless" and "Chicago P.D.," and Disney's top sitcom, "Bunk'd," whose theme song he also recorded for the multi-season run of his series regular role as "Xander." As his love of music continued to show up in his work, he released an independent solo EP titled, "Edge of the World" in 2020. In 2021, he signed with Capitol CMG, and quickly joined the North American leg of the popular Winter Jam tour. Most recently, he starred as troubled teen-redeemed in Netflix's feel-good musical, "A Week Away," leading the vocals on 11 of 13 tracks on the soundtrack, seeing 51 million+ global streams and 72 million+ TikTok views. Adored for his earnest songwriting and natural showmanship, this year, the heartthrob multi-hyphenate aims to make good on widespread industry predictions citing Quinn as pop acoustic's next big name. Quinn currently splits his time between Los Angeles and Nashville.
###
For more info on Kevin Quinn, visit the JFH Artists Database.