FIVE-TIME GRAMMY® AWARD-WINNING ARTIST EXTENDS SPECIAL TOUR, "AN EVENING WITH STEVEN CURTIS CHAPMAN"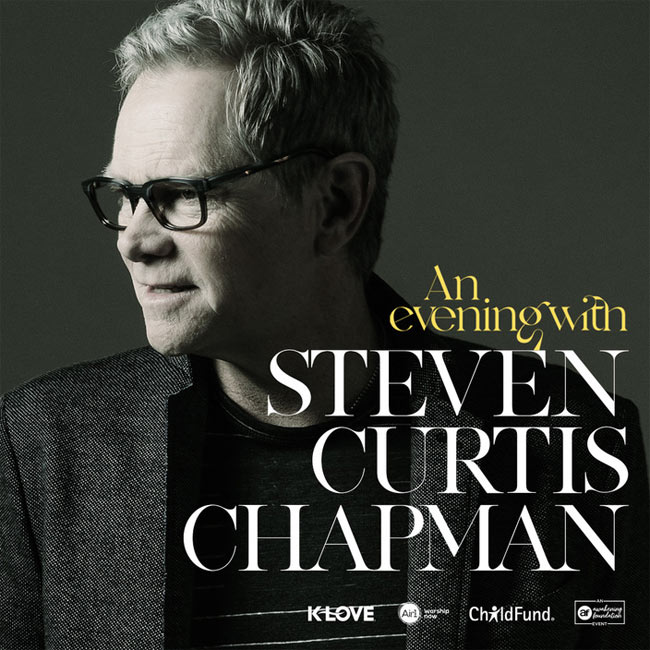 NEWS SOURCE: Merge PR
January 24, 2022
NASHVILLE, TN. (JANUARY 24, 2022) Due to increased demand, additional dates have been confirmed for the celebrated tour with multi-GRAMMY® Award-winning singer/songwriter Steven Curtis Chapman for "An Evening with Steven Curtis Chapman."The tour will begin next month on Feb. 24th in Roanoke, VA, and dates have been added from March 26th through April 10th. Tickets for the new dates will go on sale this Friday, January 28th at 11 am Central.
This tour is a special night of hits and more from the most awarded artist in the CCM genre with Steven Curtis Chapman's incredible 49 No. 1 radio hits throughout his career.
"I'm very thankful & excited to be able to announce that I'm heading back out on tour this Spring for another run of my concert tour: "An Evening With…well, me…SCC"! (sorry, it feels a little weird referring to myself in the third person)," shares Steven Curtis Chapman. "If I am close to where you are please come join me for a very special evening full of music, fun, encouragement, and worship! And if I'm not anywhere close to you, I would fully support you making a long journey from Timbuktu or wherever you happen to be to join us. I think you'll be really glad ya did!"
"An Evening with Steven Curtis Chapman" is presented by Awakening Events, Awakening Foundation, KLOVE, Air1, and ChildFund. For more information on the tour dates and to purchase tickets,
visit here
.
Feb. 24 Roanoke, VA
Feb. 26 Harrison, TN
Feb. 27 Birmingham, AL
Mar. 3 Knoxville, TN
Mar. 4 Moon Township, PA
Mar. 5 Chicago, IL
Mar. 6 Louisville, KY
Mar. 17 Longview, TX
Mar. 19 Austin, TX
Mar. 20 Pineville, LA
Mar. 21 Jonesboro, AR
Mar. 24 Mansfield, OH
Mar. 25 Albany, NY
Mar. 26 Erie, PA*
Mar. 27 Lexington, KY
Mar. 31 Plymouth, MI*
Apr. 1 Arlington, TX*
Apr. 3 Edmond, OK*
Apr. 7 Bluffton, SC*
Apr. 8 Ft. Myers, FL*
Apr. 9 Port St. Lucie, FL*
Apr. 10 Cayce, SC*
*Tickets go on sale January 28th at 11 am CT, other dates are currently on sale and can be purchased
ABOUT STEVEN CURTIS CHAPMAN: In a career that has spanned over 30 years, Steven Curtis Chapman is the most awarded artist in Christian music history with 59 Gospel Music Association Dove Awards, five GRAMMY® Awards, an American Music Award, 49 No. 1 singles, has sold more than eleven million albums with ten RIAA-Certified Gold or Platinum albums to his credit. He has appeared on Good Morning America, CBS Sunday Morning and This Morning, CNN, MSNBC, 60 Minutes, E! Entertainment, The Today Show, Fox & Friends, The Tonight Show, and Glenn Beck's The Blaze along with appearing in the pages of People, Billboard, Parents Magazine, and more. A vocal supporter of adoption Chapman along with his wife Mary Beth founded Show Hope in 2003 a nonprofit organization that helps restore the hope of a family to orphans.
ABOUT AWAKENING FOUNDATION
: The Awakening Foundation exists to share the message of hope and resources with individuals and families in local and international communities by bringing together artists, fans, and like-minded organizations through live events and missional endeavors to serve and empower those in need. Find out more at
AwakeningFoundation.com
.
ABOUT AWAKENING EVENTS: Since its inception, Awakening Events has remained focused on its mission of producing events that impact people in a positive way while glorifying God. That focus has led to rapid growth over the last decade, catapulting Awakening Events towards the top of the Pollstar Charts, most recently ranked No. 3 in the world in total tickets sold.
By providing our artist partners a platform to share their message and creating a great fan experience, Awakening Events hopes to have a lasting impact both locally and globally. Long-term partnerships with great organizations like Food for the Hungry, Altrua HealthShare, the Salvation Army, and many others have allowed Awakening Events and the Awakening Foundation to help transform the lives of thousands of people both domestically and abroad. For more information on Awakening Events or for any of the shows they produce, please visit
AwakeningEvents.com
.
ABOUT K-LOVE
: K-LOVE creates compelling media designed to inspire and encourage audiences to have a meaningful relationship with Christ. K-LOVE is listener-supported and delivers positive and encouraging music and messages through nearly 600 signals across all 50 states, the K-LOVE App, smart devices,
klove.com
, and K-LOVE On Demand. For more information on K-LOVE, please visit
klove.com
.
ABOUT AIR1:
Like its parent company (Educational Media Foundation) and sister station (K-LOVE), Air1 exists to create compelling media that inspires and encourages audiences to have a meaningful relationship with Christ. Broadcast on more than 300 signals nationwide, and streaming around the world on
Air1.com
, the Air1 Radio App, iHeartRadio, Alexa, Siri, TuneIn, Roku, and more, Air1 is always there to welcome you and help you "worship through it."
ABOUT CHILDFUND:
Founded in 1938, ChildFund works throughout Asia, Africa, and the Americas — including the United States — to connect children with what they need to grow up healthy, educated, skilled, and safe, no matter where they are. Last year, we reached 16.2 million children and family members in 24 countries. Find out more at
www.ChildFund.org
Please note: all Awakening Events / Awakening Foundation shows are required to follow local health and venue requirements as it relates to COVID-19. These may include but are not limited to vaccine and/or testing requirements and face coverings. Local health & venue guidelines are subject to change at any time. Changes in local COVID-19 health guidelines or venue policies are not grounds for a refund. Thank you for your understanding and please know that Awakening Events takes the health and safety of their guests, employees, and community very seriously.
###
For more info on Steven Curtis Chapman, visit the JFH Artists Database.