GRAMMY® AWARD-WINNING / PLATINUM SELLING DUO FOR KING + COUNTRY DROPS LATEST TRACK "LOVE ME LIKE I AM" FROM FORTHCOMING STUDIO ALBUM WHAT ARE WE WAITING FOR?
NEW SONG OUT TODAY WITH OFFICIAL MUSIC VIDEO

WHAT ARE WE WAITING FOR? SLATED TO RELEASE MARCH 11, AVAILABLE FOR PREORDER NOW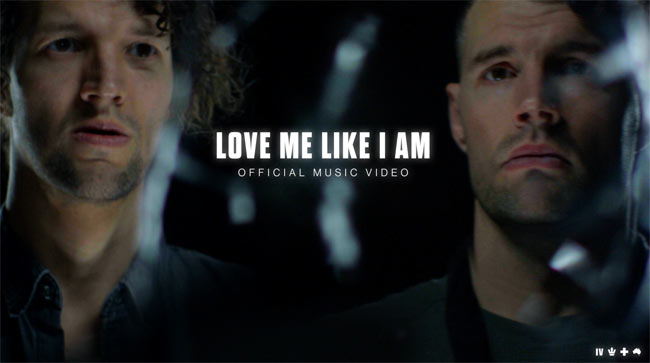 NEWS SOURCE: Rogers & Cowan
February 18, 2022
LOS ANGELES, Calif. (February 18, 2022) - Multi-GRAMMY® winning, Platinum-selling duo and Curb | Word Entertainment recording artist FOR KING + COUNTRY drops their latest track, "Love Me Like I Am," from their forthcoming full-length studio album WHAT ARE WE WAITING FOR? (due March 11). Out today with an accompanying music video, "Love Me Like I Am" is available on all digital platforms. Check out the song HERE.
Written by Joel and Luke Smallbone, Josh Kerr and Michael Pollack, "Love Me Like I Am" is the third instant grat track to be released from their upcoming album. The mid-tempo song features confessional lyrics that address personal insecurities and shortcomings, paired with raw vulnerability in the presence of a grace that gives without condition.
"I was sleeping and the phrase 'Love me Like I Am' captured me," says Joel Smallbone. "The following day, we went into a writing session and our producer Josh Kerr added…It's amazing that you can, Love me like I am. It's a beautiful story to us - the fact that God can love humanity the way He does, and we can love each other the way we do with unconditional love."
In conjunction with their upcoming album release, WHAT ARE WE WAITING FOR? – THE TOUR will also launch this spring. The 34-city run will take FOR KING + COUNTRY to arenas across the United States, performing brand new songs from the album against the backdrop of an all-new stage design. The new circuit kicks off on March 31 in Southaven, MS traveling through Chicago, IL, Phoenix, AZ, Las Vegas, NV, and more before finishing up in Franklin, TN on May 22. Joining FOR KING + COUNTRY will be Platinum selling artist Dante Bowe of Maverick City.
FOR KING + COUNTRY's WHAT ARE WE WAITING FOR? is available for pre-add, pre-save, and pre-order with exclusive autographed double-vinyl and CD here,
About FOR KING + COUNTRY
FOR KING + COUNTRYis one of the music industry's most respected and decorated duos. Brothers Joel and Luke Smallbone have won four GRAMMY Awards, seven GMA Dove Awards, a Billboard Music Award, 13 K-LOVE Fan Awards, and their nine #1 songs have produced an astonishing 1.8 billion career streams. The RIAA Platinum-selling act's live show has been hailed as a must-see concert event that continues to wow sold-out crowds whether in the U.S.A, Australia, Germany, Netherlands, or New Zealand. FOR KING + COUNTRY's most recent album, the RIAA Gold certified BURN THE SHIPS, debuted in the Top 10 of the Billboard Top 200 Album Chart, and has since propelled the duo to five consecutive #1 songs including "joy.," "TOGETHER (feat. Kirk Franklin & Tori Kelly)," and the 11-week platinum smash "God Only Knows." The global hitmakers have collaborated with a diverse list of artists including the legendary Dolly Parton, NEEDTOBREATHE, and Timbaland, amongst others. Joel and Luke Smallbone are committed to numerous philanthropic efforts focused on human trafficking, children in need, as well as numerous programs in support of the arts.
About Curb | Word Entertainment
In 2016, Curb Records acquired Word Entertainment, combining two of the music industry's most respected brands, and more than a century of collective experience. Today, Curb and Word are two of the world's leading independent music companies. Owned and operated by Mike Curb, the Curb | Word family includes the labels Curb, Word, Squint, Fervent, Sidewalk, MCC and IVAV, as well as Curb Publishing, Word Publishing, 25 Live, Curb Films, Word Films, Word Entertainment, and Curb Sports, representing top artists and entertainers in Country, Christian, Pop, Rock, and Hip-Hop. For more information, visit www.curb.com.
For more information on FOR KING + COUNTRY, go to:
###
For more info on FOR KING + COUNTRY, visit the JFH Artists Database.