Worship Leaders Bryan & Katie Torwalt Release First-Ever Live Album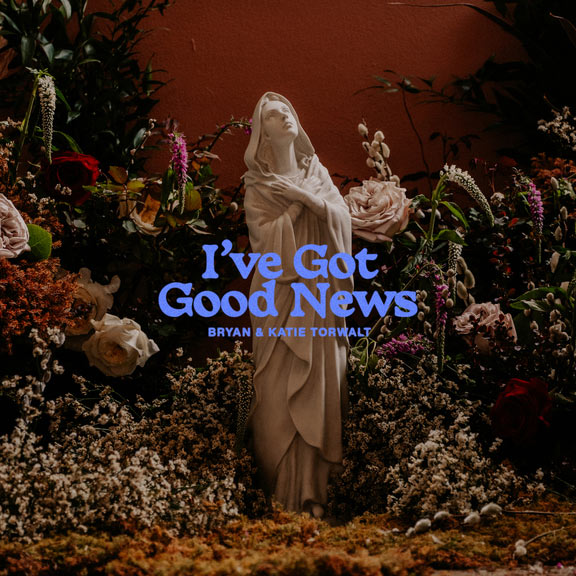 NEWS SOURCE: Merge PR
May 20, 2022
NASHVILLE, TN (May 20, 2022)
Worship leaders
Bryan & Katie Torwalt
release their first-ever live recorded album,
I've Got Good News,
available today. Captured in Orange County,
I've Got Good News
features songs written by Chandler Moore, Cody Carnes, Brock Human, Chris Davenport, Naomi Raine, and more. The new album features 11 live-recorded tracks and follows the couple's No. 1 song on Air1 "Miracle In The Works."
As a live album, there is live video content for every song some of which have already been released (see below for links). In addition to the live videos, they have also released acoustic videos for "Simple Kingdom" and "Good News."
"What does it mean to hear the good news in 2022? It's a relief to hear that Jesus is still on His throne today," shares Bryan & Katie Torwalt about their new album's theme. "Though we might not be spared from sadness or grief in this life, the God of the universe is with us through it all. Maybe the best news is that He is both the Alpha and Omega, our beginning and end of the story. We pray that as we give language to what good news looks like in life for us today, you are filled with hope and relief as you hear these living words of the Gospel of Jesus."
The Torwalts are currently on the road with Benjamin Hastings for "A Night of Worship" tour presented by Transparent Productions. The remaining dates and tickets can be found
here
. In 2021 they were on tour with Maverick City Music and Tribl and will also be featured on Tribl's newest album.
ABOUT BRYAN & KATIE TORWALT: Bryan and Katie Torwalt are artists, songwriters, and worship leaders. The Torwalts and their beautiful daughter Indigo reside in Sacramento, California where they have been part of Jesus Culture Music since 2010. Bryan and Katie are passionate about writing songs for the church, as they live to see the earth transformed to Heaven's likeness. The Torwalts' debut album, Here on Earth, features GRAMMY Award-winning original song "Holy Spirit," which opened the doors for many to experience worship in a powerful way. With their latest single "Miracle In The Works" reaching number one on Air 1, Bryan and Katie release their first-ever live recorded album on May 20, 2022.
###