TEDASHII RELEASES A NEW SINGLE, "RESPECT MY TEAM," FEATURING LECRAE AND TRIP LEE!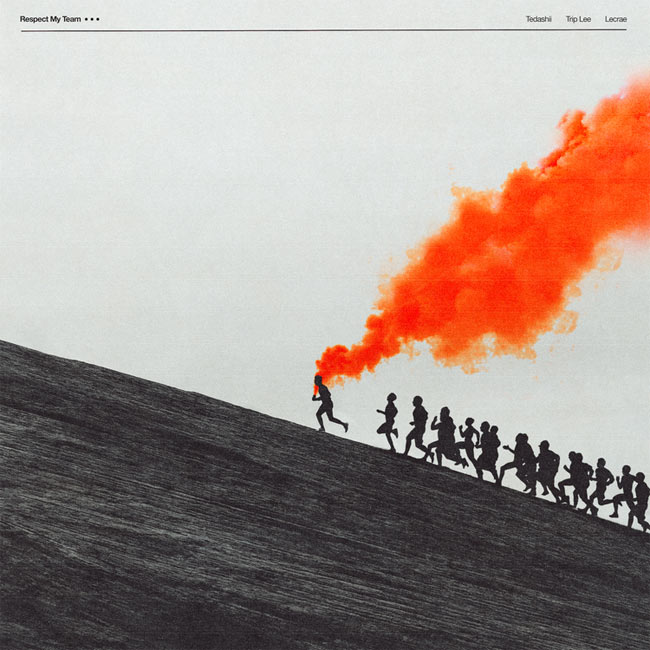 NEWS SOURCE: Jackie O & Co. LLC.
June 24, 2022
"Since the days of nightgown long tall tees and driving thru Texas doing some mom & pop shows on karaoke machines. Us 3 got something coming. So, stay tuned to 1.1.6." – Lecrae
Since Lecrae posted that cryptic tweet, fans have been awaiting new music from Reach Records' pioneers – Tedashii, Trip Lee, and Lecrae. The founding members of the 116 Movement have made good on Lecrae's social media post with Tedashii's new single, the cinematic and anthemic "Respect My Team," which releases on June 24th.
All roads have led to this monumental moment! "Respect My Team" marks the first time the three have recorded together since "Nothing I Can't Do," released on Tedashii's 2014 album, Below Paradise. "I'm super excited to record new music with Trip Lee and Lecrae. We've been friends and label mates for nearly two decades; they're some of my favorite artists. So, to create new music together and then perform those songs on tour is super exciting!"
The three icons go deep undercover and into character for the "Respect My Team," faux action music video that casts Tedashii, Lecrae, and Trip Lee, as Blaxploitation era detectives taking down villains. "Some of my favorite films growing up were Kung-Fu flicks," shares Tedashii. "When I was a kid, I watched Kung-Fu theater every Saturday! I watched everything from Bruce Lee to The Heroic Trio and was a superfan of Jim Kelly, and Chuck Norris. I was such a huge fan of karate flicks that I started taking martial arts as a kid, so many of the moves you see me doing in the video come from my childhood. I still watch Kung Fu flicks to this day!"
While the music video is comedic, the heartfelt lyrics to the "Respect My Team" speak to the brotherhood between Tedashii, Lecrae, and Trip Lee that launched the 116 Movement and the Romans 1:16 verse which is at the core of Reach Records' mantra and mission. The music video for 'Respect My Team' and the lyrics of the song, 'My team got my back, they behind me,' bring feelings of nostalgia," and for Tedashii, it is the reminder to all that "we ain't done yet!"
Since the social post, Tedashii has released a double pack with two singles, "Mirror Talk" and "OBJ." Trip Lee has released three singles, three music videos, and a new album, The End, and Lecrae is putting the final mixes on prepping Church Clothes 4! The three are also returning to the road in August for the We Are UNASHAMED Part II Tour which hits 17 cities. The vets are taking along Reach's rising artists – Wande, 1K Phew, Hulvey, and WHATUPRG!
With new music on the horizon, TDot launched a podcast he is hosting and producing called The Dash. He's also formed a nonprofit foundation, The Chase Foundation, in honor of his one-year-old son, Chase, who passed away in 2012.
To stream "Respect My Team," click
here
.
About Tedashii Anderson
Tedashii Lavoy Anderson is an artist, public speaker, podcast/radio host, and founding member of Reach Records' 116 Movement. Born in East Texas, he has lived throughout The Lone Star State and lives in Atlanta, GA. His name, Tedashii, is a Japanese name that means faithful, righteous, and true. He has released five albums: Never Fold, Below Paradise, Blacklight, Identity Crisis, Kingdom People, and one EP, This Time Around, as an artist at Reach Records. Below Paradise debuted at No. 17 on the coveted Billboard Top 200 Albums Chart. Blacklight debuted at No. 2 on the iTunes Hip-Hop chart and No. 8 on the iTunes overall album chart. Identity Crisis charted No. 2 on the Gospel Billboard chart and No. 9 on the Christian Billboard chart. His hit track "Dum Dum" was featured on the Fox TV Series So You Think You Can Dance, and he has performed on the top-selling 2016 Winter Jam Spectacular Tour. He won "Best Lyric" presenter at the 2016 K-LOVE Awards and performed "Jumped Out The Whip" at the 2015 GMA Dove Awards. He featured on Lecrae's GRAMMY award-winning album Gravity and has over 631K cumulative followers on social media.
###
For more info on Tedashii, visit the JFH Artists Database.
For more info on Trip Lee, visit the JFH Artists Database.
For more info on Lecrae, visit the JFH Artists Database.