Acclaimed Vocalist Sandi Patty to Perform at Fresh Hope for Mental Health's "Celebration of Hope"
Nonprofit Focused on Mental Health Hosts Evening of Music and Celebration to Offer Joy, Inspiration and Hope this September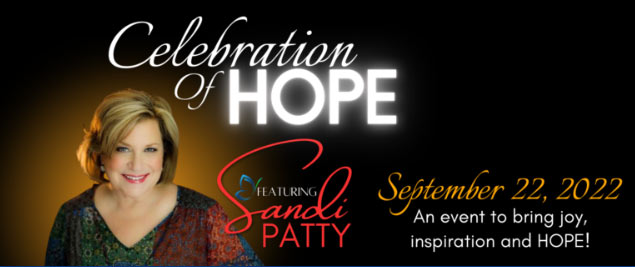 NEWS SOURCE: A. Larry Ross Communications
August 16, 2022
OMAHA, Neb., August 16, 2022 — On Sept. 22, world-renowned Christian music artist Sandi Patty will appear at The Relevant Center in Elkhorn, Nebraska, for "Celebration of Hope." Hosted by the faith-based nonprofit Fresh Hope for Mental Health, "Celebration of Hope" will be an evening filled with music and inspiration.
"It's so important now more than ever for us to be able to come together and express our gratitude for the hope found in Christ Jesus," said Pastor Brad Hoefs, founder of Fresh Hope. "That's really the heartbeat behind our ministry."
Patty, one of the most admired and awarded Christian female vocalists of this century, with five Grammy awards, four Billboard Music Awards and three platinum records, closely aligns with Fresh Hope's mission to share hope with those who need it most. She will perform several of her inspirational songs throughout the evening.
"I'm excited to be performing at Celebration of Hope," announced Patty to her many devoted fans. "This will be an evening that fosters hope through uplifting music and stories that are sure to encourage and bring joy to all who attend."
Additionally, the evening will consist of prayer, captivating testimonials and messages of encouragement from Fresh Hope leaders. Celebration of Hope is open to all people—including those who are able to tune in online—and aims to spread a positive message to anyone who will listen.
"There's so much joy, belonging and peace in collective worship said Hoefs. "I'm so grateful for the support of all those who choose to celebrate with us, and of course, for the friendship of Christian music legend Sandi Patty."
Hoefs notes a serious need in mental health recovery and desires to "empower individuals to live a full and rich faith-filled life in spite of a mental health diagnosis." With a peer-to-peer Christ-centered wellness approach, Fresh Hope offers hopeless people a safe place to process their pain, they can thrive even amid challenges that present themselves. This event seeks to be that safe place.
Tickets for "Celebration of Hope" start at $35, with options to upgrade to include a VIP reception with Patty. Registration for the event will begin at 5 p.m. CT on Sept. 22, the reception will take place at 6 p.m. CT and the official program will commence at 7 p.m. CT. For those not able to attend in person but who would still like to participate, there will be an option to purchase tickets to watch the event online.
To learn more about Fresh Hope for Mental Health or purchase tickets for "Celebration of Hope," visit www.freshhope.us/.
About Fresh Hope for Mental Health
Fresh Hope for Mental Health is a peer-to-peer Christ-centered wellness approach to mental health recovery that equips people to connect both their faith and recovery principles. Fresh Hope provides those who are hopeless a safe place to process their pain and experience faith-filled hope modeled, shared, and given through support groups, classes, coaching and resources that are led and written by peers who are living well in spite of their mental health challenge. Because of Fresh Hope, thousands of people are living active, faith- and hope-filled lives.
###