JIMMY ROCK Reaches #1 on iTunes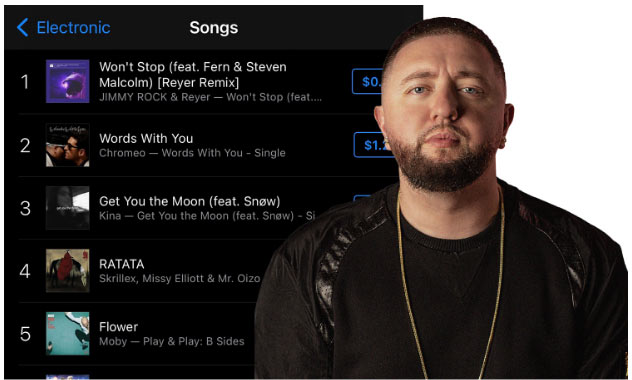 NEWS SOURCE: FiveTwenty Collective
March 13, 2023
Cleveland, OH - International touring artist and DJ, specializing in EDM and hip-hop remixes, JIMMY ROCK has added to his already impressive resumé.
Performing in countries around the world including Kenya, Colombia, Guatemala, and Canada, JIMMY ROCK is firmly established as a trendsetter in today's Christian music industry. Having begun 2023 with over 1 million global streams on Spotify, this year has set up to be a springboard for JIMMY ROCK to gain awareness of his music with new audiences. The results of his hard work and dedication are easily found in his latest accomplishment.
JIMMY ROCK's 2022 single, "Won't Stop (Reyer Remix)", which features Christian hip-hop artists Steven Malcolm and Fern of Social Club Misfits, recently reached the number one position on iTunes Electronic (EDM) chart. The record outpaced mainstream powerhouses Skrillex, Moby, Missy Elliott, and others. This is no small feat and one that deserves to be celebrated by not only the industry but by fans of Christian music as well.
Having worked with Social Club Misfits members Fern and Marty individually, the number one ranking of "Won't Stop (Reyer Remix)" sets the stage for what's coming next. JIMMY ROCK is ready to drop his first major label release on Capital Records alongside Social Club Misfits later this year.
"This number one on iTunes couldn't have come at a better time," explains JIMMY ROCK. "I've been in constant communication with both Marty and Fern, working with them on their upcoming remix EP/album and then we get this news! It's truly amazing."
The collaborative project is one that will be at the top of many most anticipated albums of the year lists for 2023. JIMMY ROCK recognizes how important his supporters have been for him to be able to reach this stage of his career.
"I'm excited and thankful for my fans. I can't wait for you to hear the new music I have coming out with Social Club. It's House/Dance music that is going to go crazy in clubs and at festivals!"
More information on the upcoming release will be available soon. Remain up to date and support JIMMY ROCK by following him on Instagram, Facebook, Twitter, and Tik Tok.
Song Details
Title: Won't Stop (Reyer Remix)
Artist: JIMMY ROCK
Release Date: May 22, 2022
Production: JIMMY ROCK, Reyer
Features: Fern (Social Club Misfits), Steven Malcolm
Writers: JIMMY ROCK, Fern, Steven Malcolm
About JIMMY ROCK
James Larrick, known professionally as JIMMY ROCK, is an American DJ, electronic producer, and songwriter. Based outside of Cleveland, Ohio - Jimmy has performed at a variety of events nationwide including the NBA All-Star Weekend (Cleveland 2022), and at both public & private events featuring Machine Gun Kelly, Shaquille O'Neal, Megan Fox, Guy Fieri, Martha Stewart, Baker Mayfield, The Cleveland Browns, and Prime Minister Justin Trudeau.
JIMMY ROCK has performed alongside global stars such as Bebe Rexha, John Legend, Skillet, Lecrae, Andy Mineo, and For King & Country. Has previously released music featuring Sonny Sandovol (lead singer of the band P.O.D.), Marty (of Social Club Misfits), and Pettidee.
###